Wild One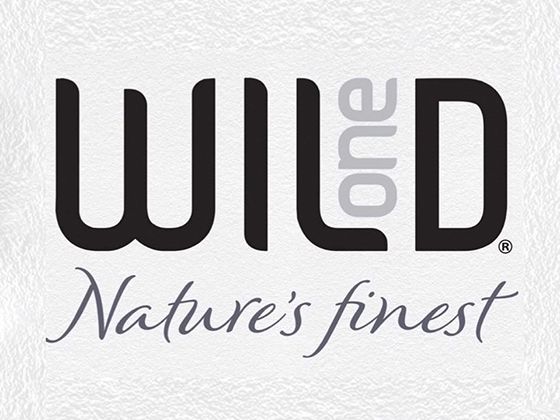 More Images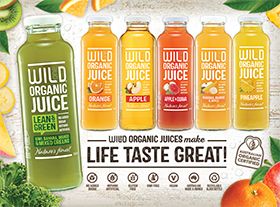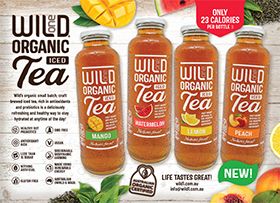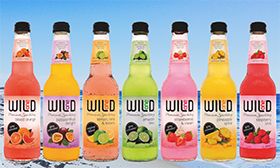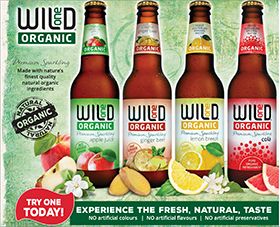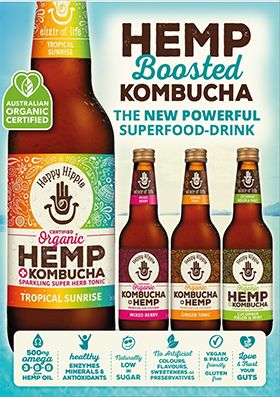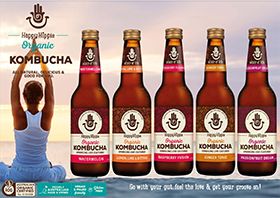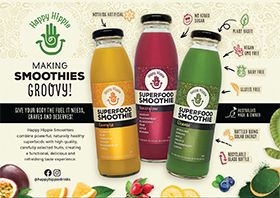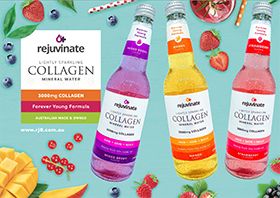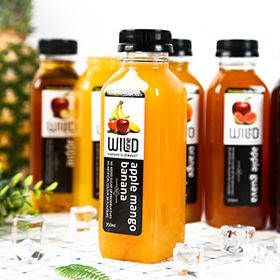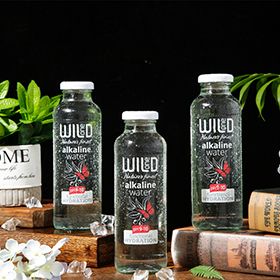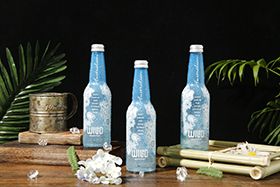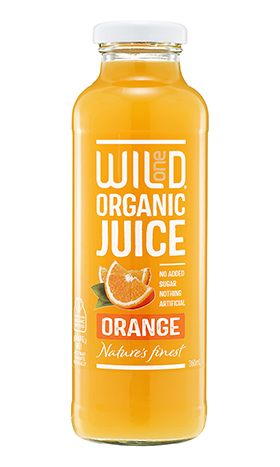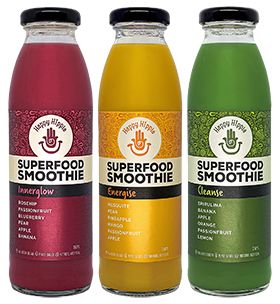 Wild One
Wholesale Premium & Organic Soft Drinks & Juices
Wild One sparked a shift in the beverage industry, and today, offers a boutique range of healthy, organic, alternative beverages that hold their own alongside big-name competitors. The brand's portfolio of wholesale soft drinks and juices makes a positive impact with healthy, functional, innovative beverages that invite consumers to choose a more earnest, caring brand. Since its establishment 10 years ago, Wild One has expanded to export to more than 20 countries worldwide, and puts smiles on thirsty people's faces every day, Australia-wide.
Only the highest quality local ingredients are chosen to create the beverages, which are produced in small batches to create the most interesting, refreshing and delicious flavours for the ultimate tasting and functional beverage experience.
Sustainability virtues
Wild One believes in doing their bit. The company's state-of-the-art manufacturing facility runs on 80% solar power, uses minimal plastic and generates minimal waste. Wild One uses 90% organic produce and aims to be carbon neutral by 2023.
Extensive portfolio
Wild One caters for all your beverage requirements as they keep abreast of drinks trends so that you can always have something enticing for your customers.
Organic Juice
Colourful and inviting, every 360ml bottle contains a virtuous blend of organic fruits, vegetables and prebiotics. The juice has no added sugar, preservatives, artificial colours or flavours, for a refreshing, guilt-free drinking experience.
Organic Pineapple Juice
Organic Orange Juice
Organic Apple Juice
Organic Banana, Mango & Apple Juice
Organic Lean & Green Juice
Organic Apple & Guava Juice
Organic Iced Tea
Wild One take luscious, organic Australian fruits and craft brew them in small batches with black tea for a delicious, 360ml iced tea drink that will quench any thirst.
Watermelon Organic Iced Tea
Peach Organic Iced Tea
Mango Organic Iced Tea
Lemon Organic Iced Tea
Organic Sparkling Soft Drinks
Guilt-free sparkling beverages with no added sugar or preservatives. Just pure, clean flavours, delicate bubbles and refreshing Australian mineral water in every 330ml glass bottle.
Organic Sparkling Cola
Organic Sparkling Lemon Breeze
Organic Sparkling Ginger Beer
Organic Sparkling Apple Juice
Happy Hippie Organic Kombucha
Low sugar and high taste, Happy Hippie Organic Kombucha is made with real fruit and naturally brewed with live cultures. It's naturally low in sugar, promotes good gut health and contains no artificial colours, flavours, sweeteners or preservatives. 330ml glass bottles.
Watermelon Organic Kombucha
Lemon Lime Bitters Organic Kombucha
Raspberry Fusion Organic Kombucha
Passionfruit Dream Organic Kombucha
Ginger Tonic Organic Kombucha
Happy Hippie Organic Hemp Kombucha
For something a little different, this crowd-pleaser is kombucha blended with hemp oil, as good for the gut as it is for the tastebuds. It's packed full of healthy enzymes, minerals, vitamins and antioxidants, is made with real fruit and live cultures and contains no artificial colours, flavours, sweeteners or preservatives. 330ml glass bottles.
Tropical Sunrise Organic Hemp Boosted Kombucha
Mixed Berry Organic Hemp Boosted Kombucha
Ginger Tonic Organic Hemp Boosted Kombucha
Cucumber Melon Mint Organic Hemp Boosted Kombucha
Happy Hippie Superfood Smoothies
Happy Hippie Smoothies combine powerful, naturally healthy superfoods with premium quality fruits to create a delicious, functional and refreshing taste experience.
'Cleanse' Superfood Smoothie
'Innerglow' Superfood Smoothie
'Energise' Superfood Smoothie
Premium Sparkling Soft Drinks
From the freshest, most luscious ingredients come Wild One's premium sparkling soft drinks in 330ml glass bottles. They are the perfect fusion of refreshing Australian mineral water, delicate bubbles and nature's finest flavours. No artificial colours, flavours or preservatives, no added sugar, all-natural.
Natural Premium Sparkling Water
Raspberry Bliss Premium Sparkling
Pineapple Splice Premium Sparkling
Passionfruit Delight Premium Sparkling
Lemon Lime Bitters Premium Sparkling
Blood Orange Premium Sparkling
Strawberries & Cream Premium Sparkling
Amazon Lime Premium Sparkling
Rejuvinate Sparkling Collagen Water
A lovely sparkling mineral water blended with prime fruits and boosted with 3000mg of the highest grade, purest marine collagen peptides. Low in calories and sugar free, with no artificial colours or flavours. 330ml glass bottles.
Rejuvinate Mixed Berry Sparkling Collagen Water
Rejuvinate Strawberry Sparkling Collagen Water
Rejuvinate Mango Sparkling Collagen Water
Alkaline Water
Wild One Alkaline Water pH 9-10 provides faster, longer lasting ultra-hydration compared to drinking normal water. Alkaline water helps neutralise the acidity in our body, lowering excessive acidic levels caused by poor diet, stress or toxins and is an excellent source of potent antioxidants helping to protect your body from the harmful effects of damaging free radicals, boosting immunity. Available in 500ml bottles.
Premium Juice
Wild One carefully crafts each of their juices from only the finest ingredients, blending a range of enriching and fresh fruits into each bottle and uses an innovative and unique cold-fill bottling process, which ensures all the nutrients and flavours are maximised. No added sugar, preservatives, artificial colours or flavours. Available in 350ml bottles.
Premium Orange Juice
Premium Orange Passionfruit Juice
Premium Pineapple Juice
Premium Apple Guava Juice
Premium Apple Mango Banana Juice
Premium Apple Juice
Premium Apple Blackcurrant Juice
Retailers
Stock this proud Australian brand in your delicatessen, supermarket, newsagent, pharmacy or convenience store and you'll always have something innovative and tempting for your customers. Be sure to have icy cold bottles ready to grab and go to add those precious 'drinkable dollars' to your bottom line.
Foodservice
Talk to Wild One about enlivening your beverages menu with their incredible range of boutique juices, kombuchas, sparkling soft drinks and mineral waters. They can be used in cocktails, mocktails and smoothies and cater for the health-conscious as well as those looking for a more indulgent – yet still virtuous – beverage. Ideal for cafes, restaurants, pubs, hotels and resorts.
For more information or to place an initial order, reach out to Wild One today.