Gourmet Afrika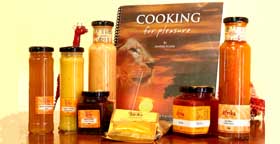 Gourmet Afrika
Introduce your customers to the taste of Africa
From the picturesque hinterland region of Maleny just north of Brisbane comes a taste of Africa. Gourmet Afrika is introducing consumers to the culinary delights of the wild continent with their range of condiments, chutneys, oils and curry pastes.
Everything is created using authentic recipes, using local ingredients prepared faithfully to reflect the origins of the products. Many of the products are traditional South African.
Stocking Gourmet Afrika's range of wholesale condiments and curry pastes will offer your customers something new and exotic, a reason to expand their recipe repertoire. They make excellent gifts or the ideal self-indulgence for a foodie who enjoys sending their tastebuds around the world.
Retailers, consider offering taste tests and invite your customers to sample the delicious products. Try them yourself at home so you can speak with enthusiasm about the authenticity, the ease of preparation and the interesting palate of flavours.
Do up some displays of gift-wrapped Gourmet Afrika products. These will provide instant inspiration for those occasions when something a bit unusual is desired.
Gourmet Afrika Mayonnaises
Mango & Chilli
Roasted Tomato, Lemon & Coconut
Chilli, Ginger & Lime
Gourmet Afrika Sauces
Mango, Lime & Ginger
Spicy Malay Coconut
Brandy Orange Sauce
Smoked Tomato & Red Wine Sauce
Sashaba (Curry BBQ Sauce)
Braaisous (Tangy BBQ Sauce)
Bobotie Set – sauce and spices with recipe
Potjiekos (pot food) set – sauce and spices with recipe
Gourmet Afrika Mustards
Honey with Whiskey & Rosemary
Horseradish & Ginger
Macadamia & Ginger
Honey Mustard Glaze with Brandy
Gourmet Afrika Chutneys
Blatjang
Mango & Paw Paw with Ginger
Smoked Mango, Tomato & Apple Atjar (relish)
Mango, Apricot & Ginger Blatjang
Gourmet Afrika Marinades
Red Wine, Garlic & Ginger
Peri Peri
Mint, Coriander & Ginger
Sesame, Lime & Ginger
Sosatie
Gourmet Afrika Oils
Roasted Garlic & Rosemary
Sundried Tomato & Roasted Garlic
Lemon & Lime Infused Oil with Lemongrass & Ginger
Chilli, Ginger & Roasted Garlic
Gourmet Afrika Butters
Passionfruit & Ginger
Lemon & Ginger
Mango & Ginger
Gourmet Afrika Jambos, Salsas & Jellies
Chilli Jambo
Sundried Tomato & Chilli Jambo
Beetroot Salsa with Citrus
Jalapeno Jelly
Smoked Olives with Rosemary & Citrus
Gourmet Afrika Curry Mixes
Special Malay
Kalahari Curry (mild South African Mix)
Peri Peri
Gourmet Afrika Curry Pastes
Gourmet Afrika Spice Mixes
Coriander, Ginger & Chilli
African
Bobotie
Cape Malay
Roasted Bo Kaap Masala (with recipe)
African Soup Spice Mix
Gourmet Afrika's curry pastes, condiments and spice mixes make excellent companion products to position with cookware, African-inspired table linen and African cookbooks. Thoughtful merchandising and personal experience will see these products leap out the door!
---
More information about Gourmet Afrika
Gourmet Afrika – At a Glance
Gourmet Afrika is the creation of Matilda Scarfe who was born in South Africa and migrated to Australia in 1983. Her love for food and cooking prompted her to open a restaurant when she moved to Maleny in 1992. Responding to requests from dining patrons who absolutely adored her food, Matilda established her incredible range of African-inspired sauces, chutneys, marinades and spices. She is justifiably proud of her range and we have put together some facts about Gourmet Afrika that will help you to understand the range more when selling to your customers. Click here