Wholesale Christmas Food & Fayre Suppliers
An Australian directory of the finest Christmas food suppliers, Christmas food distributors and Christmas food wholesalers. If ever there was a time for reaching out and grabbing hold of consumers' tastebuds, the festive season is it! Christmas fayre encompasses such a wide variety of goodies – traditional and slightly 'new wave' – that every year there's more to look forward to and more to tempt and tantalise. At Fine Food Wholesalers, we get very excited about what's on offer! Search the listings below to make your Christmas tills ring.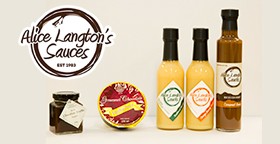 At Christmas time, you want to serve only the best. Alice Langton's Sauces taste just like homemade. Choose from Traditional Brandy and Traditional Cranberry plus lush fruit sauces that can be used for savoury and sweet dishes. Ideal as take-along gifts, Kris Kringle presents and teacher gifts.
Silver Penny Puddings produce top quality, suet-based, award-winning traditional English Christmas puddings using fabulous Australian produce. There are no added colours, flavours or additives so you can be sure you are eating a top shelf, proudly-made pudding. It also makes a wonderful gift and is ideally suited to gift hampers where it can be the star attraction.
We have a great range of products for Christmas including some brand new flavours. So treat your customers, staff, family, friends and everyone else to these delicious Christmas offerings from Charlie's. With all different flavours & shapes of classic shortbread as well as two different sizes of traditional fruit mince tarts, there is something to please everyone this festive season.
Bite Size Group know a thing or two about delectable cookies, chocolates and shortbread. This Christmas, their gift lines are thoroughly elegant and ready to be handed to recipients of both genders. Elegantly designed and in natural colours, they will make perfect gifts for clients, friends and family.
Grandma's Puddings are individually hand made using only the finest Australian fruit and ingredients from both the Peninsula and all around Australia and no artificial colours, flavours or preservatives. Our Puddings are fully cooked and ready to be served. Gluten Free puddings are also available.
Alpine Valleys Fine Foods makes Christmas entertaining and gifting so easy! Their exquisite array of wholesale Christmas plum puddings, fruit cakes and panforte are made by Chris, a Hilton trained chef, who makes every single product by hand. Gluten free versions are also available. Additionally, their range of ready-to-go Christmas hampers include other local, artisan gourmet fayre and are ideal Corporate Gifts.
At Christmas time, you need lots of cold, refreshing treats. Serendipity Ice Cream supplies wonderful wholesale Christmas desserts that are perfect for festive sales, entertaining and foodservice. Beautifully presented and made from premium ingredients, they are sure to win your customers' favour.
The festive spirit is alive and well at The Gourmet Merchant where you will find many delectable and beautifully packaged Christmas foods. From award winning packaging to delights infused with world famous spirits under license, The Gourmet Merchant has your Christmas foods covered.
Maxwell's Treats by The Treat Factory draw upon 50 years of recipes handed down through the family to create their tempting array of wholesale Christmas foods. From Traditional Ham Glaze and Whisky Wholegrain Mustard to Pineapple & Macadamia Ham Glaze and Redcurrant Jelly, every mouthful will ring with the flavours of Christmas!
The Blooming Marvellous range has been a staple of Traditional Australian Christmases for over 20 years. Everything is home made and hand made in small batches, with impeccable presentation and classic packaging. Including wholesale Macadamia Nut Pudding, Fig & Almond Christmas Cake and Ginger & Almond Shortcake. Also available are Brandy Orange Sauce and Brandied Summer Fruits.