Wholesale Contract Manufacturing
Fine Food Wholesalers helps you search Australia for leading food contract manufacturers. Our list of food contract manufacturers is being updated regularly with companies who focus on producing, manufacturing and packaging products specifically to their customers recipes.
Kitz Living Foods is a conscientious manufacturer of quality gluten-free, organic, raw, vegan snacks and treats. Products include grab-n-go bars, crackers, raw pizza bases, coconut bars, chunks and activated nuts. Contract manufacturing services are also available.
Well and Good are an Australian owned and operated manufacturer and developer of Gluten Free and Allergy Free baking mixes and flour blends. Well and Good produce products and offer services to foodservice, retail and private label customers.
Showcase your own private label foods by engaging The Treat Factory to manufacture for your brand. Just like home-made, every product is made using high quality ingredients to generations-old recipes. Choose from scores of jams, chutneys, syrups, mustards, tapenades, marmalades and more.
Tancredi Foods provide contract manufacturing for clients wanting to offer their own private label jams, relishes, mayonnaises and dessert sauces. Or, choose clean skins to suit the way you prefer to sell to your customers. Made to taste like home-made, every product is full of natural flavour.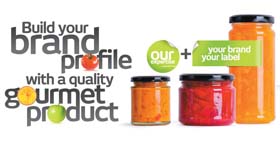 What better way to boost your brand awareness and profits than to offer your customers a quality product under your own brand? We have the expertise, facilities & experience to manufacture a retail range, catering product or corporate gift just for you - and we can even arrange label design, printing & application.