Wholesale Reusable Products
Now that single-use shopping bags are being banned in more and more places, and consumers increasingly prefer reusable coffee cups, it's important that your business be ready with on-trend, practical, convenient, 'green' and environmentally friendly reusable products. Fine Food Wholesalers helps you search Australia for reusable food, beverage and shopping products your customers will love.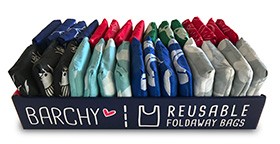 Ditch those boring or bulky shopping bags and be functional, stylish and environmentally friendly with Barchy. With Barchy bags on hand, no one would ever want to go back to those drab, grey, one-use shopping bags! Throw them in the wash, keep them in your car, handbag or backpack and carry them with pride and a smile! Each one has a distinct personality all its own.
Fressko presents stylish, practical and convenient glass flasks for porting water, fruit-water, hot or iced tea, hot or chilled coffee or juices when on-the-go. Double walled for safety and to maintain the contents' temperature, they feature a beautiful bamboo, leak-proof lid. Made from chemical free, pure glass, Fressko Flasks won't taint or contaminate contents.