Wholesale Ice Cream and Gelato Suppliers
An Australian directory of the finest wholesale ice cream and wholesale gelato suppliers, ice cream distributors and ice cream wholesalers. Fine Food Wholesalers helps you search Australia for leading gelato, sorbet and ice cream wholesalers. Our range of wholesale gelato, sorbet and ice cream suppliers is being updated regularly.
Petite Waffles offers authentic wholesale Belgian waffles in five different flavours; chocolate, vanilla, strawberry, cinnamon and maple. Serve as a dessert, for morning or afternoon tea, a late night snack or as an accompaniment to tea or coffee.
View more information and contact details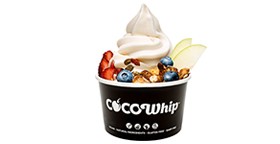 Cocowhip is the brand on everybody's lips, not just in summer but year-round! 100% natural, vegan, gluten free and dairy free, Cocowhip is gaining popularity even among mainstream ice cream lovers for its flavours, texture and supercharged health benefits. Available in 5 lush flavours plus Acai Whip. Wholesale supplier.
View more information and contact details
Cocofrio fills the ice cream gap for sweet tooths who have to avoid gluten and dairy. With its many health benefits and ten dazzling flavours, it's a guilt-free indulgence that can be used to create high end desserts and tempting beverages, or simply served scoop by delicious scoop. FODMAP Friendly Certified.
View more information and contact details
Serendipity Ice Cream offers a fabulous range of wholesale ice creams, sorbets, gelati and frozen yoghurts. With more than 100 flavours in stock at any given time, there is something to suit every taste and preference. Also available are soft serve (including non-dairy) and ice cream toppings.
View more information and contact details