Wholesale Breakfast Food Suppliers
An Australian directory of breakfast food suppliers, breakfast packs distributors and wholesalers. If you are offering foodservice breakfast options or retailing breakfast products in your store, then we have loads of ideas that can contribute wonderfully to your bottom line. Browse the Fine Food Wholesalers listings and select from wholesale muesli, including Macadamia, Bircher and Gluten Free Muesli through to Breakfast Bars, Waffles and full Breakfast Packs.
Adelia Fine Foods is all about passion for handmade products that use organic and natural ingredients. Their line of wholesale breakfast foods includes Granola, Muesli Trail Mixes and a very special Pancake Mix. Gluten free customers will adore the option to purchase foods that accommodate their dietary requirements too.
The Unexpected Guest's wholesome and delicious breakfast products include award-winning 'Granuesli', Muesli and Blueberry Pancake Mix. All are certified organic and gluten free is available.
Frances Strawberries, located on the Limestone Coast of South Australia offers a wonderful Toasted Granola that's consciously made with rice malt syrup to be fructose-free and olive oil instead of inferior vegetable oils. Serve with yoghurt or milk and fruit or use in recipes such as apple crumble and homemade muffins. Available in 400g and 800g packs. Ideal for cafes, restaurants, B&Bs.
13 Seeds Hemp Farm is Australia's leading supplier of hemp seed breakfast foods. Choose from Hemp Porridge with or without dried fruit, and Hemp Muesli, regular or with green tea. Each is vegan, GM free, free from artificial colours, flavours and preservatives, made from organic ingredients. They're a simple option for foodservice (minimal prep) and for home enjoyment. Just add hot milk.
Byron Bay Macadamia Muesli sources only Australian organic oats, cereals and biodynamic fruit and mixes it with fresh local macadamia nuts, oil and honey. Nothing artificial goes into this delicious, natural muesli range and that means no preservatives and no other added nasties. A bowl of Byron Bay Muesli is an ideal start to any day and your customers will thank you for caring.
Accommodation Breakfast Supplies specialise in quality, long-life wholesale breakfast products for the accommodation and tour industries. Choose from granola, porridge, muesli, cereals, snacks, juices and milk. All products have a good shelf life so you can keep them on hand and supply or serve as required. Ideal for motels, hostels, tour businesses. Gluten free options are available.
Lepack Breakfast Packs provide the ultimate in convenience for guests in resorts, clubs, hotels, accommodation venues and even for tour groups and professional event planners. Purchasing wholesale breakfast packs means you don't have to pay staff – who may or may not be experienced in food preparation – to cater breakfasts for guests.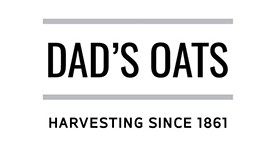 Dad's Oats is a family owned and run company that has produced top quality oats since 1861. Five generations later, the oats are still being grown and turned into premium oat products for Aussies to enjoy. Grown without pesticides, non-GMO and single origin, they are the first choice for oat lovers across the country who count on the nutrient-rich soil to deliver a supercharged bowl of vitamin and mineral-packed...
The Muesli Bar makes top quality muesli, granola and porridge products featuring premium local nuts, fruits, seeds, oats and chocolate. Choose from one of their incredibly delicious in-house blends including gluten free, low FODMAP, Paleo, low sugar and nut free options. Every pack is lovingly crafted to be nutritious, tasty and infinitely satisfying. Bring superstar breakfasts back!
InnaMuse offers handcrafted toasted and bircher muesli that's all natural and all delicious. All their mueslis are made with over 50% nuts and seeds. Their premium small batch muesli is carefully toasted to bring out the ingredients' natural flavours. With no added oils, fats or cane sugar, every pack is all natural and all delicious.
Petite Waffles offers authentic wholesale Australian made Belgian Liege waffles in several different flavours; traditional Belgian vanilla, cinnamon and maple with new ranges always coming out even savoury flavours. Serve as a dessert, snack, from breakfast to dinner. Only your imagination limits you.