Wholesale Breakfast Food Suppliers
An Australian directory of breakfast food suppliers, breakfast packs distributors and wholesalers. If you are offering foodservice breakfast options or retailing breakfast products in your store, then we have loads of ideas that can contribute wonderfully to your bottom line. Browse the Fine Food Wholesalers listings and select from wholesale muesli, including Macadamia, Bircher and Gluten Free Muesli through to Breakfast Bars, Waffles and full Breakfast Packs.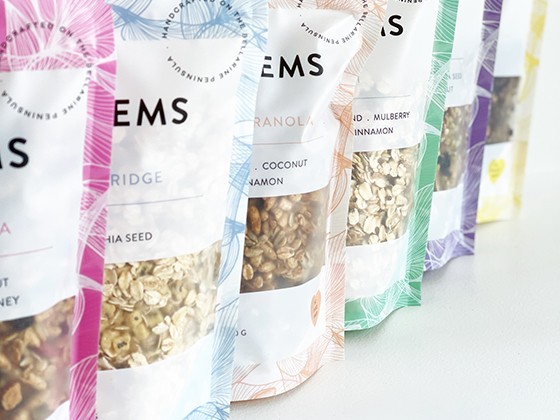 Ted & Mem's, based on the Bellarine Peninsula in Victoria is an Aussie family business that offers scrumptious wholesale granola and muesli in 3 varieties. Handcrafted with love, each pack is loaded with nutrition, taste and crunch. Choose from Fruit Full Granola, Grain Free Granola and Raw Muesli. Attractively packaged and with see-through windows to view the goodness inside.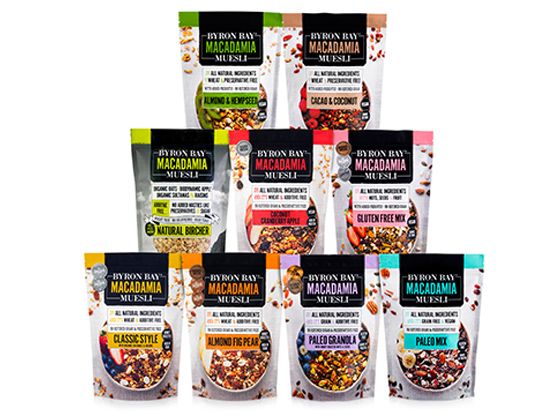 Byron Bay Macadamia Muesli sources only Australian organic oats, cereals and biodynamic fruit and mixes it with fresh local macadamia nuts, oil and honey. Nothing artificial goes into this delicious, natural muesli range and that means no preservatives and no other added nasties. A bowl of Byron Bay Muesli is an ideal start to any day and your customers will thank you for caring. Gluten free and vegan options.
Gluten friendly oats? Yes indeed! You'll find them through GF Oats, aka Gloriously Free Oats. Tested to nil gluten but unable to be labelled 'gluten free' due to Australia's strict labelling laws, the range includes Traditional Oats, Certified Organic Oats, Quick Oats, Steel Cut Oats, Aussie Oats and Oat Flour. They are also GMO free and glyphosate free.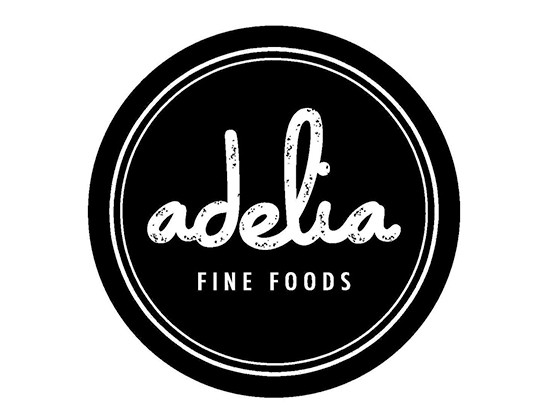 Adelia Fine Foods is all about passion for handmade products that use organic and natural ingredients. Their line of wholesale breakfast foods includes Granola, Muesli Trail Mixes and a very special Pancake Mix. Gluten free customers will adore the option to purchase foods that accommodate their dietary requirements too. Almost every product in the range has won at least 1 Fine Food Award.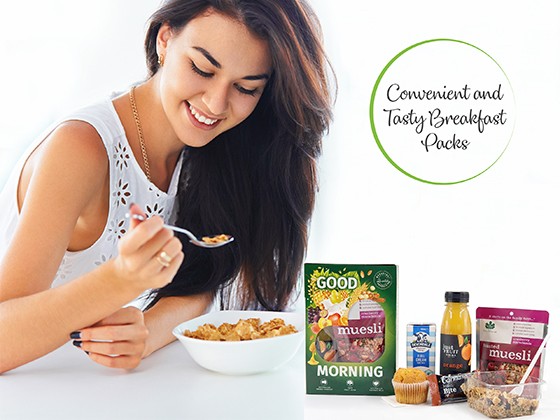 Lepack Breakfast Packs provide the ultimate in convenience for guests in resorts, clubs, hotels, accommodation venues and even for tour groups and professional event planners. Purchasing wholesale breakfast packs means you don't have to pay staff – who may or may not be experienced in food preparation – to cater breakfasts for guests.