Wholesale Breakfast Food Suppliers
An Australian directory of breakfast food suppliers, breakfast packs distributors and wholesalers. If you are offering foodservice breakfast options or retailing breakfast products in your store, then we have loads of ideas that can contribute wonderfully to your bottom line. Browse the Fine Food Wholesalers listings and select from wholesale muesli, including Macadamia, Bircher and Gluten Free Muesli through to Breakfast Bars, Waffles and full Breakfast Packs.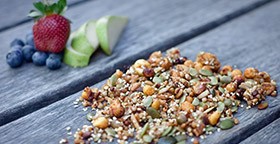 Whitsunday Organic Products proudly produce organic muesli in three exciting flavours, including a gluten free variety. Produced in the fabulous Whitsundays, they contain nothing artificial, no Canola and no GMO ingredients. Serve or sell to your customers with pride.
View more information and contact details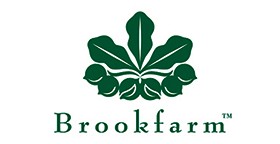 In their wholesale breakfast products, Brookfarm offers the very best ingredients Australia has to offer. Starting with divine local macadamias, their mueslis and muesli bars are loaded with flavoursome fruits and crunchy seeds and grains. Choose from Natural, Toasted and Gluten Free options.
View more information and contact details
Byron Bay Macadamia Muesli sources only Australian organic oats, cereals and biodynamic fruit and mixes it with fresh local macadamia nuts, oil and honey. Nothing artificial goes into this delicious, natural muesli range and that means no preservatives and no other added nasties. A bowl of Byron Bay Muesli is an ideal start to any day and your customers will thank you for caring.
View more information and contact details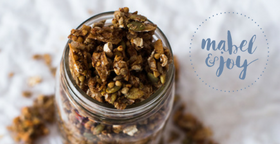 Located in Sydney's Inner West, Mabel & Joy's premium handmade granola contains no preservatives, artificial flavours or refined sugar. Our eight blends are all vegan and dairy-free, plus we have Paleo, gluten-free and high-fibre selections to choose from. Delivering nationwide, our customers love our unique flavours, our no-sugar approach and our product integrity.
View more information and contact details
InnaMuse offers handcrafted toasted and bircher muesli that's all natural and all delicious. All their mueslis are made with over 50% nuts and seeds. Their premium small batch muesli is carefully toasted to bring out the ingredients' natural flavours. With no added oils, fats or cane sugar, every pack is all natural and all delicious.
View more information and contact details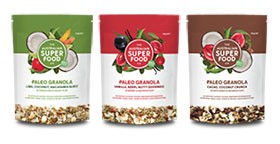 The Australian Superfood Co has created an innovative range of Granola products based on nutrient-rich ingredients, including some of Australia's proudest ancient bush superfoods. Designed as an incredibly healthy start to the day, each Granola boasts its own sublime combination of interesting textures and scrumptious flavours.
View more information and contact details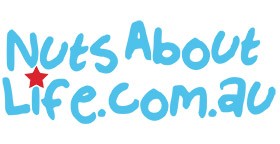 Nuts About Life supplies a diverse range of wholesale mueslis, oats, cereals and other nutritious breakfast ingredients including dried fruits, nuts, nut spreads, cacao, maca and coconut products. Available in pre-packaged quantities of 250g, 500g and 1kg, they are in demand by consumers looking to enjoy something new and exciting at breakfast time.
View more information and contact details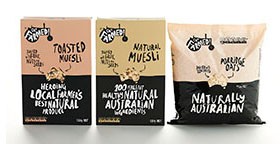 Get Farmed! offers three different wholesale breakfast products to provide your customers with a delicious, healthy and satisfying start to the day. Featuring Natural Muesli, Toasted Fruit & Nut Muesli and Porridge Oats, the range showcases fabulous Aussie fruits, nuts and seeds, all wrapped up in cool, eye-catching boxes.
View more information and contact details
LePack Breakfast Packs provide the ultimate in convenience for guests in resorts, clubs, hotels, accommodation venues and even for tour groups and professional event planners. Purchasing wholesale breakfast packs means you don't have to pay staff - who may or may not be experienced in food preparation - to cater breakfasts for guests.
View more information and contact details
Adelia Fine Foods is all about passion for handmade products that use organic and natural ingredients. Their line of wholesale breakfast foods includes Granola, Muesli Trail Mixes and a very special Pancake Mix. Gluten free customers will adore the option to purchase foods that accommodate their dietary requirements too.
View more information and contact details
The Unexpected Guest has created wholesale muesli products that are certified organic and utterly delicious. Choose from Freestyle Granuesli or Gluten Free-Style and boost your brekky menu with these superb quality options that are lovingly handcrafted in Australia.
View more information and contact details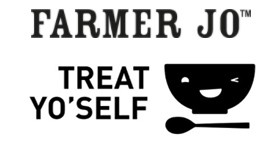 Farmer Jo is a company devoted to the production of wholesome, delicious breakfast foods. Their mueslis, granolas and spiced oats have found favour right across Australia and are served by airlines and some of the country's best cafes and restaurants. Made with all natural and organic ingredients, these breakfast beauties are the choice for health-conscious consumers.
View more information and contact details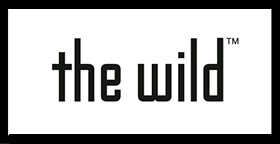 The Wild is a brand that is passionate about health and wellness. Their premium granolas, mueslis, porridge and crumble will turn your health-conscious customers into raving fans. Made with top quality superfood ingredients, they are as delicious as they are wholesome and can be used in endless recipes such as bars, crumbles, bowls, cheesecakes, desserts and parfaits.
View more information and contact details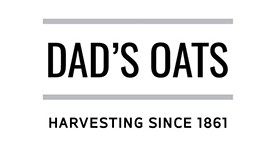 Dad's Oats is a family owned and run company that has produced top quality oats since 1861. Five generations later, the oats are still being grown and turned into premium oat products for Aussies to enjoy. Grown without pesticides, non-GMO and single origin, they are the first choice for oat lovers across the country who count on the nutrient-rich soil to deliver a supercharged bowl of vitamin and mineral-packed...
View more information and contact details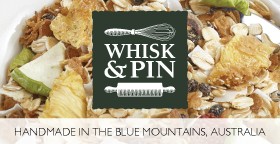 Everyday, our small team of bakers, innovators and passionate food creators arrive at our bakery nestled here in the misty Blue Mountains. Ready for another day of hand-rolling, hand-mixing, and hand-packing, we begin freshly making over 100 individually unique products to order. We then distribute across the nation directly to our customer-base of artisan cafes, gourmet delis, luxury accommodations, and independent...
View more information and contact details