Wholesale Finger Food and Canapes Suppliers
Fine Food Wholesalers connect you with the best canape and finger food wholesale suppliers. Get your finger food wholesale products leading finger food suppliers in Australia.
Satisfine Foods makes catering easy by presenting an array of top quality brands of wholesale finger foods such as quiches, gyoza, samosas, pies and more. Suitable for casual outlets through to high end functions catering, there is something for everyone to enjoy, including a selection of gluten free pastries.
View more information and contact details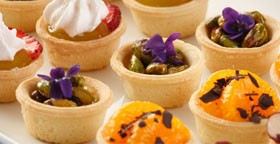 Lincoln Bakery Finger Food Bases and Shells make entertaining or catering easy and practical. Elegant, tasty and easy to use, they are ready to be topped with your choice of flavours and fillings. Whether you want to serve beautifully simple or divinely intricate canapes, Lincoln Bakery's wholesale canape bases provide you with the scope you need.
View more information and contact details
Peninsula Larder makes presentation of finger foods a breeze with their exquisite Flavour Pearls in an incredible array of flavours. Drop into cocktails, perch atop a creamy brie, create dazzling canapes and garnish platters with novel elegance.
View more information and contact details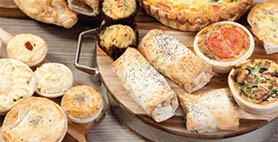 Australian-owned Chilton's Artisan Foods offers an outstanding range of wholesale finger foods in the form of sausage rolls, pasties, frittatas, fillos, gourmet pies and quiches. Made from top quality ingredients and designed for attractive, professional presentation, the products are ideal for catering purposes.
View more information and contact details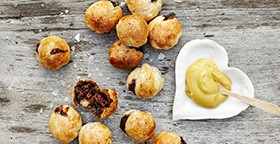 Land of Plenty Food Co. is your one source for beautiful, innovative, premium finger foods. Land of Plenty Food Co. encompasses the multi-award winning brands of Lotus & Ming for Hand Crafted Gourmet Dim Sum, Dim Sum & Co. for Yum Cha Made Easy, Rustic by Lotus & Ming for hand-crafted Canapes, Paloma Pops for Whole Fruit Artisan Ice Pops and more.
View more information and contact details