Mamma Marilena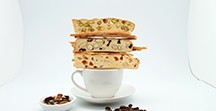 Mamma Marilena
Mamma Marilena
From its humble beginnings as a small family business to a national, innovative brand of gourmet treats, the Mamma Marilena brand of sweet and savoury Italian biscuits and cookies focuses on top quality fresh ingredients and making the products by hand. Traditional Italian recipes are baked to order and include scrumptious nut breads, shortbreads, meringues and more.
Enjoyed by Italians for their authenticity and by everyone else for their incredible flavours and textures, Mamma Marilena's biscuits and cookies are excellent sellers in supermarkets, convenience stores, delicatessens and markets. They are served in restaurants, cafes, hotels, bed and breakfasts and wherever quality treats are appreciated.
Nut Bread
'Eyes'
Shortbread
Macaroons
Fruit Balls
Meringues
Savoury Biscuits
Just Nuts
Gourmet Cookies
Distributors are sought to introduce the Mamma Marilena brand to foodservice operators and retailers throughout Australia. The home-style quality and artisanal packaging let customers know that they're enjoying honest and true foods made with love.
To express your interest in becoming a Distributor, simply complete the form below or give Mamma Marilena a call today.