S Flower Cookies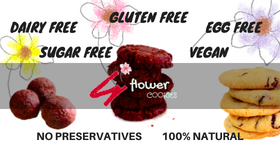 S Flower Cookies
S Flower Cookies
Distributors are sought by S Flower Cookies to promote their 'free-from' cookie range to cafes, restaurants, health food stores, supermarkets and other retailers and foodservice outlets throughout Australia.
Trained at the world's premier culinary arts institute, Le Cordon Bleu, Paris, the founders of S Flower Cookies take up the challenge of making tasty free-from cookies that are just as enjoyable as conventional cookies. Passion, appreciation, tasty and freshness are their philosophy in running the business. Creating their own recipes, using the best real food ingredients and free of any preservatives and nasties added, their cookies are so delicious that you won't believe they are gluten-free. Everyone including people with food allergies can enjoy their cookies.
Their product range is:
Gluten free
Dairy free
Egg free
Soy free
Sugar free
Vegan-friendly
No refined sugar
No artificial colouring or flavouring
No preservatives
Only real food ingredients
Endorsed by Coeliac Australia
Product Range
Individual wraps and mini pouches available.
Individual wrapped Gluten Free Vegan Dark Chocolate Chip Cookies 40g
Individual wrapped White Chocolate Macadamia Nut Cookies 28g
Individual wrapped Chocolate Teddy Bear Heart Cookies 20g
Mini pouch Gluten Free Vegan Dark Chocolate Chip Mini Cookies 60g
Mini pouch Sugar Free Dark Chocolate Chip Mini Cookies 60g
Cookies Flavours
There are four different flavours to choose from, including a cute children's product that will be popular among customers looking for allergen-free snacks for their little ones.
Gluten Free Vegan Dark Chocolate Chip Cookies
Gluten Free White Chocolate Cranberry Macadamia Nut Cookies
Chocolate Teddy Bear Heart Cookies
Sugar Free Gluten Free Vegan Dark Chocolate Chip Mini Cookies
Retailers
Introduce your food retail clients to S Flower Cookies and suggest that they stock them for their allergen-free virtues. More and more customers seek free-from products and store owners find it difficult to keep up with changing demands. The cookies are suitable for supermarkets, convenience stores, chemists, petrol stations, kiosks, health food stores, gluten free and vegan specialty outlets, delicatessens, vending machines, confectionery stores and event goodie bags.
Foodservice
Show off S Flower Cookies to your café, restaurant and hotel clients. They are ideal for hotel mini bars, reception desk purchases at tourism and hospitality venues, to serve as part of a gluten free High Tea and for caterers to offer guests at events. Suggest them to airlines, school tuck shops, canteens, food truck operators and corporate offices looking for a free-from option.
To express your interest in becoming a Distributor, contact S Flower Cookies today.