Seco Sparkling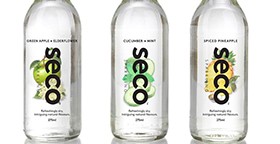 Seco Sparkling
Distributors Wanted for Seco Sparkling
Seco Sparkling is seeking distributors throughout Australia who'd like to expand their soft drink offering to include something a little bit more special than the average non-alcoholic drinks found on menus today. With a range of intriguing natural flavours, the low-sugar, low calorie, sparkling dry products will be a sophisticated addition to retailers' and foodservice businesses across the country.
Passionate hospitality professionals, the directors of Seco Sparkling are revitalising the soft drink category with a premium new offering of refreshingly dry and delicious beverages made for aspirational venues and occasions.
The Melbourne-based company was formed by a group who are passionate about good food and beverages, and believe they have created something unique that the market is truly ready for – a low-sugar sparkling product featuring intriguing natural flavours, never before seen in a beverage.
The current range (which changes with new seasonal launches) comprises:
Spiced Pineapple
Cucumber & Mint
Green Apple and Elderflower
The drinks can be sipped and savoured on their own, or mixed to create sophisticated and unique cocktails. The flavours combine particularly well with the new wave of gins, vodkas, rums and other quality spirits springing up across the drinks industry.
Seco Sparkling is seeking distributors to help promote and sell its delicious range to cafes, restaurants, caterers and retail outlets across Australia.
If you'd like to express an interest in distributing Seco Sparkling beverages, get in touch using the contact form.