Costa's Biskotery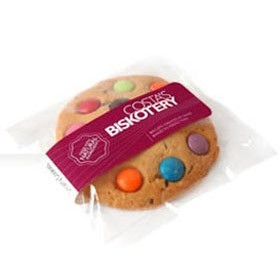 For wholesale biscuits created by hand and baked to perfection, Costa's Biskotery has a dream range of flavours and styles that are sure to keep all your customers happy. Read more about their classic favourites and innovative delights.
All products are created using traditional methods and the finest ingredients.
All biscuits and cookies are hand sorted and packed into cardboard cartons with polypropylene bag liners to ensure safe arrival.
All products are tested regularly by EML Laboratories as part of the company's commitment to food safety and to ensure all gluten free products remain gluten free.
Glass cookie jars are available from Costa's Biskotery for use on countertops and shelves. The company can also supply timber cookie jar stands to conserve counter space.
Only pure unsalted butter is used in all recipes, never shortbread, margarine or vegetable oil.
The freshest nuts, premium quality jams and quality Cadbury and Nestle chocolates are used in Costa's Biskotery recipes.
Gluten free wholesale biscuits and cookies available.
The Costa's Biskotery range
Yoyo
Raspberry & Cream Yoyo
Chocolate Yoyo
Fruit Seed & Nut Cookie
Monte Carlo
Apricot & Almond Bullseye
Raspberry Jam Daisy
Viennese Biscuits
Almond Crescents
Yoghurt Dipped Muesli
Anzacs
Raspberry Bullseye
Florentine
Chocolate Chip Cookie
White Chocolate & Macadamia Cookie
Dark Smarty Chocolate Chip Cookie
Smarty Chocolate Chip Cookie
Triple Chocolate Fudge Cookie
Gluten Free
Gluten Free White Chocolate & Macadamia
Gluten Free Vanilla Yoyo
Gluten Free Raspberry & Cream Yoyo
Gluten Free Chocolate Chip Cookie
Gluten Free Coconut
Catering Mini Biscuits & Cookies
Includes Vanilla Yoyo, Chocolate Yoyo, Monte Carlo, Chocolate Chip and Jam Kiss, all in miniature sizes.
Individually wrapped
Many of Costa's Biskotery products are available individually wrapped and barcoded for added shelf life and convenience.
Retailers
Choose Costa's Biskotery for sheer variety and quality. Made with the finest ingredients, they're sure to please your customers. Position at point of sale for dollar-boosting impulse purchases. Offer taste tests and talk to your customers about the Australian-made virtues of these delicious biscuits.
Foodservice
Cafes, restaurants, kiosks, canteens and more … when you serve your customers quality, they will happily return.
Contact Costa's Biskotery to order your first delivery of quality wholesale biscuits and cookies today.
---
Contact details for Costa's Biskotery
---