Interview - Anastasia Galanis - Anastasia's Kouzina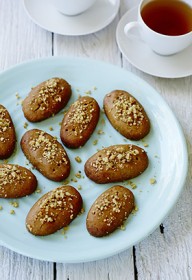 As the world spins ever faster on its axis, it's reassuring to know that old family traditions are still being kept alive and very well by enterprising business owners. In the case of Anastasia's Kouzina, owner Anastasia Galanis has taken it upon herself to carry the banner for her generation – and those to come – and bake utterly delicious Greek biscuits for eager customers. We sat down with a cup of extraordinary Greek coffee and nibbled on some Koulourakia while we chatted with Anastasia.
FFW: Just tasting your biscuits and biscuits conjures up images of a wonderful Greek Yia Yia in an apron, totally in control of her kitchen. How does that reconcile with reality at Anastasia's Kouzina?
ANASTASIA'S KOUZINA: Greek biscuits are a mainstay in most Greek homes and are part of Greek cuisine; yes I'm wearing an apron in control of my kitchen; I love baking them and watching people's expressions when they take their first bite. I have been baking for years for friends and family then a friend suggested I start my own business and share them with the world!! They are of generous size and taste fantastic!
FFW: How important is it to you that these traditional recipes are kept alive and in production?
ANASTASIA'S KOUZINA: Very!! Greek women often change ordinary round shapes and styles into unusual designs such as spirals and figure eights as well as intricate layered biscuits sprinkled with colourful spices and sugars. Everyone has their own version which is particular to their family but in general, it's the flavour that counts and any self-respecting Greek can spot a fake a mile off
FFW: Just how close to authentic are your recipes?
ANASTASIA'S KOUZINA: I'm very proud to say that all biscuits from Anastasia's Kouzina are completely authentic! Most of my recipes come from Mum. There are many more modern ways of baking them but I prefer the traditional.
FFW: What's the biggest selling or most popular product at Anastasia's?
ANASTASIA'S KOUZINA: Well it actually depends the time of the year! For morning teas, it can be the biscotti with almonds and chocolate chunks or the Koulourakia and Samali. Then for weddings, it's Kourabiedes and for our fasting period, definitely Melomakarona.
FFW: Do you cater for wedding and other special occasions?
ANASTASIA'S KOUZINA: Most Greek biscuits have traditional associations with holiday celebrations and are of great importance. Greek Christmas isn't complete without Melomakarona and Kourabiedes and no Greek Easter is complete without Koulourakia.
FFW: What's the best way to enjoy your Greek biscuits?
ANASTASIA'S KOUZINA: Greek biscuits are to be enjoyed at any hour, whether served between meals as a little sweet treat or as graceful accompaniment to morning tea or coffee. A tempting array of biscuits served with a steaming cup of coffee or tea, breaks the day deliciously.
Anastasia's Kouzina welcomes enquiries for weddings and other special occasions where traditional Greek biscuits will make any event extra memorable!
---
Contact details for Anastasia's Kouzina
---