Interview - Elisha Webber - Silver Penny Puddings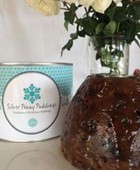 Nothing says "Christmas" like a hearty Chrissie pudding, especially one made to a recipe that's been handed down through the generations. Elisha Webber, Owner/Operator of Silver Penny Puddings has put her heart and soul into these extraordinary puddings, and even offers a gluten free version. Find out more about how they came to be and the secret ingredient that makes them taste so much like home.
FFW: How long has Silver Penny Puddings been in business?
SILVER PENNY PUDDINGS: The business was first registered in 2013.
FFW: How did you decide to start a business making gorgeous Christmas puddings?
SILVER PENNY PUDDINGS: It is strange how things work out. I never intentionally meant to start a Christmas Pudding business, it happened by accident.
I have always loved food and cooking, spending most of my working life in hospitality and working in kitchens. Initially l was making them for our family Christmases after my grandmother passed away. From there, friends wanted a few here and there and it became very expensive. So, I had to start charging for them. Then one thing leads to another and going from 10 puddings, last year over saw a massive 3,000!
FFW: Are your puddings available throughout the year?
SILVER PENNY PUDDINGS: Yes, they are, if queried, I produce to order.
FFW: Do you use locally sourced ingredients where possible?
SILVER PENNY PUDDINGS: Always. All the dried vine fruit is Australian. I source the eggs from a beautiful farm nearby where hundreds of hens roam in a paddock. The brandy is South Australian from St Agnes and the Stout is Coopers, also from South Australia. My favourite ingredient in the puddings is suet, which I source from The Meat Room, also local to where l live. Suet is a pure, hard fat which surrounds the loin of beef; this gives the puddings a stunning depth of flavour and makes them rich and light. "Fat equals flavour" has always been my motto.
FFW: Would you say your puddings and sauce are made to a home style recipe?
SILVER PENNY PUDDINGS: Absolutely!! Again, using suet is a very traditional ingredient. Most puddings on the market today use butter instead. And you just don't get the depth and richness. I'm sure many of you have a memory of your grandmother or mother grating suet in the weeks leading up to Christmas.
FFW: Do you offer a gluten free pudding?
SILVER PENNY PUDDINGS: For the last two years l have added a gluten free pudding. I have a lady who sends me her 2.8L bowl each year so it's big enough to feed her family!
FFW: Aside from supermarkets, fine food stores and delis, what other types of retailers are stocking Silver Penny Puddings?
SILVER PENNY PUDDINGS: I have a few online stores stocking my puddings. There's The Gourmet based in NSW and last year Snowgoose Hampers used them also, which resulted in a great write-up in the Gourmet Traveller Christmas magazine.
FFW: Do you sell your products in foodservice sizes?
SILVER PENNY PUDDINGS: No, if there is a demand for it though, for sure.
FFW: Why do you think foodservice businesses don't make their own puddings?
SILVER PENNY PUDDINGS: Not sure, happy to fill the gap though!
FFW: What goes into your Spiced Brandy sauce?
SILVER PENNY PUDDINGS: Patience! Slow and steady wins the race. Making a caramel in a large volume can be tricky.
FFW: How would you suggest retailers promote your products in store?
SILVER PENNY PUDDINGS: I am always happy to do instore tastings. Not only does it help the staff sell, it gives the consumer a chance to try before they buy. Flyers with a picture will be available this year.
FFW: Being packed in tins, they should be especially suitable for gift hampers that have to travel, correct?
SILVER PENNY PUDDINGS: Definitely, many other puddings are all packed the same, in a cloth with a pretty ribbon. Hey I did it the same initially. By packaging them in a tin, they stack great on the shelf and are more "gift"-appropriate.
FFW: How do you reheat the puddings to serve?
SILVER PENNY PUDDINGS: I grew up without a microwave, and still do not own one, they scare me. On the label, there are instructions to reheat the traditional way, but I am all about tradition. Simply place a saucer in the bottom of a large saucepan and place the pudding bowl in. Fill with water to reach half way up the side of the basin. Cover. Bring to the boil and lower to a simmer. Top up with boiling water as required and enjoy the rattle as it steams for around one and a half hours.
FFW: Can they be served cold for our hot Aussie Christmas?
SILVER PENNY PUDDINGS: Of course, why not!
FFW: Do you find more people are buying Christmas puddings these days because they are time-poor? Are there any other reasons?
SILVER PENNY PUDDINGS: Yes, I suppose so. Also, they are expensive to make and if you mess up it's very wasteful.
FFW: What's your favourite way to eat a Silver Penny pudding?
SILVER PENNY PUDDINGS: Hot, with Spiced Brandy Sauce and double cream. And most certainly with family and friends around me.
Is your mouth watering now? Why not try Silver Penny Puddings for yourself; you'll be keen to get them on the shelves for your customers this Christmas. For further information or to place an order, contact Elisha today.
---
Contact details for Silver Penny Puddings
---