Interview - Jo Thomas - Buds & Beads
Buds & Beads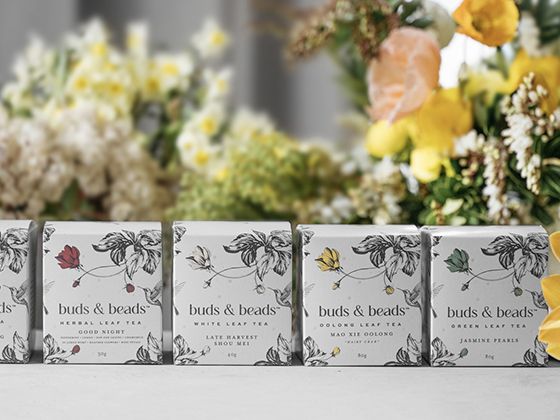 More Images
If you've ever wondered how what kinds of innovations could be applied to tea, then you may not have heard of Buds & Beads. Aside from exquisite, sustainably sourced leaf teas, they also produce magnificent Sparkling Teas, ready to drink cold teas with pleasant bubbles. We spoke with Managing Director, Jo Thomas, and learned why the company has positioned itself in a similar space to fine wines.
FFW: Who is behind the Buds & Beads brand?
BUDS & BEADS: Best friends of 30 years and as many in the world of wine and hospitality, Jo Thomas and Karina Barry, embarked on an entrepreneurial journey together into a new world of premium sparkling and leaf teas.
An Australian first, low-sugar, alcohol-free and oh-so-gorgeous sparkling teas are the cornerstone of Jo and Karina's Buds & Beads brand and business partnership. With a lifetime of hospitality and wine industry experience between them, "We'll admit there was a time it was all about wine," Jo says. "But arriving at a place in our lives where what matters most to us is feeling good in ourselves, mind, body and spirit, has led us to make choices that nourish us, and opened us up to new possibilities, personally and professionally."
We both saw a huge gap in the market for a non-alcoholic beverage that wasn't laden with sugar, that looked and tasted amazing, and was actually really good for you. Our aim was to take the stigma out of 'not drinking alcohol', present the sparkling in gorgeous packaging and produce a well-balanced beverage that could be matched beautifully with food.
FFW: What can you tell us about the Buds & Beads company itself?
BUDS & BEADS: Buds & Beads was launched in October 2022 by business partners Jo Thomas and Karina Barry and our business is based in the farming area of Lower Belford in the Hunter Valley.
Whilst Jo manages the day-to-day running of the business, both partners are intimately involved in product and brand development. Karina, along with her husband Brian, owns a luxury boutique hotel on the Central Coast called Bells at Killcare and manages Pretty Beach House, a member of the Luxury Lodges of Australia group.
Jo, a qualified Tea Master, has a strong background in business management, marketing and communications, with over 25 years of experience in the growth and development of some of Australia's key brands, including Destination Hunter Valley, Reflections Holiday Parks, Golden Door and Thomas Wines.
FFW: Would you classify Buds & Beads as an artisanal brand?
BUDS & BEADS: Absolutely, we are 100% artisanal. Whilst our leaf teas and herbals are sourced from around the world and Australia, we work closely with our suppliers to ensure that our teas come from plantations that are sustainable, preserve the heritage of tea traditions and ethically employ local people to give back to their communities.
We spent six months developing our Sparkling Teas and leaf tea blends, and engaging with a Tea Master, a sommelier and winemaker to assist us in creating the flavour profiles for our products. We also work closely with the innovations and production teams at a world class beverage facility in Victoria.
Once you get a taste for seriously good tea and start to understand the nuances of terroir and time-honoured methodologies behind each of the 17 loose leaf blends in the Buds & Beads range, it's addictive. Tea selection for a table of friends or family becomes every bit as adventurous as choosing which wine to serve.
FFW: What are the most important features or values of the teas you offer?
BUDS & BEADS: The range of 17 extraordinary teas we've selected for Buds & Beads is just a drop in the ocean of some 3,000 tea varieties to be found around the world. We think they're the finest drops and an excellent representation of the highest quality tea that can be sourced. We also use our leaf teas in our Sparkling production to ensure our customers are getting a premium product.
The cultivation and naming of each tea for the province it is grown in, is similar to the way in which wines are characterised. Classification can be broken down into black, green, oolong, white, pu-er and yellow, and we've arrived at an ideal balance of these in our range. The selection process taught us that, just like wine, we can only fully appreciate a tea once the factors contributing to its unique characteristics are known, such as its place of origin, the altitude, climate and soil composition where it is grown, when it is picked and how it is processed.
We've invested great care, and many tasting sessions with tea masters, winemakers and sommeliers within our circle, into deciding which loose-leaf teas were special enough to make the cut for our Buds & Beads selection. Together, we've developed three healthy and nourishing alcohol-free sparkling teas with scarcely any sugar and added these to the collection.
FFW: From where is your tea sourced?
BUDS & BEADS: We blend and brew our Sparkling and Leaf Teas in Australia, using ethically and sustainably sourced ingredients from local and overseas growers. Our leaf tea and herbals are grown and sourced from artisanal and family producers in China, Japan, Korea, India and Australia.
FFW: How would you describe your Sparkling Teas?
BUDS & BEADS:
Ginger Rose
Our wickedly alluring Ginger Rose sparkling tea is an all-natural refresher that brings a little something special to any occasion. Delicate, blush-pink bubbles effervesce from your flute with crisp citrus aromas and flavour-bursts of ginger, rose petal and zesty lemongrass. We've added ginkgo, turmeric and just a hint of liquorice to nurture, invigorate, and leave you wanting more.
Food Pairing
Incredibly versatile, this Sparkling pairs particularly well with spicy cuisine. Equally as delicious with sweet pastries and decadent desserts.
Alcohol Free
Caffeine Free
Low Sugar
Low Calorie
GMO Free
Silver Needles
We've created this treasure of sparkling teas with Spring's first flush of Silver Needles white tea buds, a luxury once reserved for the Chinese Imperial family. The stuff of celebrations, its shimmering, salmon-pink bubbles have a lifted rose aroma with a hint of vanilla, zingy fruit tingle flavours and a juicy, rose petal finish.
Naturally lightly caffeinated, it's delightfully revitalising and bursting with life-giving antioxidants.
Food Pairing
Pairs beautifully with fish and crustacea or mixed steamed vegetables and salads. Don't pass up the soft cheeses when enjoying a glass or three.
Alcohol Free
Low Sugar
Low Calorie
GMO Free
Before Rain
So pure you can taste the tea's origins, Before Rain sparkling tea is an addictive blend of nectar-like Jasmine Pearls and organic Woojeon green tea, infused with the minerally flavours of volcanic earth and salty sea breezes on the tiny island where it's hand-picked before monsoon rains. A nurturing glass of sheer elegance, it has a pale straw, champagne-like bead, a floral bouquet with top notes of orange, and a clean palate of citrus, gentle vanilla and jasmine.
Food Pairing
Devine with all seafood, our favourite is oysters. Also delicious with white meats or plant-based salads and savoury pastries.
Alcohol Free
Low Sugar
Low Calorie
GMO Free
FFW: What is the correlation between wine and tea that informs your offering?
BUDS & BEADS: There is a direct correlation when it comes to terroir. A leaf tea's ecosystem, including climate, cultivar, geography and topography, soils and water supply, all determine the characteristics and quality of the teas we source. It is exactly the same for grapevines that we grow for wine production. Like wine, you cannot produce a beautiful quality tea that is an expression of its terroir unless the conditions are right for that type or style of tea. For example, for a premium green tea the most idyllic conditions are warm, humid climate with high rainfall, and deep acidic, well drained soils. Further, tea grown at higher altitudes usually has a more delicate aroma and flavour than tea grown at lower elevations and on the other hand, tea grown in Assam, India is more robust and also very flavourful – it's all in the terroir.
FFW: Where do your Sparkling Teas sit in the market?
BUDS & BEADS: Our Sparkling Teas are a perfect non-alcoholic alternative or can be a daily healthy beverage that has all the benefits of leaf tea including antioxidants, it's immune boosting, and helps reduce inflammation. It's designed to be consumed when you want to give your body a break from alcohol and drink something that is fun, sexy and tastes great.
We are really targeting female audiences who are either considering sobriety, are health conscious or just wanting to give their bodies a break from alcohol and sugar laden beverages.
FFW: Do you supply your loose leaf teas in bulk quantities for foodservice clients?
BUDS & BEADS: Yes, we do, our wholesale customers can purchase our teas in up to 150g, 500g or 1kg recyclable packs.
FFW: How would you describe the Buds & Beads personality?
BUDS & BEADS: Buds & Beads is all about feeling good about what you are putting in your body.
Our sparkling teas are sophisticated, celebratory, and special occasion beverages, designed to be shared.
Our leaf teas are seriously good teas that have been meticulously grown and carefully hand-picked. They are so special they can be confidently gifted or just become a part of one's everyday ritual.
FFW: Do you ship Australia-wide?
BUDS & BEADS: Yes, we ship to all states.
FFW: Do you provide any brewing tips, ingredients lists, recipes or information about the health benefits of your teas?
BUDS & BEADS: We supply all this information via the blog on our website and in each description of the leaf teas.
FFW: How does your company help clients to promote your products in store?
BUDS & BEADS: We are happy to provide our wholesale customers with signage, POS materials (flyers etc.) and 3-pack Buds & Beads custom-designed 3-packs and single bottle bags. We are flexible in providing what our clients need to help present and promote our products in store, including bespoke signage.
FFW: How would you suggest retailers promote Buds & Beads?
BUDS & BEADS: In-store tastings of our Sparkling Teas work well, and we are happy to provide tasting stock when required. For our leaf teas, we provide a clear glass jar to display what the teas look and smell like, so that the customer has the opportunity to visualise the teas before purchasing.
Positioning our Sparkling and/or leaf teas with other products in the same or similar category would be recommended.
With our Sparkling Teas, what really sets us apart from our competitors is that our products are all natural, low in sugar, have all the health benefits of leaf tea, pair beautifully with food, and its packaging has a premium, sophisticated feel. It makes an ideal gift or beverage to take to a special occasion.
FFW: What drives you and your business?
BUDS & BEADS: Producing products that are first and foremost good for us and our customers, drives us. Having accumulated a community of loyal customers who love our products and continue to support the brand also drives us and of course drives the business. Our aim is to continue to build on this community and to create products that will provide a happier and healthier world. Our goal is to increase our distribution so that we can reach a much bigger audience and give more people the opportunity to enjoy our products and provide them with the potential to lead a happier and healthier life.
FFW: What are your goals and dreams for the Buds & Beads brand?
BUDS & BEADS: Our mission is to disrupt the perception of tea as an ordinary, everyday drink, encouraging individuals to realise their full potential to lead a fun, well-balanced and healthy life. Through collaboration, innovation, and a commitment to producing exciting tea beverages, we strive to create and inspire a happier and healthier world.
FFW: Explore more of this inspiring brand. Reach out to Buds & Beads today.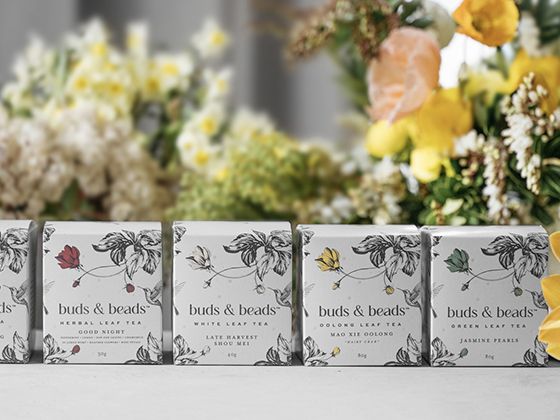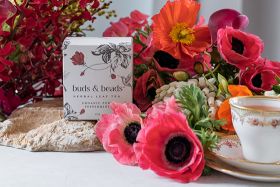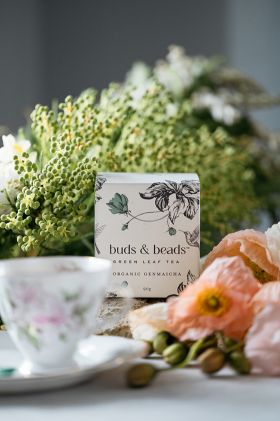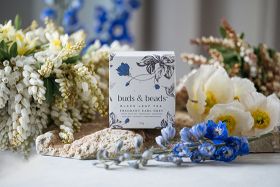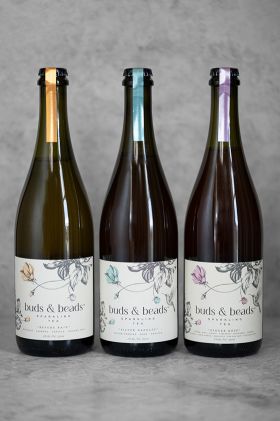 ---
Contact details for Buds & Beads
Sign up to the Fine Food Wholesalers newsletter, like us on Facebook or follow us on Instagram to keep up-to-date with new products and services.
---