Wholesale Paper and Hygiene Suppliers
All foodservice and food retail businesses rely on quality wholesale paper and hygiene supplies to keep their environments clean, inviting, safe and healthy. In this category at Fine Food Wholesalers, you will find paper towel, napkins, toilet paper, facial tissues, wipes and other paper-based products as well as cleaning fluids and washroom supplies including air fresheners, hand soaps, sanitisers and more.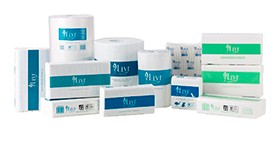 For commercial quality wholesale paper and hygiene products, you can count on Solaris Paper and their Livi brand of paper towel, commercial wipes, napkins, air fresheners, toilet paper and facial tissues.