Wholesale Baby and Toddler Food Suppliers
An Australian directory of baby and toddler food suppliers, from frozen to fresh. If your customers have babies and toddlers, then be ready for them with snacks, drinks, meals and desserts that their little ones will love. Purchase wholesale baby food and wholesale toddler food that you can serve with pride in your retail outlet or foodservice business. Fine Food Wholesalers is regularly updated with new and exciting baby and toddler food suppliers so check back often.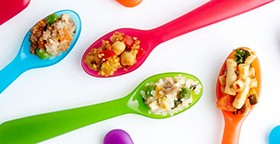 TumsUp are ready-to-heat-and-eat toddler meals with exciting flavours that use only natural ingredients and nothing else. Ready in just 2 minutes, they are delicious, wholesome, gluten free and sugar free. Parents love them for their toddlers, aged between 1 and 4.