79 Tu Finest Turmeric Blends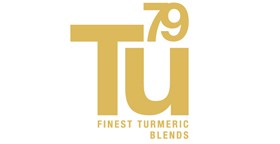 79 Tu Finest Turmeric Blends
Say goodbye to coffee, and hello to a sublime golden latte!
The owner of 79 Tu grew up in India enjoying the comforting flavour and texture of a smooth cup of warm turmeric milk whenever he was unwell. Today, he has taken his father's recipe and created a range of healthful vegan turmeric latte blends that you can enjoy by simply mixing with milk or your choice of non-dairy mylk.
79 Tu has been carefully formulated to increase the turmeric's bioavailability; black pepper, cinnamon, ginger and coconut oil have been added to ensure that every sip delivers turmeric's maximum potential. Each ingredient has been selected not just for its taste but for its functional role. Black pepper increases the body's ability to absorb curcumin (the anti-inflammatory element of turmeric) and coconut oil plays an integral role in the absorption of turmeric as it protects it from the stomach's harsh acids.
You may rightly wonder how something that is so good for you could taste so good. You will be pleasantly surprised by 79 Tu's delicious flavour and velvety texture.
Made in Australia
No sugar
No added preservatives
No added colours
No GMO
79 Tu Turmeric Latte Blends with added coconut oil
Supplied in resealable pouches, 79 Tu will look gorgeous on your retail shelves with its foil embossing, lending a particularly premium touch.
Superspice Blend with Coconut Oil - A healthful vegan turmeric latte blend made with the finest turmeric and other spices, and blended with coconut oil.
Superspice Blend with Organic Cacao - A delicious vegan turmeric latte blend made with the finest turmeric, organic cacao and other spices, and blended with coconut oil.
Superspice Blend with Organic Green Tea - A vegan detox and metabolism-boosting blend of the finest traditional herbs known for cleansing and liver detoxification, and the healthy functioning of the digestive tract. Loaded with antioxidant-enriched ingredients that increase energy, promote healthy weight and reduce inflammation.
Instant Coconut Turmeric Latte Sachets - These instant coconut turmeric latte mix, packaged in 20g individual serving sachets are made using high quality Organic coconut milk powder blended with 79 Tu's Superspice blend, and sweetened with Skinny Raw sugar (raw cane sugar + Erythritol). A single sachet will produce a cup of creamy, velvety coconut turmeric latte. There is no need to sweeten or add any milk or mylk. It's the ideal portable pick-me-up that tastes divine.
79 Tu Turmeric Chocolate
In collaboration with Monsieur Truffe, 79 Tu have produced a premium quality, vegan, stone-ground turmeric chocolate that boasts a long lasting finish. A supreme blend of Ecuadorian cacao and 79 Tu super spice blend, every morsel of this handcrafted chocolate contains 79 Tu turmeric blended with curcumin and absorption-enhancing black pepper and coconut oil. It also contains cinnamon and ginger and is high in cocoa butter with no alternative fats used. Stone ground for 48 hours and handmade in small batches, it's also hand-wrapped in recycled paper. Cane sugar free and gluten free.
Retailers
Your customers will be drawn to 79 Tu's beautiful packaging so feature them on shelves in full view. Offer taste tests and be ready with answers to questions about turmeric's health benefits. Ideal for health food stores, vegan outlets, delicatessens, food halls and good supermarkets.
Foodservice
Offer your customers an alternative to coffee later in the day. The vivid yellow turmeric latte looks exceptional in photos so be sure to show it off on social media to draw in curious customers. Create vegan variations or serve iced or as an ingredient in a refreshing smoothie. Ideal for cafes, vegan cafes, ice cream stores and juice bars.
All products make exceptional gift ideas. Watch this space as 79 Tu are further developing more turmeric-based products which are unique and exciting.
To discuss your requirements or to place an order, contact 79 Tu today.
---
More information about 79 Tu Finest Turmeric Blends
Interview - Jaspreet Manku - 79 Tu Tumeric Blends
You've heard of turmeric lattes but none that boasts the inclusion of coconut oil as their point of difference. As we learned from 79 Tu Founder, Jaspreet Manku, the coconut oil is the not-so-secret ingredient that makes it really special. Click here