Argan Life Australia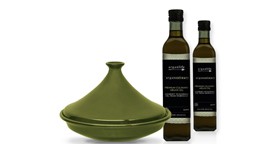 More Images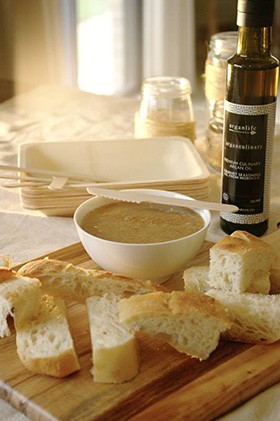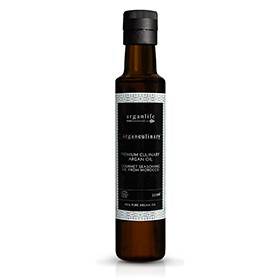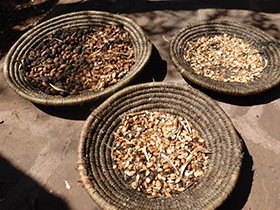 Argan Life Australia
Culinary Argan Oil
You've no doubt heard of Moroccan Argan Oil and its astonishing benefits for the skin. Used in numerous beauty applications, it is favoured the world over for its quality and the results it achieves. Now, thanks to Argan Life, you can purchase Culinary Argan Oil, the edible version of this rich and luxurious substance.
For countless generations, Culinary Argan Oil has been a staple of the Berber diet. Made in a women's cooperative, the kernels are roasted over an open fire then cold-pressed. The women begin by cracking the Argan nuts by hand and they actually use the shells as fuel for the fire they use to roast the nuts. Machine cold-pressing of the oil maximises the flavour and quality, and ensures a long shelf life. Finally, the oil is filtered so that no impurities remain.
100% pure, Argan Life Culinary Argan Oil is produced via fair trading practices.
Premium Culinary Argan Oil
Beautifully presented in a tall 250ml glass bottle, Argan Life Culinary Argan Oil is a product you can be proud to display on your kitchen countertop, add to gourmet gift hampers or place on the dining table for guests to help themselves and dress their own dishes as desired.
Chefs will appreciate the nutty flavour and premium quality of this oil. Use as a dressing base, a finishing oil or a dipping oil, alongside other gourmet ingredients.
Health benefits
Twice the Vitamin E content than that of olive oil, Culinary Argan Oil is known to offer exceptional health benefits. It offers protection against cardiovascular disease by lowering cholesterol and it protects against diabetes thanks to its high antioxidant content. Additionally, Culinary Argan Oil is known to contain anti-cancer proliferation benefits.
The secret of celebrity chefs
Think of a who's who of international celebrity chefs and they are probably using Culinary Argan Oil. Nigella Lawson, Jamie Oliver, Heston Blumenthal and Yotam Ottolenghi are all proponents of this exquisite oil. It is enjoyed as a savoury flavour enhancer for vegetable and meat dishes and can be served as a dip for hot bread straight from the oven. Its lovely nutty flavour enhances desserts, and it is an essential ingredient of the exquisite Moroccan dish called Amlou - a nutty dip combining roasted almonds, honey and argan oil and enjoyed with fresh bread or Moroccan crumpets known as Baghrir.
Retailers
When speaking with customers, extol the virtues of Culinary Argan Oil as a healthful addition to their 'good dietary fats'. Provide serving suggestions, offer taste tests and position with companion products such as breads, meats and vegetables in food stores, or with gorgeous tableware and barbecue products in a homewares store. Don't forget to mention it as a lovely gift for passionate foodies.
Foodservice
Discover Argan Life Premium Culinary Argan Oil for yourself. Explore its flavour profile in simple dishes that benefit from a glistening drizzle of one of the world's most exquisite culinary oils.
To discuss your requirements, find out more or place an order, contact Argan Life Australia today.