Belladotti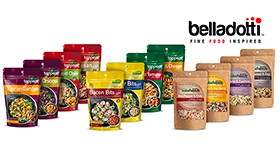 Belladotti
Salad Seeds & Salad Toppers
There's a simple way to add super goodness, super crunch and super flavour to your regular salads. Belladotti's Salad Seeds and Salad Toppers do it all with infinite ease. Made with quality ingredients and blended for the perfect combination of taste and texture, they only need to be tossed through your salad to breathe new life into it.
You can also use Salad Seeds and Salad Toppers on other dishes such as roasted vegetables, fish and chicken. Get creative and you'll soon find you're being asked for your recipes!
Belladotti Salad Seeds
Belladotti's all-natural Salad Seeds boost the nutrition content of your salads by adding extra protein, vitamins and minerals. As well, they are dairy free, gluten free and vegan-friendly. You can even serve them in pinch pots alongside bread and dipping oils.
Red Bell Pepper & Chilli – Sesame seeds and dry roasted, chilli-infused sunflower and sesame seeds are mixed with bell peppers, celery, flaxseed, onions and chilli flakes. A good source of additional fibre, magnesium, selenium and Vitamin C.
Seaweed & Soy – Protein-rich and irresistibly crunchy, add them to any regular salad for texture and nutrients.
Garlic & Zucchini – Dry-roasted and garlic-infused sunflower and sesame seeds are mixed with zucchini, onions, chia seeds, garlic and parsley flakes for a tasty sprinkle.
Honey & Goji Berry – Drop a spoonful of this into your blender with other smoothie ingredients or stir through a fruit and vegetable salad. Features dry roasted and honey-infused sunflower and black sesame seeds, golden flaxseed, Goji berries and coconut flakes.
Belladotti Salad Toppers
Salad Toppers add extra flavour and crunch to your favourite salads and inspire new ones! They are the simplest way to boost a salad from mediocre to magnificent.
Tuscan Garden Salad Sprinkles – Infuse your salad with Mediterranean sunshine, courtesy of Belladotti's Tuscan Garden Salad Sprinkles. Featuring carrot, sundried tomato and pumpkin seeds plus mini croutons and herbs, you'll be lost without it after the first taste.
Sundried Tomato & Parmesan Toasted Croutons – Crunchy croutons add an irresistible texture to your leafy salads or grilled fish or chicken. Lightly roasted and tossed in a blend of spices, they will boost your favourite dishes.
Chorizo & Cheese Toasted Croutons – Liven up your green salads with Belladotti's zesty Chorizo & Cheese Croutons. Naturally flavoured and suitable for vegetarians, they bring a Spanish accent to dinner.
Crispy Onions Salad Crunch – The irresistible crispiness of these onions will bring alive your meat and vegetable dishes, salads, burgers and even pizzas.
Bacon Bits Crunchy Bacon Flavour Sprinkles – Once you start with these, you'll find endless ways to use them! They're crispy, crunchy, utterly tasty morsels of vegetarian, bacon-flavoured goodness. Stir through mashed potatoes, pasta salads and Caesar salad.
Caesar Bits Classic Cheese Sprinkles – Cheesy and crunchy, Caesar Bits are naturally flavoured and ready to be tossed over your Caesar salads, pasta or potato bake.
Parmesan Sliced Almonds – Boost your roasted vegies and salads with Belladotti's scrumptious lightly roasted Australian almonds, tossed in fine Parmesan.
Thai Sweet Chilli Sliced Almonds – Exotic Thai spices infuse these roasted all-Australian almonds. Toss them in to your salads or serve with grilled fish or chicken.
Retailers
Belladotti's wholesale Salad Toppers and Salad Seeds will go well in your delicatessen, health food store or supermarket. Offer taste tests and serving suggestions. Point them out to your vegetarian customers and those who enjoy discovering new and exciting food products to use in their daily cooking and special occasions alike.
To discuss your requirements or to place an order, contact Belladotti today.