Beyond Latte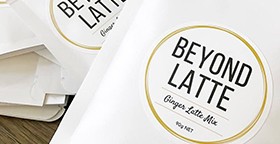 Beyond Latte
Spicy, delicious, ginger latte
Coffee is great but some days you want to be woken up and energised, without the caffeine overload. That's why Beyond Latte invented the Ginger Latte Mix, a rich blend of spices (with loads of ginger) that not only tastes good, but also comes with myriad health benefits.
A perfect blend
Beyond Latte features the comforting aromas and flavours of ginger, turmeric and cinnamon and is sweetened with unrefined coconut sugar. Its ingredients boast anti-inflammatory and antioxidant benefits.
And on top of all that, it's also vegan, gluten-free, and refined sugar-free. It can be made with dairy milk or dairy-free alternatives such as almond milk, soy milk or coconut milk.
To make a café-style latte
Add a teaspoon into a cup, stir in a tablespoon of hot water and mix into a paste. Add frothed milk and top with a sprinkle of cinnamon and/or turmeric powder.
Beyond Latte Ginger Latte Mix (Regular)
Original handcrafted blend of rich and nourishing spices, with a healthy dose of ginger. Simply add a teaspoon to hot milk for a delicious and warming golden ginger latte.
Beyond Latte Ginger Latte Mix (Organic)
Beyond Latte's premium blend, is made with quality organic ingredients. Simply add a teaspoon to hot milk for a delicious and warming golden ginger latte.
Other uses
Beyond Latte also makes a wonderful addition to smoothies, cakes, cookies, pancakes, porridges, puddings, raw treats and more.
Retailers
Stock Beyond Latte for your customers who are looking for a coffee alternative, who want to boost their nutrition through their hot drinks or who want to enjoy something a little different but absolutely delicious. It is suitable for health food stores, vegan and gluten free outlets, supermarkets, convenience stores, delicatessens and food halls. Add Beyond Latte pouches to gift hampers or pair with hot beverage homewares to inspire your customers.
Foodservice
Delight your customers with golden Ginger Lattes and add some sunshine to their day. Not only are they visually appealing (so serve in a transparent cup) but they're also nutritious and enjoyable. Easy to make, they can be used in hot and cold beverages. Or, add to other recipes to add golden colour and warm, fragrant notes.
To discuss your requirements or to place your first order, contact Beyond Latte today.
---
More information about Beyond Latte
Interview - Keren Natalia - Beyond Latte
When your customers say they're avoiding caffeine, be ready with a hot beverage alternative that is suitable for morning, afternoon and night. We spoke with Keren Natalia, whose Beyond Latte turmeric latte powder base is delighting customers all over the place! Learn more about what's in it and why it's good for business. Click here
Beyond Latte - How to make a ginger latte
You may call it ginger chai, golden latte or turmeric latte.
---