Bredbo Black Garlic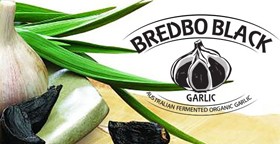 More Images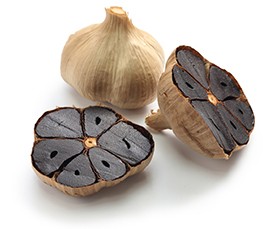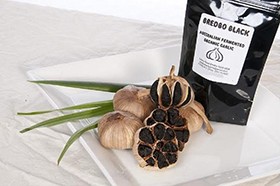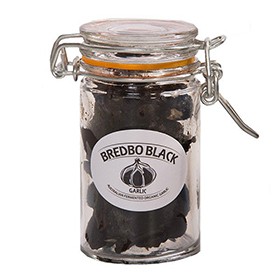 Service Area Available Australia Wide
Bredbo Black Garlic
Bredbo Black Garlic
Bredbo Black is a fermented Australian black garlic that is produced using hard necked garlic. Nothing at all is added. It is 'fermented' under strictly controlled conditions including temperature, humidity and time. The individual garlic cloves change to black, looking somewhat unappealing to those who haven't experienced its incredible flavour.
Grown and fermented in Australia
Produced from certified organic garlic
No nasty chemicals or other additives used
The garlic itself is sourced where possible from farms in the Snowy Mountains, where the cold climate produces the quality garlic that is required to make Bredbo Black Garlic, and gives it its unique gourmet qualities. It grows to a consistent size so the fermenting process is made simpler because all bulbs are ready in the same time. Garlic was originally fermented in Korea and Bredbo Black company and farm owners John and Mary Pye decided to try it when they had a glut of the Monaro Red on their hands. After a great deal of experimentation, Mary determined that the raw garlic must be aged in a carefully controlled, temperature-stable environment with high humidity for a minimum of 40 days.
Taste and texture
The cloves are a little like a black jellybean in texture and appearance. The flavour alters from the original raw garlic taste and becomes more of a wonderful fusion of flavours resembling a combination of molasses, balsamic vinegar and liquorice.
How to use
Bredbo Black fermented garlic can be used in marinades, on pizzas or bruschetta or finely chopped and added to scrambled eggs. Slice a clove over salads, roast meats or hot seafoods. Add to good quality olive oil for a fermented garlic infusion or to the water when steaming vegetables or poaching chicken. Bredbo Black can also be used instead of fruit paste on a cheese platter.
The products
Bredbo Black is available in the following presentations.
Fermented Australian Black Garlic
A whole bulb of black garlic, ready to be used in your favourite dishes. Packed in an opaque resealable pouch.
Peeled Australian Black Garlic Pots
Air tight glass jars containing 50g of peeled Bredbo Black garlic, ready to use any way you like.
Retailers
Showcase this artisanal local product on your shelves and promote its organic goodness. Position with recipe books, serving ware, pasta products or other appropriate companion items. Offering taste tests will help customers better understand the product. Bredbo Black fermented garlic makes a wonderful gift for foodies and garlic lovers.
Foodservice
Add a new dimension of flavour to your savoury dishes with Bredbo Black fermented garlic. Experiment with its flavour profile and you will discover new ways to let its extraordinary taste shine through. Mention it by name on your menu.
To place your first order or to enquire further, contact Bredbo Black today.
---
More information about Bredbo Black Garlic
Bredbo Black Garlic
Innovation is always exciting and particularly when an Australian brand is creating a specialty food item that has long been renowned overseas, but can be made using locally grown organic produce. We spoke with John Pye, founder and owner of Bredbo Black Garlic and discovered a new taste sensation that is gradually finding its way onto the best plates around the country. Click here