Ezy Chef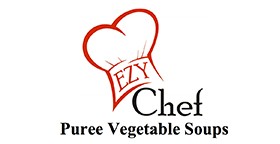 Service Area Australia Wide
Ezy Chef
Pure Vegetable Soups
Ezy Chef produce a line of delicious puree vegetable soups made using 100% Australian grown fresh vegetables. Gluten free, Kosher and Halal certified, each soup is designed to achieve a nutritional balance.
The company is proud to provide customers with the highest quality products that exceed their expectations and promise the highest standards in manufacturing (in their HACCP approved premises), handling, storage and delivery of safe and wholesome foods.
The flavours
Butternut Pumpkin
Broccoli
Potato & Leek
Carrot with Ginger-Lemongrass
Cauliflower
Vegetable
Potato & Celery
Mushroom
Lentil & Veg
Pea
Potato & Corn
Tomato & Basil
Each soup is supplied frozen for convenience, freshness and ease of transport and has a shelf life of up to 24 months. Available in either 6 x 2kg bags or as single serves in a 250g stand-up pouch. They can also be packed to suit individual requirements.
The 2kg boiling bags can be heated in a combi steamer or bain marie.
Don't spend hours creating flavoursome stock or preparing vegetables for soups. Ezy Chef makes it simple for you to offer your customers wholesome, tasty soups at any time of year with a minimum of effort.
To discuss your requirements, contact Ezy Chef today.