Milla Cordial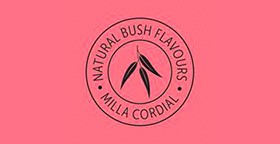 Milla Cordial
Australian Bush Cordials
So far removed from the cordial you knew as a kid, Milla Cordial is a modern version of the delectable drink base that uses incredible Australian native flavours. Each flavour is carefully and meticulously crafted to achieve a delicate balance of flavours, using Australian bush ingredients and 100% Aussie fruit.
Milla Cordials
Every 750ml bottle makes up almost 4 litres of delicious bush cordial and contains no artificial colours, flavours or preservatives.
Lemon, Lemon Myrtle & Kakadu Plum
Lemon cordial has been an Aussie pantry staple for many generations. Milla have made it even more Australian! They've combined lemon with lemon myrtle and Kakadu plum for a citrusy taste sensation. Kakadu Plum actually has the highest concentration of Vitamin C of any fruit in the world. It's Australia's own super food!
Apple, Ginger & Rosella
Strange as it may seem, the Orange region of NSW is actually known for its apples, not oranges! A whole lot of those apples go into Milla's unique Apple, Ginger & Rosella cordial. Paired with ginger and the ruby red Rosella flower, it's a tantalising glass that's anything but the 'red cordial' of your childhood.
Lemon, Rainforest Lime & Lavender
A lot of work has gone into achieving the perfect flavour balance. The subtle hint of lavender adds a unique touch without becoming too floral. At tastings, this one is hugely popular, even among the gents! Bush rainforest limes, zesty lemon and natural lavender come together to create this very special cordial.
Ruby Grapefruit & Lemon Aspen
All the flavour of the ruby grapefruit without its bitterness or sourness, paired with Lemon Aspen which has been described as tasting like every citrus fruit you can think of, mixed together and multiplied by 10! Only a small amount of this incredible bush fruit is required to create flavour harmony and the result is a delicate, sophisticated cordial.
Retailers
Something new and interesting for your bottle shop, supermarket, delicatessen or tourism retail outlet. Milla Cordial will catch the eye of your customers looking for a different kind of drink. Offer taste tests from disposable shot glasses at the counter and your customers will surely pick up a bottle or two. Milla Cordials also make excellent personal or corporate gifts to include in hampers or to take along to a dinner party or barbecue. They are a premium non-alcoholic alternative to give when you don't know if the recipient drinks alcohol.
Foodservice
For cafes and restaurants, Milla is a low cost-per-serve beverage meaning attractive margins for you. Being a cordial, less packaging is required per serve than ready-to-drink options and you can also create signature drinks using Milla as the starting ingredient. Mixed cases are available. Bush ingredients are completely on-trend so get on board and offer your customers something compelling and refreshing.
To discuss your requirements, ask more questions or place an order, contact Milla Cordial today.
---
More information about Milla Cordial
Interview - Matt Senyard - Milla Cordial
Cordial has grown up and is now a sophisticated beverage base thanks to Milla Cordial. This family business has re-invented cordial, infusing it with true Aussie flavours that adults and children adore. We spoke with co-owner Matt who, along with his wife Kate, make these delicious beverages in the booming food and wine region of Orange, NSW. Click here