Natif Roasted Wattleseed Grind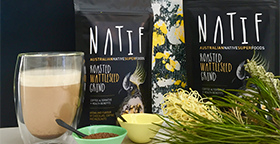 Mobile 0418 125 349
Service Area Australia Wide
Natif Roasted Wattleseed Grind
The caffeine-free, superfood coffee alternative
Consumers are constantly looking out for different beverages to try, and many are seeking caffeine-free coffee alternatives, either due to the time of day they're visiting or because they prefer to avoid caffeine. Be ready for them with NATIF Roasted Wattleseed Grind!
How to prepare as a coffee alternative
It's made in the same way as regular coffee, using the group head basket on your coffee machine. Steam the milk – or nut mylk – and add to your NATIF 'shot' to create a latte that's every bit as satisfying as a traditional coffee. Home consumers can make up NATIF Wattleseed Grind in a plunger. Add a dash of Australian honey and a sprinkle of cinnamon to jazz it up a little.
How does it taste?
NATIF Roasted Wattleseed Grind has an aroma that's reminiscent of chocolate, hazelnuts and coffee. Aside from serving it hot as a latte, you can create a new menu of superfood native beverages including milk (or mylk) shakes, smoothies and iced drinks. It can also be used in savoury and sweet dishes. In fact, once the wattleseed granules have been used to make a strong brew, the very same granules can be re-used in other dishes - sweet and savoury - for the benefits of fibre. Try them in lentil dishes, baking or even breakfast cereals.
Ingredients
Very simply, NATIF Wattleseed Grind contains wild harvested, roasted and ground Australian native wattleseeds.
Brilliant nutritional benefits
Just when you thought it couldn't get better than that, NATIF Wattleseed Grind has other virtues too.
Low GI
Low carb
High in protein
High in fibre
Contains magnesium, calcium, zinc and iron
Vegan
Organic
Ethical
Caffeine free
Gluten free
Additive free
And using native produce benefits Australian Indigenous wild-harvesters and native food farmers. Serve your customers an authentic, all-Australian coffee alternative.
How else can it be enjoyed?
Try NATIF Roasted Wattleseed Grind in one of the following ways:
Wattleseed Latte (a 'Wattlelatte')
Wattleseed Cappuccino (a 'Wattlecino')
Soda
Milkshakes/Mylkshakes
Cocktails
Ice creams
Smoothies
Healthy desserts
Health balls
NATIF Roasted Wattleseed Grind
Available in attractive resealable stand-up pouches, NATIF Wattleseed Grind will look gorgeous on shelves in your retail store or café. It comes in a 120g retail pack.
Retailers
Tell your customers about a new and exciting coffee alternative that comes straight from the Aussie bush. With its exceptional coffee/hazelnut/chocolate flavour, it's bound to be a winner. Promote it for gift purchases, offer taste tests and merchandise alongside other bush tucker superfoods, brewing homewares or delicious baked goods.
Foodservice
If you have a large tourist customer base, they will love the taste of NATIF Roasted Wattleseed Grind, a delicious coffee alternative that comes straight from the outback. Promote Wattleseed Lattes particularly in the afternoon and evening as a coffee alternative. It's a fabulous pick-me-up and flavour treat without the typical caffeine overload of coffee. Create a couple of special drink choices such as a Wattlelatte and an Iced Wattlelatte or go above and beyond and dream up something a little crazy. Cafes can order online and receive free delivery Australia-wide with their first purchase.
Never overlook the opportunity to replace the coffee dollar in the latter part of the day with a quality product such as this. To discuss your requirements or to place your first order, contact NATIF Australian Native Superfoods today.