Nutty Pantry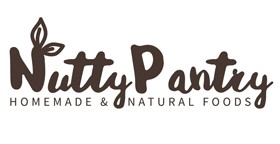 Service Area Australia Wide
Service Area Australia Wide
Nutty Pantry
Deliciously Healthy Granola
The common misconception about granola is that it's loaded with sugar. Some certainly are, but not Nutty Pantry's Deliciously Healthy Granola. The product came about from the owner's simple hobby of making healthy granola that leaves tummies satisfied, is clean and doesn't cause guilt trips. Vegan, free from refined sugar, gluten and dairy, and with no nasty additives, this granola has been created and cooked with lots of love and care.
Nutty Pantry's homemade, organic granola has been made with love to help you enjoy a healthy, active lifestyle. It offers the perfect amount of crunch, contains nothing artificial and is free of refined sugars. Choose this granola for a healthy, delicious and satisfying breakfast that ticks the boxes for a range of customer types. All of their products are:
100% organic
Vegan
No additives or preservatives
Gluten free
Refined sugar free
Nutty Pantry serve a variety of unique flavours:
Cinnamon & Berry
Banana & Fig (Paleo)
Cacao & Coconut
Serving suggestion
Enjoy Nutty Pantry's Deliciously Healthy Granola as part of an Acai/Smoothie Bowl, with yoghurt. Or, sprinkle it on top of a bowl of fruit.
Retailers
Nutty Pantry Deliciously Healthy Granola is packed in attractive see-through pouches so customers can see the goodness for themselves. Try offering taste tests and handing out recipe cards. Recipes are available at the company's website. You can also create breakfast displays with Nutty Pantry and include other products such as homewares, kitchen linens and complementary food products like nut mylks and fresh fruit.
Foodservice
Serve Nutty Pantry's Deliciously Healthy Granola in your café, restaurant, motel, hotel or B&B and impress your customers with this nutritious and tasty breakfast product. It makes it easy to cater for a range of different health considerations because it is vegan, gluten free, dairy free and contains no refined sugar. Turn it into interesting recipes such as protein balls, cookies, pancakes and fruit bowls and provide choices on your menu, to serve it with yoghurt, nut mylks or dairy milk.
Nutty Pantry's granola can be supplied with or without the packaging as required. Packaged bags are available in 50g, 450g and 750g sizes.
To find out more or to place an order, contact Nutty Pantry today.
---
More information about Nutty Pantry
Interview - Bianca Dharmasena - Nutty Pantry Granola
Granola is often accused of being loaded with sugar. Not so with Nutty Pantry! Owner, Bianca Dharmasena created her very own granola and not only is it low in sugar, it's also organic, vegan and gluten free. Click here