Oregano Scrolls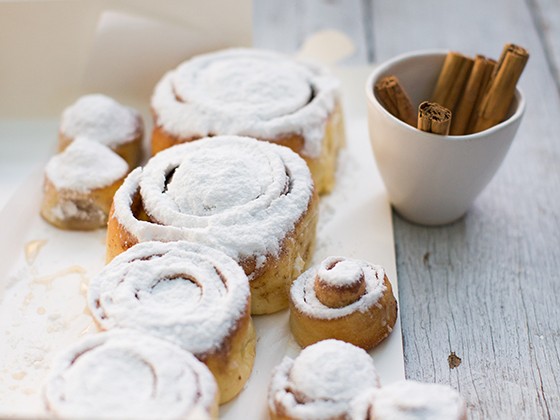 More Images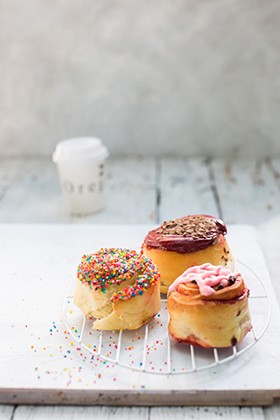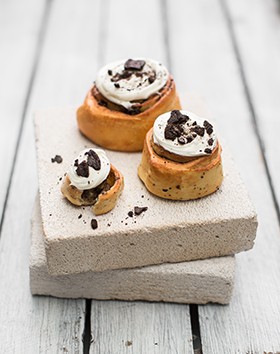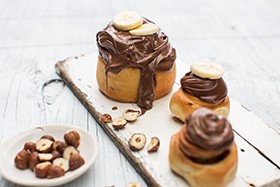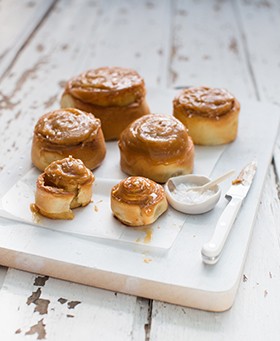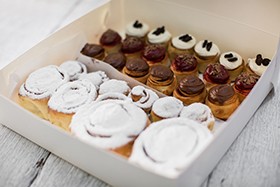 Service Area Australia Wide
Oregano Scrolls
Wholesale Baked Scrolls with Various Fillings and Toppings
Oregano Scrolls have taken Australia by storm and are available in over 500 stores throughout Sydney alone! Now, so many more consumers are getting their scroll fix. It's no surprise at all that these scrumptious scrolls have become so popular. They're a kind of hark-back to simpler times, to school tuckshops and corner bakeries, when a freshly baked scroll was a treat to feast on. Not delicate, not frivolous, they're a big handful of sweet, delectable, pillowy dough, loaded with interesting goodies and smothered with tempting toppings.
How to eat an Oregano Scroll
Sink your teeth straight into the puffy scroll and experience the juicy flavours within. Or, pull it apart, layer by layer and savour the different levels of flavour at your own pace.
No, there's no oregano in these scrolls. The name comes from where they're made, the famous Oregano Bakery in Sydney which also churns out delicious Lebanese pizzas.
Today, the scrolls are available in a wide range of flavours and in sizes mini, small and large, with something to suit all different tastes. Keep them on regular rotation in your business so your customers will always have something new to discover.
Oregano Scrolls range
Mocha – A chocolate butter scroll with real espresso coffee, topped with mocha icing and decadent chocolate flakes.
Cinnamon Scroll – The comforting flavour of cinnamon in a pillowy scroll, coated with liquid icing and icing sugar.
Nutella & Banana – This scroll is slathered in rich, creamy Nutella.
Salted Caramel – Caramel and sea salt flakes fill the centre of this scroll and are spread over the top as well.
Fairy Bread – A childhood favourite come to life in a yummy scroll. The rainbow colours of the 100s and 1000s are totally irresistible.
Peanut Butter & Jam – It's the PBJ but with extra personality. Crushed nuts give it tons of texture and the raspberry jam offsets the savoury peanut butter in the most sublime way.
Banoffee – Your favourite dessert in a scroll! It's loaded with caramel, banana, vanilla and chocolate flakes then topped with vanilla icing, a drizzle of caramel and flakes of chocolate.
Apple & Cinnamon – The good old classic, it's a scroll flecked with diced apples and flavoured with fresh butter, spicy cinnamon and lots of vanilla icing.
Coffee – Flavoured with coffee butter and cinnamon, it's topped with vanilla icing and real espresso coffee.
Chocolate, Raspberry & Coconut – Think lamington but in glorious scroll form! It's loaded with chocolate, butter, raspberry jam and coconut then rolled in liquid icing, covered in cocoa powder and coconut.
Honey & Walnut – Sweet, nutty and satisfying, it's made up of honey butter, walnuts, sugar and cinnamon and drizzled with lovely, sticky honey.
Chocolate & Cashew – The chocoholic's dream scroll is here! It's a glorious concoction of chocolate butter, cocoa, Nutella, honey, sugar, maple syrup and cashew nuts, coated in chocolate icing, cocoa powder and chocolate flakes.
Chelsea – School tuckshop memories come flooding back! This scroll is infused with raspberry jam and cinnamon and studded with juicy sultanas and raising. It's all finished with strawberry flavoured vanilla icing.
Red Velvet – Chocolate butter, raspberry flavour and white chocolate flakes star in this spectacular scroll version of red velvet cake. It's topped with chocolate raspberry icing and chocolate flakes.
Fig & Almond – Slightly more grown-up in flavour, it features fig jam, butter and almonds, finished with syrup and slivered almonds.
Tahini & Pistachio – Flavours from the Middle East make this scroll an exotic favourite. It features honey, butter, halwa and pistachio and then it's iced with icing sugar, tahini and vanilla and sprinkled with sesame seeds. (Sonia's favourite!)
Lemon – Zesty and lip-smacking, it's flavoured with lemon butter and lemon curd then smothered in vanilla lemon icing and lemon slices.
Pineapple & Coconut - Pineapple filling, grated and desiccated coconut and vanilla icing make this a very tropical kind of bun.
Retailers
Be ready for your hungry customers looking for something utterly scrumptious to enjoy or serve for morning or afternoon tea, school lunches or picnics. Keep a variety of flavours on hand to tempt various tastes. All you need to do is create a tempting display then pop the chosen flavours into a box and send your happy customers on their way. Ideal for supermarkets, delis, market stalls, pop-up stores, petrol stations and kiosks.
Foodservice
Every café should provide Oregano Scrolls as a more substantial option to macarons, muffins and cupcakes. They're big, they're beautiful and they're really satisfying. Serve with tea or coffee or create a dessert around them. Cut in half and sandwich with scoops of ice cream or make a bread and butter pudding with sliced scrolls and custard.
For more information or to place your first order, contact Oregano Scrolls today.
---
More information about Oregano Scrolls
Interview - Sonia Jabbour - Oregano Scrolls
Remember the good old Chelsea bun of your childhood? Well it's back and it's now available in an extraordinary array of varieties! We spoke with Sonia Jabbour, owner of Oregano Scrolls and discovered a new world of pillowy scrolls. You won't believe the flavours! Click here