PoppySmack Asian Sauces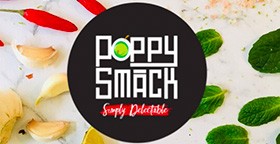 PoppySmack Asian Sauces
Food is about flavour as well as nutrition – that's the genesis of PoppySmack (the sound people make when something is 'lip-smackingly' tasty).
Two Vietnamese sisters whose strongest memories were of happy times sat around the family dining room table have set about recreating the fantastic flavours they remember from their childhood - every mouthful is bursting with ginger, kaffir lime, coriander, chilli, lemongrass, zesty lemon and much more.
The siblings started with four sauces: tamarind, pineapple, satay and dipping sauce – all flavours synonymous with their cultural background. Always experimenting in the kitchen, making new flavours and trialling alternative ingredients, the sisters want to make sure their products are available to anyone and everyone.
The sauces and the recipes they demonstrate online are made with fresh, clean, wholesome ingredients, because great food must start with great ingredients. The more natural and less preservatives present, the better it all tastes – the principle at the core of PoppySmack.
Gluten-Free
NO Preservatives
NO Additives
NO Colours
NO MSG.
Now, the range – complete with two award-winners (PoppySmack's Vietnamese Dipping Sauce and Siam Chilli Sambal won Bronze at the Australian Food Awards) is available for stocking in retailers and food service outlets nationwide.
THE RANGE
Vietnamese Dipping Sauce
Also known as 'Nuoc Cham' in Vietnamese, this is the quintessential sauce of the three regions of Vietnam, made with a concoction of flavours that excite and satisfy all sweet, savoury and sour taste buds equally. PoppySmack has mastered the balance of the three flavours, and then taken this classic sauce to another level with a unique blend of fresh garlic, chilli, herbs and zesty citrus rind. It's sure to add zing to a garden salad, sea-spray freshness to grilled fish, and a whiff of tantalizing freshness to PoppySmack rice-paper rolls.
Siam Chilli Sambal
Awarded GOLD at the Australian Food Awards!!
This sauce packs a punch, delivering a fusion of southeast Asian flavours that will delight your taste buds. Incorporating exotic spices of Siam, fresh herbs of Indo-China and seasonings of Nyonya, it's created from a blend of carefully selected ingredients that truly identify PoppySmack's Asian roots. You can rely on Siam Chilli Sambal to deliver an authentic flavour for your spicy stir-fry, curry laksa, grilled lemongrass beef or an excellent base for your tom yum. Appreciate the complexity of the recipe when enjoyed with a good cut of steak, a platter of seafood, a bowl of steamy pho noodle soup or add it to your guacamole for an Asian twist! The special family recipe will impress the most selective of sambal lovers out there. Just ask the judges who awarded it the medal at the Australian Food Awards!
Tangy Tamarind Sauce
This tantalisingly exotic sauce champions the flavours of coriander, fresh chilli and fried garlic oil in a subtly sweet and sour tamarind paste. Enjoy it with a variety of roasts, a relish with burgers or as a condiment at the classic Aussie BBQ. To utilise this unique sauce in Asian-style cooking, complete your stir-fry with a couple of spoonsful and garnish with a few sprigs of basil and some slivers of chilli. Mouthwatering Thai-style mussels are created by simply tossing a few handfuls of succulent molluscs into a sautéed blend of Siam Chilli Sambal and this moreish Tangy Tamarind.
Caramelised Pineapple Sauce
This delicious savoury sauce errs on the sweeter side. It's ideal for white meat, fish or as a salad dressing, and is a perfect finishing sauce over a crispy fried salmon or grilled chicken fillet. You can even give your summer salad a tropical twist and use this flavour as a dressing – simply thin it down with a squeeze of lemon and drizzle of extra virgin olive oil and your prawn, avocado and mango will be a hit!
Salty Sweet Satay
A nutty, savoury sauce blended with the sweetness of plum hoisin flavour. It's a perfect accompaniment to your grilled meats or as a finish sauce to a stir-fry. Pan-fry chicken medallions with a tablespoon of coconut/olive oil and a good pinch of salt, stir in a couple of spoonsful of this satay sauce to finish off the dish and serve with steamed rice and a fresh salad. It's also a fabulous dressing for the popular Indonesian gado gado salad.
NEW! Rice-Paper Roll Kit
Make healthy, delicious and gluten-free Vietnamese meals like a pro with PoppySmack's super convenient Rice Paper Roll kit. With the essential ingredients of rice paper wrappers, one minute vermicelli noodle sheets and PoppySmack's award winning Vietnamese Dipping Sauce included, simply add your choice of protein and salad. We have done the hard work so you can relax and enjoy.
Retailers
Join the many gourmet grocers and fine food provedores by stocking your shelves with this delicious array of unique sauces. Your customers will be hooked from the very first taste.
Foodservice
Adding a drizzle (or long, slow pour) of any of PoppySmack's special sauces to your offering will ensure the smacking lips can be heard from miles around!
To discuss your requirements or to place your first order, simply contact PoppySmack by completing the form.
How to make Vietnamese Bun Bo Xao (Beef Vermicelli)
Healthy and Fresh Vietnamese Beef Vermicelli in 15 minutes. Only with PoppySmack Siam Chilli Sambal.
---