Solaris Paper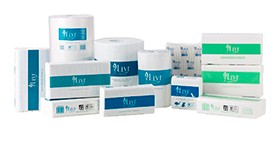 More Images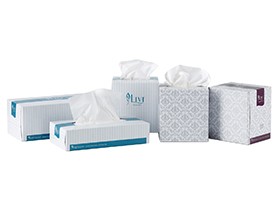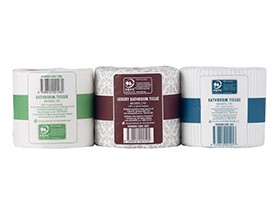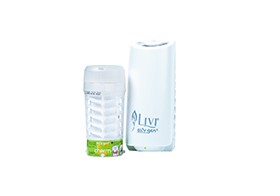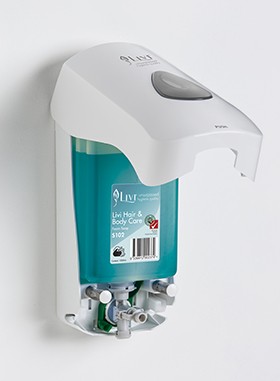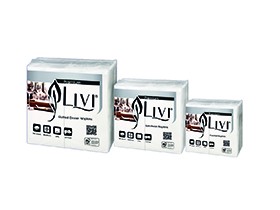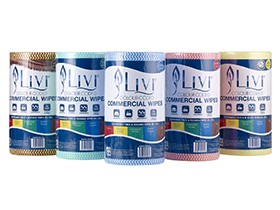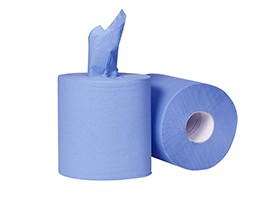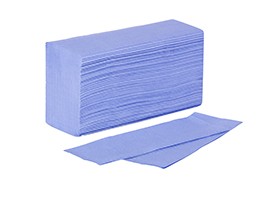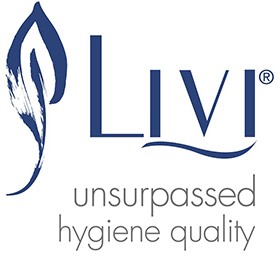 Service Area Available Australia Wide
Solaris Paper
Solaris Paper supplies an array of quality wholesale facial tissue, wipes, toilet paper and HACCP paper towel along with dispensers for retail, hospitality and foodservice outlets as well as food manufacturing facilities. The range includes products suitable for hotels, offices, public dining, public bathrooms, commercial kitchens and all kinds of cafes, bars, restaurants, juice bars, delicatessens and mobile food businesses.
Paper Towel
No matter what kind of business you operate, you need paper towels. Livi® supplies quality bulk paper towels including specialty blue towel for high visibility amongst food in commercial kitchens and food manufacturing facilities. Choose from the Livi® Basics and Livi® Essentials lines.
Livi® Essentials blue multifold towel 3000s ctn
Livi® Essentials blue centrefeed roll towel 330m
Livi® Essentials ultraslim towel 150s
Livi® Essentials XL interleave towel 100s
Livi® Essentials multifold towel 200s
Livi® Essentials compact towel 150s
Livi® Essentials kitchen roll towel 240s
Livi® Essentials roll towel 80m/100m/200m
Livi® Essentials centrefeed roll towel 300m
Livi® Basics ultraslim towel 150s
Livi® Basics multifold towel 200s
Paper Napkins
A napkin range chosen by thousands of cafes and restaurants and also by business owners looking to provide better quality for employees and visitors. Napkins can make an enormous positive – or negative – impression. They need to suit the occasion, the type of food being served and how it's to be consumed. Livi® napkins are made from 2-ply virgin tissue paper. Livi's entire range of paper towel products are HACCP certified.
Livi® premium cocktail paper napkin 2-ply 100s
Livi® premium luncheon paper napkin 2-ply 100s
Livi® premium GT quilted dinner napkin 2-ply 100s
Commercial Wipes
Choosing commercial wipes that will keep your workspace clean is a simple matter with Livi® who offer quality commercial-grade wipes in blue, green, red, brown and yellow (antibacterial) for task-specific usage in your business and to prevent cross-contamination. Each roll is 45 metres, with perforations for controlled usage and each non-woven wipe is 70 grams per square metre which makes them strong and thick for extra-absorbent results. Livi® Commercial Wipes have been awarded HACCP certification.
Livi® Commercial Wipes – brown
Livi® Commercial Wipes – red
Livi® Commercial Wipes – green
Livi® Commercial Wipes – blue
Livi® Commercial Wipes – yellow antibacterial
All-Purpose Turbo Wipers – Designed for the toughest of workplaces. They are tear-resistant and, with their strong and absorbent properties are ideal for cleaning hard surfaces. The 200-sheet roll is supplied in a convenient carry and dispensing box and delivers one sheet at a time.
Facial Tissue
Solaris also supplies facial tissues for use in your back-of-house areas and also in your public bathrooms.
Livi® Impressa facial tissue with lotion 65s
Livi® Essentials hypoallergenic facial tissue cube 90s
Livi® Essentials facial tissue 100s/200s
Toilet Paper
Your business's bathroom – whether for staff or public use – needs to have quality toilet paper. Solaris offers a range of solutions according to your needs.
Livi® Basics bathroom toilet paper 2-ply 700s
Livi® Jasmine bathroom toilet paper 2-ply 250s
Livi® Essentials bathroom jumbo toilet paper 2-ply 300m
Livi® Essentials bathroom jumbo toilet paper 1-ply 600m
Livi® Essentials Jnr Jumbo Toilet Roll 2-ply 120m
Livi® Basics bathroom toilet paper 2-ply 400s
Livi® Basics bathroom toilet paper 1-ply 1000s
Livi® Essentials bathroom toilet paper 2-ply 400s/700s
Livi® Impressa bathroom embossed toilet paper 3-ply 225s
Livi® Impressa bathroom embossed toilet paper 2-ply 400s
Livi® Essentials bathroom interleave toilet paper 2-ply 250s
Livi® Basics bathroom jumbo toilet paper 1-ply 500m
Livi® Basics bathroom jumbo toilet paper 2-ply 300m
Livi® toilet paper hygiene seal
Soaps & Hand Sanitisers
Options include perfumed foam, antimicrobial foam, and food-safe foam, along with products that offer both body and hair care, contain perfumed hand lotion or provide instant sanitation which provides a bio-degradable and free of alcohol solution. They are safe for users but tough on the germs.
Livi® Gentle Plus Enriched Lotion Soap
Livi® Activ Instant Hand Sanitiser (alcohol free)
Livi® Activ Food-safe Hand Foam Soap
Livi® Hair & Body Care Foam Soap
Livi® Delux Hand Foam Soap
Livi® Activ Antimicrobial Hand Foam Soap
Air Fresheners
The Livi® Oxy-gen air freshener system offers unparalleled air freshness technology. By harnessing pure oxygen, this Livi® system continuously neutralises the air for 60 days. It adds a fresh, clean scent in several fragrance options. Each refill contains 30mls of fragrance and zero solvents, propellants or emissions.
Livi® Oxy-gen Air Freshener refills are available in 7 different fragrances: Adore, Glow, Tang, Flair, Refill, Spa and Charm.
Washroom Products & Supplies
Complementing the Solaris Paper range of toilet tissues, the Livi® paper dispenser systems are designed to work together for a more effective & hygienic environment. The dispensers provide cost-effectiveness, durability, convenience and are easy to install, maintain and reload.
Air freshener dispensers - The Livi® Oxy-gen air freshener dispenser offers a sleek and modern dispenser unit designed specifically for the range of Livi® Oxy-gen air freshener refills.
Hand soap sanitiser dispensers – Easy to install and maintain, replacing empty pods is quick and easy. Includes foaming mechanism which results in lower water consumption.
Paper towel dispensers – Interleaved (multifold & ultraslim); compact interleaved; autocut 200m HRT dispenser; centrefeed towel dispenser.
Toilet roll dispensers – Choose from side-by-side, single, jumbo and tower models.
Retailers
You need to variously use Solaris's range of wholesale paper and hygiene products in store for hand-washing, cleaning, food sampling, public bathrooms and food preparation (such as in delicatessens and other retail outlets). Count on Solaris and Livi® for quality, consistency and reliability.
Foodservice
Keep your food prep and foodservice areas clean, safe and healthy with commercial quality paper towel and commercial wipes. Solaris's other products are vital for keeping your customers and staff happy and for creating an environment that is inviting and hygienic.
To discuss your requirements or to place your first order, contact Solaris Paper today.