Sugo Tu Gluten Free Pizza Bases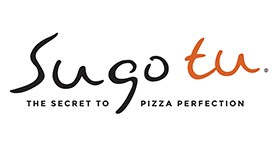 Sugo Tu Gluten Free Pizza Bases
The secret to gluten free pizza perfection
We've solved the eternal balancing act of quality vs speed. It's now possible to serve rustic, authentic, great-tasting pizzas… every time, fast. Our gluten free pizza bases are incredibly delicious and bring the true taste of Italy to your restaurant, pizzeria, pub or catered events.
Made with 100% natural ingredients
No artificial flavours, colours or additives
Dairy free and egg free
Suitable for vegans and vegetarians
HACCP certified
Sugo Tu Gluten Free Pizza Bases
These great-tasting gluten free bases are made with a unique blend of sorghum flour, rice flour and psyllium. They are supplied unbaked and snap-frozen. Frozen shelf life of 12 months. Made from a unique blend of sorghum flour, rice flour and psyllium, they are vailable in 10.5" and 12".
Foodservice outlets
Sugo Tu's gluten free pizza bases are ideal for foodservice businesses where space is at a premium, time is short and the requirement for gluten free could add complexity. Simply thaw, top and bake and in minutes, you'll have spectacular Italian pizzas your customers will come back for time and again!
Create a pizza menu with your own signature gourmet toppings.
Quick and easy food for clubs, pubs and other busy outlets.
Be ready with a gluten free product that is popular, appreciated and of high quality.
No end to the ways you can customise to suit your customers' tastes.
A safe gluten free option for coeliacs and gluten intolerant.
Caterers
When your clients request gluten free options, serve up Sugo Tu gluten free pizzas for convenience, flavour, popularity and quality. Serve by the slice or cut into bite-size pieces to serve on trays. Ideal for large crowds, outdoor events and cocktail parties.
Using Sugo Tu's wholesale pizza bases and dough discs means you can offer your customers delicious, authentic Italian fare and create efficiency and consistency in your kitchen. Take advantage of their expertise and simply top with classic or gourmet delights. Watch your customers come back for more!
Contact Sugo Tu today for a complimentary sample.