The Other Brother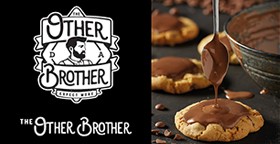 More Images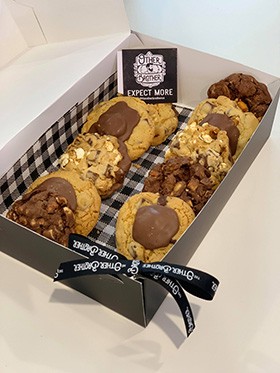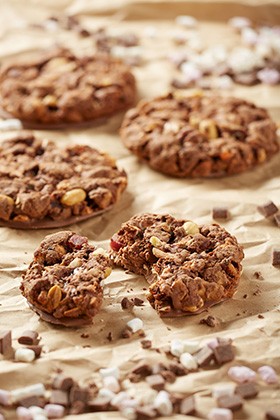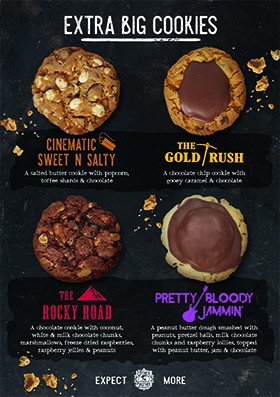 The Other Brother
Mind-Blowing Cookies for Indulgence and Gifting
Beyond-delicious, mind-blowing, tastebud-tantalising cookies
The Other Brother is a premium uber-sized cookie brand that's challenging the way consumers think about cookies. Their decadent combinations include gooey caramel, toffee, salted popcorn, raspberries and white chocolate to leave your customers wanting more. The Other Brother's cookies are deeply embedded in the café market and are also popular as foodie gifts, for catering, retail and other foodservice clients.
These guys don't muck around! They're all about crafting mind-blowing flavour combinations and smashing them into cookie form. They start with an anything-but-humble cookie dough and pack as much chocolate and other tasty, texture-y treats into every bite as will fit … and then some!
The Other Brother cookies range
Don't look here if you like boring cookies or you'll be sorely disappointed. The Other Brother cookies will spoil you for all other cookies!
The Gold Rush – Strike sweet tooth gold with this slant on the traditional chocolate chip cookie and its gooey caramel and chocolate.
The Rocky Road – All kinds of naughtiness! It's a chocolate cookie studded with white and milk chocolate chunks, coconut, freeze-dried raspberries, jellies, peanuts and marshmallows.
Pretty Bloody Jammin' – Nutty nirvana in a cookie. It's a peanut butter cookie with pretzel balls, milk chocolate chunks and raspberry lollies and it's smothered in PB&J and chocolate.
Cinematic Sweet n Salty - For all those lovers of sweet and salty, it's a scrumptious fusion of salty popcorn and gooey toffee with luscious milk chocolate.
Sampling sells!
The Other Brother have been activating across pop-ups and markets for two years. The cookies are SO good that one bite is all it takes to sell them! If you want to increase sales, get a taste in customers' mouths and they'll be hooked.
The story of the 'other' Arnott brother
The Other Brother Company is inspired by David Arnott, the younger brother of the Arnott's Biscuits founder, William Arnott. The two migrated to Australia from Scotland in 1853 and whilst William established a biscuit empire, David hung around the New South Wales goldfields, seeking his fortune. Not content to stay forever in his shadow, David gave up prospecting and turned his attentions to an 'underground treat rebellion'. He began baking biscuits that broke with tradition, out-of-this-world cookies that somehow, never gained the fame and fortune achieved by what we know today as Arnott's Biscuits.
Inspired by David Arnott's pioneering spirit, a small group of passionate biscuit lovers from Arnott's Biscuits has broken away and hit the markets with the astonishingly decadent treats you see here today. Seed funding from Arnott's made it happen and this inspirational story is what the company calls "true(ish)". Think what you will, one taste of these ridiculous biscuits and you'll be sold!
Retailers
The Other Brother's sublime biscuit range is perfectly suited to a range of different retail formats including gift stores, florists, delicatessens, supermarkets, bakeries, chocolate and confectionery outlets and tea and coffee merchants. Pop-up stores, market stalls and fresh food online retail are also excellent markets. Be sure to offer taste tests, to blow your customers' minds!
Foodservice
Aside from the obvious café and restaurant market, The Other Brother is ideally suited to caterers, tea houses, tourist attractions, airlines, recreation clubs, cinemas, theatres and food trucks. Packed with too-good-to-be-true goodies, every biscuit is memorable and more-ish. And because they are created to look home-style, you can either pass them off as your own, or proudly promote that you serve The Other Brother biscuits.
For more information or to place an order, contact The Other Brother today.
---
More information about The Other Brother
Interview - James Shepherd - The Other Brother
Just when you thought Arnott's Biscuits were the cookie kingpin, along comes The Other Brother, a new force in the market. Imagine a biscuit that's 20% cookie dough and 80% other decadent ingredients like jellies, nuts, choc chips, caramel and popcorn. We spoke with the company's Marketing and Sales guy, James Shepherd and found our mouths watering at the descriptions. Click here