The Spotted Cow Cookie Co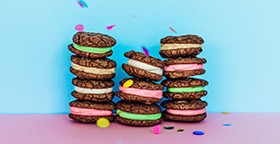 The Spotted Cow Cookie Co
Spotted Cow Cookies
Spotted Cow Cookies have been making cookies for cafes, catering companies, events and airlines for 12 years. They are looking to take their gorgeous range further afield to Melbourne and Tasmania and are looking for distributors and partners to work with in order to do this.
Equipped with a vivid imagination, Tahnee Walters established Spotted Cow Cookies as a way to indulge her passion for turning out incredible cookies for small businesses. In a case of 'careful what you wish for', Tahnee's success exceeded expectation and today, the company serves up incredibly good cookies for bigger businesses as well. Now, consumers can munch on Spotted Cow Cookies while cruising above 40,000 feet in the air on board Virgin Australia and Qantas flights. The cookies can also be found in the nationwide Hudsons Cafes chain. The brand delivers comforting bites of baked goodness made with gourmet ingredients right across the country.
A proud cookie supplier that believes in quality and magic in every bite, Spotted Cow use only real chocolate and butter and use Australian ingredients wherever possible. Manufacturing thousands of cookies weekly from their Sydney base, the company ships their fresh, tantalising treats to cafes, delis, restaurants, shops and airlines.
Café Range
Your cookie-loving customers will adore Spotted Cow's flavour range:
Spotted
Chocolate & Salted Caramel
Vanilla Melting Moment
Triple Chocolate Fudge
Moosli
Gluten Free Chocolate Mud
Maple, Fig & Toasted Walnut Moosli
Chirpy Chocolate Chunk (our awesome new kids cookie)
and many more
Brownies
Ah Brownies, the ultimate comfort food … next to cookies, that is! Spotted Cow's Brownies are gold medal and Champion award winners (2013 Sydney Royal Food Show). Made with Belgian couverture chocolate, there is also a Champion award winning Gluten Free Triple Chocolate Brownie in the range!
Single Wrap Range
For great convenience, Spotted Cow's gluten free and regular cookies can be purchased individually wrapped in display boxes of 12. Avoid cross-contamination while keeping your popular cookies fresh and perfect.
Food Service & Catering
The Spotted Cow range of bite sized bulk and single wrapped cookies is absolutely ideal for countless applications such as catering, foodservice, food trucks, market stalls, airlines, canteens and so much more.
Retail Range
Spotted Cow's retail range is attractive and tempting, making the decision easy for customers to purchase for their own indulgence or for gifts. The products will beckon from the shelves of your store or gift hamper business. Take a look at the quirky milk carton packaging to see just how on trend they are!
Corporate Christmas Hampers
Celebrate the festive season with cool and clever cookie hampers for corporate clients. Spotted Cow have assembled a range of hampers to suit various budgets. Simply call and they will put one together to fit your requirements.
Interested in being a Distributor for Spotted Cow Cookies?
Distributors and partners are sought to promote Spotted Cow Cookies throughout Melbourne and Tasmania. Already a hugely popular and well recognised brand, Spotted Cow is a name you will be proud to carry for your clients.
To express your interest in becoming a Distributor, contact Spotted Cow Cookies today.