Tolga Estate Black Garlic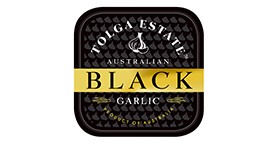 Tolga Estate Black Garlic
Premium 100% Australian black garlic
Tolga Estate Black Garlic is processed on the Atherton Tablelands in far north Queensland in some of Australia's richest volcanic soils. Providing ideal conditions all year to grow and harvest a garlic that's unrivalled for its deep, rich and intense flavour. Our temperature humidity controlled fermentation produces the unique soft, chewy black bulb. The exact method is a closely held family secret, that's been tested and perfected over time.
Family history
For more than 120 years, Tolga Estate garlic has been a family affair. Using time-honoured Chinese methods of food preparation, the premium white garlic bulbs are carefully processed over 30 days or more until completely blackened. The resulting flavour is sweet, creamy and potent and, like wine, takes on the 'terroir' of the soil and climate in which the garlic was grown.
Exhibiting aromas of molasses and balsamic vinegar, black garlic features a creamy, charred sweetness. It is jam-packed with antioxidants and adds a wonderful depth of flavour to savoury and sweet dishes. It can be spread raw on crackers before topping with other ingredients or used to add greater complexity to myriad dishes. Experiment with Tolga Estate Black Garlic in meat and fish dishes, eggs, salads and pastas. It can even be used in desserts such as brownies and ice cream.
Black garlic possesses a wealth of nutrients including selenium, calcium, magnesium and B6, as well as probiotics plus sulfuric compounds that support heart health and help in the fight against arthritis, cancer and other diseases.
The products
100% Australian Premium Black Garlic (Peeled) 40g
An outstanding product for the home cook who chooses only the freshest, purest and most flavourful ingredients. Tolga Estate's peeled premium black garlic is ready to use and remains fresh for up to 12 months. It will add sophistication to meat, fish and chicken dishes and is a lovely complement to serve with cheeses. Try it with fresh fruit and even ice cream.
Restaurant-Sized 100% Australian Premium Black Garlic (Unpeeled) 500g
Australian chefs are entranced by black garlic and in many restaurants, it is now considered an essential ingredient. The superiority in quality and flavour of Tolga Estate's premium black garlic has made it an increasingly popular choice for the restaurant pantry. It inspires the creation of new dishes and is feted by food connoisseurs seeking new experiences.
Retailers
Stock Tolga Estate Black Garlic in your delicatessen, supermarket, food hall, health food store or fine foods outlet. Beautifully packaged in an elegant black tin, it deserves pride of place in your high end gourmet ingredients section. Taste tests will delight those intrigued to try something very special. It also makes a gorgeous addition to gift hampers.
Foodservice
Explore the use of Tolga Estate Black Garlic in your restaurant or café kitchen. Try it across your entire menu, from amuse bouche, canapes and appetisers to main dishes and even dessert. Its appearance, aroma and taste will add an extra layer of beauty and flavour to even the simplest plate of food.
To discover more about this product or to place an order, contact Tolga Estate today.
---
More information about Tolga Estate Black Garlic
Interview - Fred Cunzolo, Owner of Tolga Estate
We spoke with Fred Cunzolo, Owner of Tolga Estate to learn all about their Black Garlic. Click here
Tolga Estate - Recipes
Recipes using Tolga Estate's black garlic including Caramelised Figs, White Chocolate Puree, Mixed Berries & Black Garlic Gel Meringues. Click here