All natural, organic hand sanitiser made in Australia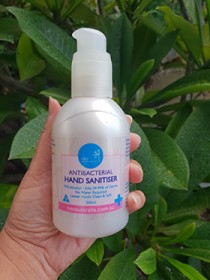 Have you been looking for an Australian-made hand sanitiser that kills 99.99% germs that is also extremely softening and effective?
Neo Australia's contains certified organic lemon myrtle and aloe vera in 70% denatured alcohol (ethanol made from Australian wheat). The formula adheres to the recommendations of the TGA and the World Health Organisation.
No need for soap or water.
Instantly kills 99.99% of germs.
Rinse free, non-sticky formula.
70% alcohol formula that dries rapidly.
Made with 70% denatured ethanol (from Australian Wheat) for effective action against germs.
This Australian-made hand gel-style sanitiser comes in a handy, easy to use pump pack which also locks into place to close it when not in use.
Available for bulk orders or procurement also.
Unlike the cheap imports around, you'll be grateful for their amazing formula and be delighted with the product's effectiveness.
---
Contact details for Teascapes Australia
---