Teascapes Australia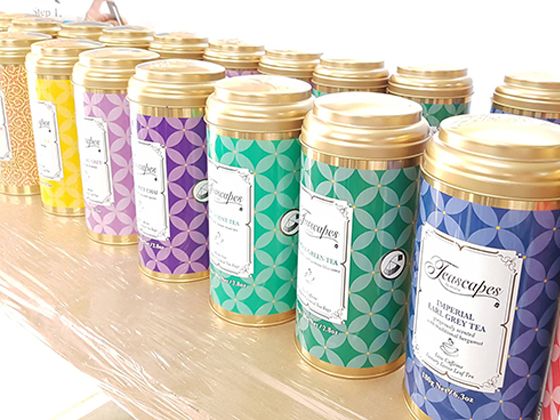 More Images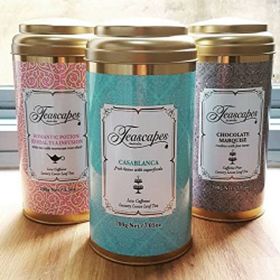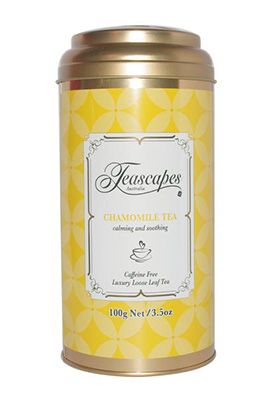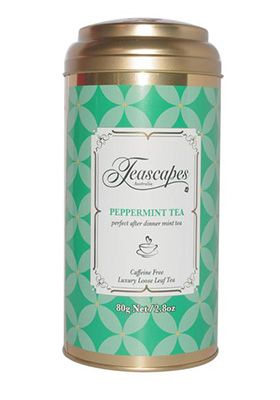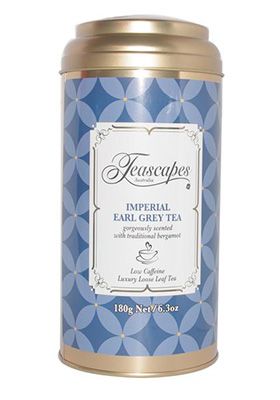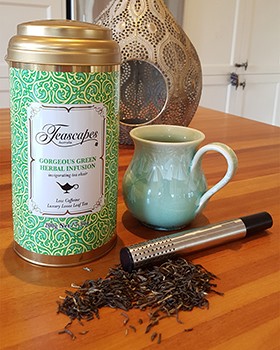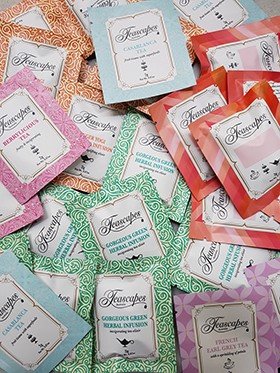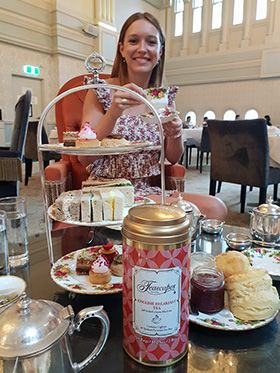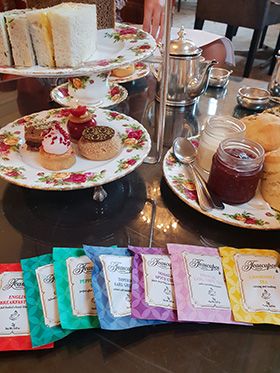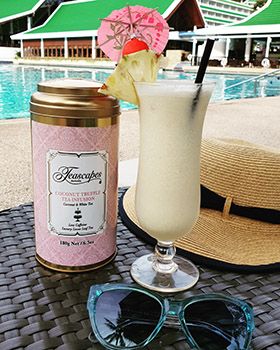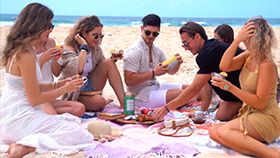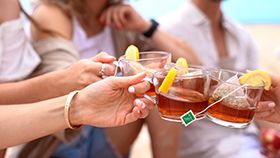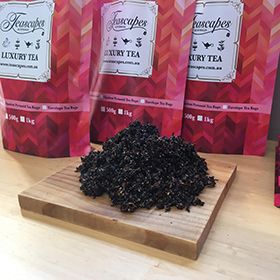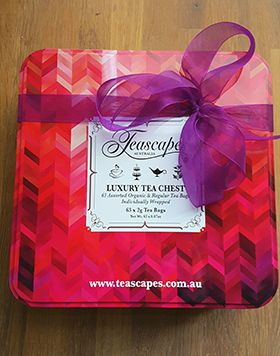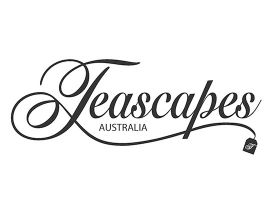 Teascapes Australia
Teascapes is a unique Australian tea brand that offers an experience for tea drinkers that is quintessentially Australian. It is a luxurious tea experience for visitors, travellers and tea lovers.
Teascapes is the premiumisation of Australian tea offering, a refreshing new approach to food service. Tea that elevates tea drinking and serving to a higher level. Tea drinkers now expect and experience more, customers will want to identify with an Australian brand that evokes an experience and emotion when drinking luxurious tea.
Choose from 35 flavours, packaged in iconic, vibrant gold tins in both organic loose leaf & opulent pyramid tea bags. Flavours that arouse the senses and taste buds.
Locally sourced, organic ingredients, our 'blenditorium' is based in Sydney where we pack and blend up delicious infusions.
Discover and Change your Tea Offering and give your customers a tea experience to remember. Elevate your tea offering and food service with Teascapes, indulge your customers and premiumise your venue today.
Teascapes is split into 4 categories: Traditional, Herbal, Elixir and Tea Society categories.
It is a unique offering that isn't available through traditional tea suppliers. Experience a selection of tea infusions within the category that best suits your business. Teascapes also offers quirky and nifty ways to drink tea – our Teastick infuser is a conversation point at any café, tea glass infuser bottles are uniquely designed for hot and cold tea on the go and our teapots / teamug infusers are innovative and self-serving.
Teascapes' gold tin packaging has a gorgeous array of colours and designs that look captivating on your shelves and can be sold as gifts. Escape with Teascapes in one single cup for a sensory journey packed with traditional and original flavours.
For full ingredients listings, visit the Teascapes website.
The Range: some of the teas offered by Teascapes are described below.
Traditional Teas
The finest selection of black, green and white teas dedicated to all tea lovers and aficionados. Pairing together the highest quality and ancestral family recipes, Teascapes promise to serve you the perfect morning and afternoon treat. Available in luxury loose leaf or in opulent pyramid tea bags, Teascapes' Traditional Teas will satisfy the palate and provide a comforting, refreshing escape during your day. All available in luxury loose leaf, pyramid bags, classic envelope tea bags.
Masala Spicy Chai - Teascapes offers an ancestral recipe in their Masala Spicy Chai; taste that surpasses all others. Delicious black Darjeeling tea has been infused with century old spice recipe of cardamom, clove, nutmeg, black pepper, star anise and cinnamon to offer you the ultimate in a smooth black spicy chai. Escape to India's hustle and bustle as you sip on our chai, it will leave you invigorated and refreshed.
Chamomile - Teascapes Chamomile tea contains only pure chamomile flowers; this tea gives you a soothing and calming sensation with a lovely after taste. Perfect as a calmative or relaxing tonic any time of day.
Jasmine Green Tea - Jasmine Green Tea is a truly classic Chinese green tea. Teascapes has taken the base of a magnificent green tea and beautifully blended it with the gentle jasmine blossom delivering a milder tasting green tea. Great for an invigorating change.
Imperial Earl Grey - Imperial Earl Grey Tea is a gorgeous black Darjeerling tea that has been exquisitely flavoured and scented with bergamot oil.
Peppermint Tea - Teascapes has found pure, premium peppermint leaves that give you the kick without caffeine. A delicious, minty, refreshing taste that also aids digestion and clears the senses, renewing taste buds and the palate. Delicious hot or chilled.
English Breakfast Tea - English Breakfast is a classic full bodied black tea embodying British taste. Best enjoyed with a dash of milk and sugar. A perfect pick me up whenever you need it.
French Earl Grey - French Earl Grey is a truly classic tea. Teascapes has taken the base of a magnificent black Earl Grey tea, beautifully blended it with the alchemy of bergamot, rose petals, sunflower blossoms and hibiscus. Absolutely refreshing and invigorating, medium bodied black tea with a sprinkling of petals and real bergamot.
Lemon & Ginger - A gorgeous balance of lemon and ginger that is refreshingly zesty and spicy at the same time. A perfect pick me up without the hit of caffeine. A classic in any tea setting.
Elixir Teas
Teascapes have concocted the most unique tea infusions you'll ever taste! Enjoy these original infusion elixirs hot or iced and match each according to your mood. Magic potions that transport and transform you to where you desire. Where will you escape today? Any of the four unique blends will transport you to blissful serenity. Available in luxury loose leaf or in opulent pyramid tea bags.
Gorgeous Green Herbal Infusion - Gorgeous Green is a lovely Australian green tea with a hint of rose petals and strawberry that eliminates the bitter after taste of green teas. A delicate tea that is invigorating and stimulating. A concoction that is antioxidant rich with a natural boost.
Ginger Yoji Herbal Tea Infusion - Ginger Yogi tea is a gorgeous elixir inspired by Teascapes' love of retreats. A warming, invigorating blend of ginger naturally sweetened with crisp Australian apple, a perfect Ayurvedic blend to help balance all chakras. This refreshing drink is also a calming and stress-free herbal infusion that revives mind and body. Perfect also chilled.
Romantic Potion Herbal Tea Infusion - A Teascape Elixir is not complete without the offering of a Romantic Potion. They have generously blended premium White Tea with delicate Moroccan rose, which when infused, emits a fragrant bouquet of roses. The perfect elixir that is delicate and antioxidant rich simultaneously.
Bliss Herbal Tea Infusion – This amazing sweet liquorice infusion elixir combines natural liquorice root, peppermint and fennel to enliven your body and get it moving. A refreshing potion that is simply delightful.
Turmeric Tonic Infusion – is a zesty infusion of Turmeric, citrus and lemongrass that helps renew with every sip. Delightful hot or cold.
Tea Society Teas
Tea Society is for the laughter and mischief shared with family and friends. Society teas are about sharing precious moments, gossiping, cheering and gathering around a cup of tea; your best way to catch up, celebrate and reflect on the year. Along with tiered cake stands, fine china, sweet delights and dainty sandwiches, these are the perfect teas for all sorts of societies. Pure, guilt-free indulgence is yours in a cup of Teascapes' Tea Society tea. Even the descriptions of their blends are enough to make you wish you had a cup right now. Avialable in luxury loose leaf tea and pyramid tea bags.
Casablanca - Casablanca was a society of its own, and Teascapes have reflected this in a gorgeous green tea that is laced with acai and goji berries. Fun, fruity, zingy and sweet flavour lend a kick to your step and a boost to your senses. Indulge with friends and amaze your taste buds with this tantalizing tisane. Serve warm or perfect chilled with berries and fruit.
Chocolate Marquise - Teascapes Chocolate Marquise rooibos herbal tea infusion has been blended carefully with unique spices and fine cacao kernels that gives a creamy rich chocolate taste that seems to melt in the mouth. Its flavour reminds you of a sweet topping on a truffle cake but without the calories. Naturally high in iron, Vitamin C and antioxidants and no caffeine, this is as close to a guilt free indulgence as you will ever get.
Berry Mad – is a gorgeous bouquet of berries that is unique as it is perfect hot or cold and can be a cold brewed tea infusion. Perfect for hot summer days and menus.
Bewitching Butterfly Pea Infusion – made with the unusual butterfly pea flower, delivers a gorgeous blue infusion which magically changes to purple when infused with a dash of lemon. An intriguing tea, for a unique experience.
Herbal Teas
Teascapes' herbal tea infusions are blended according to ancient Indian Ayurvedic principles, which are based on the careful selection of pure, organic herbs and spices that support the natural processes in the body. They have created the most balanced, caffeine free herbal combinations with remedial properties to feel better every day. Feel better, more relaxed, more energised or improve your skin with these beautiful infusions. Available in luxury loose leaf tea. For full ingredients listings, see the Teascapes website.
Complexion Herbal Infusion - A luscious merger of the finest Ayurvedic herbs has been created to develop Complexion Tea Blend. The herbs selected are known for their purifying properties. Antioxidant rich with a delicious aftertaste, Complexion Tea is great chilled with a slice of lemon or taken hot with a touch of honey.
Wellbeing Herbal Infusion - Perfect as an after-dinner mint tea, this exotic blend of mint, fennel, apple, cumin and rosehip is perfectly balanced to help you feel at ease after any meal. A restorative Ayurvedic tonic, delicious and refreshing. Best served hot or cooled down with a dash of honey.
Relaxation Herbal Infusion - Unwind from the rigours of the day and enjoy a moment of repose. A tranquil herbal infusion with the sole purpose of relaxing the body and mind. A stress-free tisane that helps relax the nervous system and helps promote a restful sleep.
Energy Revive Herbal Infusion - Rejuvenate and revitalise your body with Energy Revive tea blend. A delicious refreshing drink for anytime of the day. The combination of antioxidant rich berries, ginger, lemongrass and more proves quite a drink! Sip hot or chilled.
Packaging Sizes
Teascapes offers products in various packages and sizes to suit individual businesses.
Bulk Packs of 250 Pyramid Tea bags for food service.
Bulk Packs of 200 Classic Envelope Tea Bags for food service.
Resealable Bulk Pouches of 500g and 1kg Loose Leaf Tea for food service & cafes. • Teascapes Tins for loose leaf tea between 100-300g
Teascapes Tins of 40 Pyramid bags
Teascapes Tins of 50 Classic Envelope Tea Bags
Teascapes Tea Chest containing a variety of 9 teas with 72 classic tea bags.
Teascapes Travel/Gift Tins with 10 Pyramid tea bags.
Teascapes Display Tins
Retailers
Teascapes is geared to supply cafes, food stores, organic stores, spas & retreats, conference venues, high tea offerings, hotels and luxurious hamper businesses.
This wonderful range of teas and infusions is perfect for many businesses, particularly retailers who proudly stock Australian-made brands and products created with love and passion. A beautifully presented range, Teascapes will look pretty on your shelves or at point of sale, especially when grouped together with colourful appeal. Why not offer taste tests so your customers can experience the luscious flavours for themselves?
Foodservice
Ideal for cafes, restaurants, spas and retreats. Teascapes will happily tailor the perfect package for you to include their gorgeous teas in your business.
Let's get you started / Call Us Today
To find out more about stocking or serving these tea blends in your business, or to place your first order, contact Teascapes.
Distributors
Distributors required around Australia. Please contact us for more information.
---
More information about Teascapes Australia
All natural, organic hand sanitiser made in Australia
Have you been looking for an Australian-made hand sanitiser that kills 99.99% germs that is also extremely softening and effective? Click here
Interview - Mona Webb - Teascapes
Tea as an experience is a big part of the Teascapes brand offering. With four exquisite Collections, there is something to suit every occasion including those upmarket High Tea events. We spoke with Founder & Owner, Mona Webb and discovered how her products are bringing tea into sharper focus in her clients' businesses. Click here