FAQs - Christen's Gingerbread - Wholesale Shortbread & Gingerbread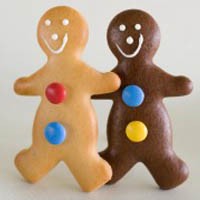 Christen's Gingerbread makes a fine range of wholesale traditional Gingerbread as well as traditional wholesale Shortbread. Here are some frequently asked questions about the company and the products.
Is your Gingerbread made to a traditional recipe or is it 'stylised'?
Christen's Gingerbread is absolutely traditional and is made to a generations-old Swiss family recipe.
Do you have different flavours of Gingerbread?
We do! We offer traditional gingerbread and chocolate flavoured as well.
Do you make other shapes besides Gingerbread Men?
Yes, we make gorgeous Smiley Faces.
Are your products mass produced?
Well we do make A LOT of gingerbread but in fact, every product is handmade and individually hand decorated and we take a great deal of pride in the quality of our products.
What about your Shortbread?
Same goes for our Shortbread; it's all handmade and delicious!
How does your fundraising work?
Our Gingerbread Men make fabulous fundraisers because everyone loves gingerbread! You can do it in one of two ways: either sell the Gingerbread Men with an order form for every participant or give each participant or family an individual pack of 24 Gingerbread Men to sell. It's healthier than chocolate and much, much easier than a lamington drive. Minimum order is just 16 packs so it's suitable for even small schools, kindies or social clubs.
Do you offer decorated Gingerbread Men for special occasions?
Yes, we do. We can decorate Gingerbread Men for baby showers, weddings, birthdays or other events and we can even do customised logo gingerbread for marketing.
What comes with your Aussie Beach Shack Kits?
They're so much fun! You can create your own DIY Aussie Beach Shack out of Christen's Gingerbread. The kits contain our famous gingerbread, precooked and ready to assemble. We also supply the fruit lollies, icing, hundreds and thousands, a cool gingerbread surfboard and an Aussie flag. Step by step instructions make it really easy.
What kind of Shortbread do you offer?
We have three kinds: Traditional, Honey Macadamia and Chocolate Chip.
What's the shelf life for your products?
They have a six month shelf life and they're individually wrapped which keeps them as fresh as the day they were baked.
If you have any questions about Christen's Gingerbread, simply contact them via the details below.
---
Contact details for Christen's Gingerbread
---