Interview - Belinda Ruzicka - Teavision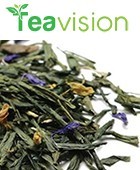 When it comes to the bulk supply of wholesale tea and wholesale herbs and spices, Teavision excels. They make it their business to source quality products from around the world and because of their buying power, can secure extremely affordable prices. We spoke with Operations Director, Belinda Ruzicka and learned more about what makes this company so successful.
FFW: What are the products offered by Teavision?
TEAVISION: Teavision are a one stop shop for tea, herbs and spices, no matter how big or small your business. We offer everything from raw ingredients to custom blending, private label packaging, tea bag manufacture and direct import to our customers, saving them time and money.
FFW: For how long has the company been in operation?
TEAVISION: We've been operating for close to four years now.
FFW: What is the Teavision story?
TEAVISION: We are a family run business, operating since 2014. The vision for tea grew from a shared passion for the drink, to the business we are today. We recognised early on the need for higher quality products. We found as consumers we were paying top dollar for mediocre product and high-quality tea was not readily available to the average consumer. Fast forward to today and we're so proud to say that we are helping many businesses deliver their customers high quality tea and ingredients at very competitive pricing. We consider ourselves as partners, not suppliers and we like to work with our clients to really understand their business model and their needs, enabling us to fulfil their requirements both efficiently and cost effectively.
FFW: What would you say is Teavision's positioning?
TEAVISION: We have established a large global supply chain network which spans across 15 countries. This network allows us to offer exclusive import services to our clients with guaranteed savings on a range of different ingredients. We offer many grades of tea, depending on the client's needs, but what is always premium is our service and commitment to our clients' success. We are continually expanding our knowledge on the industry and our products, as well as building a team of professional and passionate people.
FFW: What kind of expertise does your team offer?
TEAVISION: We are very proud to say we have a herbalist on board, working with us on our custom blends. Lucas is in the process of becoming a Certified Tea Master, which he is finding fun and challenging. Lucas is the company's encyclopedia on tea, herbs and spices. Our clients know they can rely on him to provide a wealth of expertise and experience on every product we stock here, as well as the tea industry in general. My background is in Quality Assurance and Operations so I largely manage that side of the business. We run a HACCP based system in our warehouse and are Australian Certified Organic.
FFW: Do you offer fully exclusive rights to blends that you create for clients?
TEAVISION: Yes. All of our custom blends belong to the client they were created for.
FFW: Where do your teas come from?
TEAVISION: We (quite literally) scour the globe to find the best teas. We currently source from China, Sri Lanka, India, Vietnam, Nepal, Japan and Australia.
FFW: And how about your herbs and spices?
TEAVISION: Most of our herbs and spices come from the Middle East and Europe.
FFW: How does the company maintain its quality standards with regards to the teas, herbs and spices you offer?
TEAVISION: We only work with approved suppliers. We have an internal program which we run to first accept and then regularly audit our suppliers. We have now built several longstanding relationships with our suppliers all over the world and we continue to manage them closely to ensure that quality standards are met and we of course sample the crop before anything is shipped.
FFW: Do you have retail packaging or do you focus on bulk supply?
TEAVISION: We do not offer any retail products under the Teavision brand; we are solely focused on bulk supply.
FFW: What is involved in arranging for private label packaging?
TEAVISION: Generally we will have a meeting with the client to discuss their needs and understand the vision for the product/s. From there our team will get to work on creating the product/s and presenting drafts to the client until we reach the desired outcome. Generally, this stage takes up 1-2 revisions until complete, at which stage we get the green light for production.
FFW: What kinds of businesses choose the private label packaging option?
TEAVISION: Mostly retail tea companies that want to do this outsource the nitty gritty part of getting a product to market and all the associated stress and overheads. We can complete the whole process end to end, from creating a blend, packaging designs and packing ready to hit the shelves.
FFW: Can your custom packaging options be used as branded mini bar inclusions or corporate gifts?
TEAVISION: Absolutely.
FFW: Are you able to supply bulk quantities for food manufacturers?
TEAVISION: Yes. This is a large part of our business and what enables us to get the best prices.
FFW: What are the quality assurances your customers can count on?
TEAVISION: We are committed to delivering a high quality and fresh product as well as exceptional customer service. We have formed very close relationships with our partners overseas and very strict internal processes which enable us to deliver on that claim. We only buy fresh and we manage our turnover rate very well so our customers are always getting the best
FFW: Are you able to source other products for customers that are not on your website?
TEAVISION: Yes, we always recommend getting in touch if you need something you don't see on the site as we do have many partnerships all over the world and often aren't importing said ingredient as there hasn't been any demand for it (yet).
FFW: What percentage of your products is certified organic?
TEAVISION: Around 80%.
FFW: What lies ahead for Teavision as its profile grows in Australia?
TEAVISION: We have a new slogan which we believe encapsulates who we are and what we are striving for: 'Leaders in Everything Tea.' This means more supply partners, more products, more national coverage, growing an export market and more brokerage to help our clients source straight from plantation.
If you've been looking for a new wholesale supplier for tea – or bulk herbs and spices – get in touch with Teavision today and discover the range and service they offer.
---
Contact details for Teavision
---