Interview - Fiona Verwoerd - Peninsula Larder
Peninsula Larder
More Images
Flavour Pearls are the brainchild of Fiona Verwoerd, Owner of Peninsula Larder. Innovative and enchanting, these little beads of liquid can singlehandedly transform the presentation of a dish in mere moments. Fiona told us how they came to be and how they're being used in the real world.
FFW: What exactly is a 'Flavour Pearl'?
PENINSULA LARDER: They are a pearl sized drop with flavours from balsamic vinegar to salted caramel and everything in between, which burst with a liquid 'pop' of flavour when you eat them. Beautiful to look at, delicious and fun!
FFW: Are they just for foodservice or can home cooks use them too?
PENINSULA LARDER: They are certainly a valuable product for food service but they are absolutely wonderful for the home cook. Many people have never experienced molecular gastronomy, so Flavour Pearls are a very exciting product to try. It's a great way to get the conversation started at your dinner parties! As soon as your guests experience the 'pop' the fun begins. Those who know a little about molecular gastronomy will appreciate the convenience of our product (and those who try them for the first time will just enjoy the delicious burst of flavour and how professional their simple dinner party favourites look).
FFW: Do you use locally sourced ingredients where possible?
PENINSULA LARDER: Yes we do.
FFW: What kind of feedback do you receive from customers (end consumers and foodservice businesses)?
PENINSULA LARDER: The foodservice sector likes being able to add another element to their menus in a cost effective and convenient way. Flavour Pearls provide real wow factor and a point of difference.
Retail consumers love the 'pop' of intense flavour and the beauty of Flavour Pearls. They are a very popular gift too – something truly unique for your foodie friends and family.
FFW: Do you suggest offering taste tests so consumers can familiarise themselves with the product?
PENINSULA LARDER: Absolutely; as our product is so new many people don't know what they are. A simple product display in store with our point of sale information and a tasting on your busy days will have your customers coming back for more. If not an immediate sale, then when a gift is needed or the next dinner party is planned your customers will be back for sure.
FFW: Aside from supermarkets, fine food stores and delis, what other business types are stocking Flavour Pearls?
PENINSULA LARDER: Hamper suppliers, greengrocers, gift shops, high end retailers, online gourmet food stores, bar supply stores, cooking schools and cafes have all been stocking Flavour Pearls.
FFW: And how about foodservice businesses?
PENINSULA LARDER: We sell directly to many restaurants, bars, hotels and caterers – both large and small. We also have several distributors for our foodservice range (always looking for more too).
FFW: How would you suggest retailers promote your products in store?
PENINSULA LARDER: We supply point of sale information and recommend offering taste tests to introduce our unique product to your customers. They generally walk out the door when there is a tasting! Our website has lots of recipes, photos and information (printable brochure) to help with ideas on how to use Flavour Pearls. An in store taste test is also a great way to upsell Flavour Pearls with some of your other products.
FFW: Are Flavour Pearls suitable for children?
PENINSULA LARDER: Children LOVE Flavour Pearls because of the pretty colours, and they're very fun to eat when they 'pop' in their mouth! They are wonderful as a special treat on some ice cream. Terrific for birthday parties too.
FFW: You recommend using Flavour Pearls in champagne and cocktails; do they dissolve in liquids?
PENINSULA LARDER: They are a wonderful addition to your champagne and cocktails, offering an eye catching pop of colour and a delicious 'burst' of flavour but only when you pop them. Flavour Pearls can make champagne and cocktails even more fun! They will not dissolve or melt in liquids, which is perfect when you want to enjoy the flavour notes of your chosen sparkling yet crave something a little more special to mark the occasion.
FFW: What health considerations do the Flavour Pearls take into account?
PENINSULA LARDER: Flavour Pearls are vegan, gluten free and dairy free too, making them suitable for most people to add a little to their food and drinks! This is particularly helpful in commercial kitchens where it can sometimes be challenging to cater to everyone's needs. Pectin is the gelling agent that we use to create the 'bubble' that surrounds the liquid centre of our Flavour Pearls. It is found naturally in fruit and is commonly used to help jams set.
FFW: Have your products won any awards?
PENINSULA LARDER: Our business has won a couple of awards; the Alan Richard Award in 2014 where we were joint winners in our category for the Best Innovation – Product, Process, Service, or Technology. We were also winners of the Best New Business category at the Frankston & Mornington Peninsula Excellence in Business Awards 2014. We won Gold, Silver and Bronze Medals for our Balsamic, Apple and White Balsamic Flavour Pearls in the 2017 and 2018 Australian Food Awards. And we were also recipients of a small business grant from Frankston Council early in 2015.
FFW: Do you have any new products or flavours currently in development?
PENINSULA LARDER: We introduce new Limited Edition Flavours every 4 months to keep thing interesting and seasonal with new recipes for every flavour. We also create custom flavours for restaurants and caterers.
FFW: What do Flavour Pearls do for home cooking or restaurant dishes?
PENINSULA LARDER: For restaurants and caterers they offer another technical element - molecular gastronomy without having to labour over micro scales and syringes. Flavour Pearls add a 'wow' factor to many dishes; hot, cold, sweet, savoury and liquids too. A consistent shelf stable product, they are cost effective too which is an important consideration to all commercial kitchens.
Flavour Pearls will add a stylish touch to all of your dinner party favourites and get your friends talking. Turn something simple into something really memorable with ease. They are the ideal gift for a foodie friend.
FFW: What makes Flavour Pearls such a lovely gift?
PENINSULA LARDER: Flavour Pearls are such a new gourmet product, your friends and family will be thrilled to receive something that is so uniquely different. Conveniently shelf stable and with our gold label and lid, they offer a premium look. The fruity flavours are a terrific add-in to go with a bottle of sparkling and a couple of glasses.
FFW: Do you offer bulk quantities for foodservice?
PENINSULA LARDER: Yes we offer a 300 g plastic screw top tub for foodservice.
FFW: What else do you offer customers?
PENINSULA LARDER: We also offer a range of Cocktail Sugars and Salts (for your cocktail glass rims) as well as some Freeze Dried Fruit products. See the website for images and more information.
As you can see, Flavour Pearls have a great deal to offer for professional and home kitchens. Let your imagination wander and you'll soon create incredible new ways to use them and thoroughly entrance your guests and customers.
To place your first order, contact Peninsula Larder today.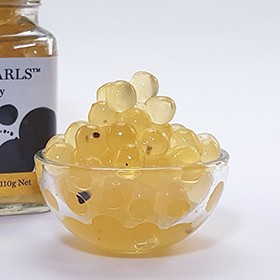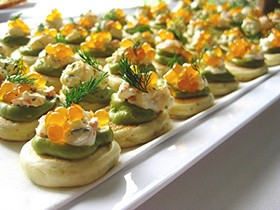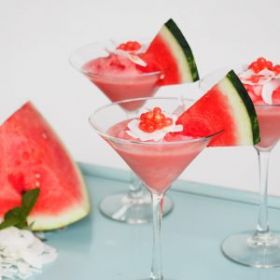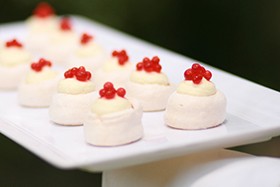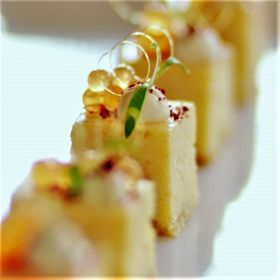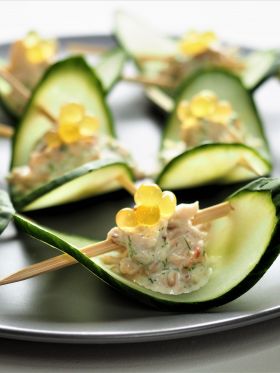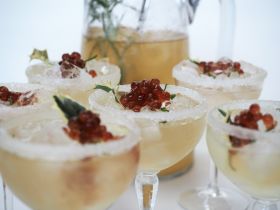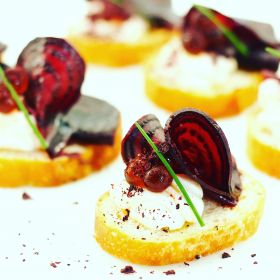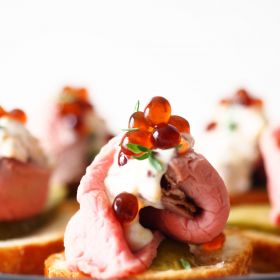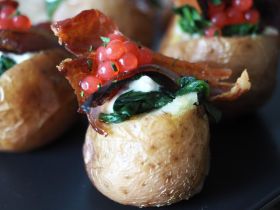 ---
Contact details for Peninsula Larder
Visit Website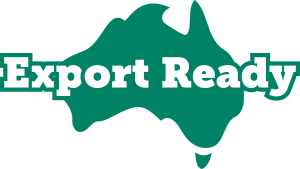 ---