Interview - Gihad El-Sheikh - Melbourne Nut Co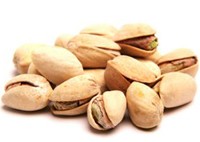 Since 1989, Melbourne Nut Co has been roasting nuts for customers Australia-wide. Today, they still roast daily to ensure freshness and to meet customer demand. They also now offer a huge variety of beans, dried fruit, spices, snack foods and so much more. We spoke with Managing Director Gihad El-Sheikh about nuts, customer service and business pride.
FFW: Melbourne Nut Co is a slight misnomer; what else does your company provide in addition to nuts?
MELBOURNE NUT CO: In addition to nuts we supply dried fruit, spices, beans, organic products, snacks, super foods and much more.
FFW: How and when was the company established?
MELBOURNE NUT CO: Melbourne Nut Co. was previously known as Al-wadi Roastary T/as Nut City and was established in 1989 as a retail outlet, providing customers with a wide variety of freshly roasted nuts, beans, dried fruit, spices, snack foods and much more. After 11 years as a retail leader, the business was further developed into a successful wholesale distribution enterprise.
FFW: What kinds of businesses are purchasing nuts, dry ingredients, health foods and snacks from you?
MELBOURNE NUT CO: We supply products to a large customer base including supermarkets, independent retailers, delicatessens, organic food retailers, restaurant chefs and specialist nut stores. Additionally, we supply to many food services and food manufacturers.
FFW: Would it be fair to say that your business has an exceptionally high turnover of products and therefore freshness is guaranteed?
MELBOURNE NUT CO: We ensure freshness of our products by roasting daily on site. Those products that we do not roast at our facility, we source from reliable suppliers with whom we have developed long lasting relationships.
FFW: Regarding nuts, does Melbourne Nut Co distribute raw nuts or also roasted nuts?
MELBOURNE NUT CO: Yes of course.
FFW: How far afield do you deliver your products?
MELBOURNE NUT CO: We deliver Australia wide.
FFW: Does your range include organic products?
MELBOURNE NUT CO: Organic products are a big part of the market place so it was only natural for us to expand into this category and offer a range of organic products.
FFW: Are your products sourced from local suppliers or are some products also imported?
MELBOURNE NUT CO: Our products are sourced from both local supplier and imported internationally.
FFW: What would you say are your signature products?
MELBOURNE NUT CO: We have four signature products in our nuts range; Almonds, Walnuts, Pistachios, and Cashews. Also in our fruit range; Sultanas, Cranberries and Prunes which we consider part of our signature range.
FFW: How does Melbourne Nut Co make it easy for clients to do business with you?
MELBOURNE NUT CO: We make it easy for clients by offering great customer service. We are very accessible to everyone making it very easy to deal to us. We have no minimum orders and will always assist in any way we can.
FFW: Do you provide recommendations with your products regarding shelf life, expiry date, storage suggestions and so on?
MELBOURNE NUT CO: Yes we always have this information on hand and provide all requested information from specifications to nutrition including Certificate of Analysis and so on. If we do not have something you require on hand we will be more than happy to source it for you.
FFW: Describe for us a winning day at Melbourne Nut Co.
MELBOURNE NUT CO: We have set procedures in place so for us a winning day is most days. However the most rewarding feeling is when a customer calls us and thanks us for our service and freshness in products. Nothing gives you that winning feeling better than a satisfied customer.
Dealing with a specialist nut supplier means you can always rely on fresh product and a diverse range. Melbourne Nut Co operates with pride and efficiency and would like you to consider their dry ingredients and other products as well. Contact Melbourne Nut Co today to discuss your particular requirements.
---
Contact details for Melbourne Nut Co
---