Interview - Henry Chen - Tasman Foods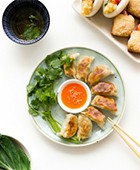 Yum Cha has long been a favourite mealtime experience for Australians. In addition, the foods are particularly suited to sharing, catering and quick service formats. We spoke with Henry Chen, Director of Tasman Foods and learned why the company's lines of snap frozen Asian yum cha foods has grown in popularity.
FFW: Can you tell us a little about the Tasman Foods brand?
TASMAN FOODS: We are an Australian-owned and family-operated business, with a solid history of more than thirty years in the hospitality business. We specialise in the innovation, manufacture and distribution of frozen Asian food in the retail and wholesale sector. Our aims are as follows: 1) we want to recreate the authentic yum cha experience through providing quality dim sum products for our retail customers and 2) provide quality Asian products for our wholesale customers in the restaurant, airline and hotel industry to ensure they can cater to their customers' needs.
FFW: What products do you offer? [a generalisation, e.g. frozen convenience foods, Asian foods, etc.]
TASMAN FOODS: There are several brands operating under the Tasman Foods umbrella, including Chan's Yum Cha, Canton Road, King of Kings and Shanghai Streets. Each brand offers a range of quality frozen Asian foods, all individually handmade before being snap frozen for optimal freshness.
FFW: Do you supply your products frozen or fresh?
TASMAN FOODS: All our products are handmade, and then snap frozen for optimum freshness.
FFW: Do you manufacture all the foods you offer?
TASMAN FOODS: Yes, all our products are individually handmade by us.
FFW: What are the four different brands you offer and what does each specialise in?
TASMAN FOODS: 1. Chan's Yum Cha at Home: The oldest of our brands, having been around for more than three decades. Chan's Yum Cha brings the traditional weekend yum cha experience to your home with very little preparation involved – simply heat the dumplings up according to the instructions on the packet and you'll have a meal ready in minutes. Our prawn hargow and prawn ginger dumplings are available for retail customers at all Costco stores around Australia as well as selected Asian supermarkets. Meanwhile, the rest of our range (more than 50 varieties) is available for wholesale customers at our warehouse in Springvale. Online orders also available, minimum order of $200 and ABN is required.
2. Canton Road: Like Chan's Yum Cha, Canton Road is all about offering restaurant-quality yum cha meals at home. The full range is available at our warehouse in Springvale; retail customers can get our sesame prawn toast at Costco all over Australia.
3. King of Kings: This product line offers a more modern spin on traditional Chinese dishes, such as our sriracha and chicken bun.
4. Shanghai Streets: The focus of this product line is on Shanghainese fare – our best-selling item for this line is our xiaolongbao.
FFW: Are foodservice businesses able to pass off your products as their own, as though they'd cooked them from scratch in their own kitchens?
TASMAN FOODS: Yes, absolutely. We supply our products to various well-known venues in Melbourne and in fact, customers have no idea that the dumplings come from us!
FFW: What are your company's quality virtues?
TASMAN FOODS: We're all about delivering the best products using top quality ingredients to our customers so that they can recreate the authentic yum cha experience at home. All our products are individually handmade and we do not use MSG in our products.
FFW: Who are your main markets?
TASMAN FOODS: Restaurants, caterers, airlines. Retail customers for our Chan's Yum Cha range.
FFW: Do you supply to both ends of the market, from local fish and chip shops to five-star restaurants?
TASMAN FOODS: Most of our clientele are mid-to-high end restaurants but we also supply to smaller businesses. We also supply to caterers too for birthdays, engagements, weddings – and other major life events!
FFW: Are you able to source or produce particular Asian food products for customers if requested?
TASMAN FOODS: Unfortunately, we are unable to make custom-made dishes upon request. We are more than happy to provide ingredient listings for all our products upon request, however, so that customers know what's inside each product to cater for special dietary requirements.
FFW: How do you make it easy for customers to do business with you?
TASMAN FOODS: We update our website regularly with recipe suggestions and our Chan's Yum Cha Facebook and Instagram feed is constantly updated with recipe ideas and suggestions on how to serve our products. Our products are widely available at Costco stores around Australia and we also provide online ordering services (minimum order of $200).
FFW: Why do you think gyoza/Asian dumplings have become so popular in recent years?
TASMAN FOODS: Dumplings are the ultimate comfort food – they're quick, simple and most of all, delicious. They're also the perfect dish to share with family and friends; they bring people together.
FFW: To what geographical areas do you deliver?
TASMAN FOODS: Our products are available in all states, via a local distributor in each state.
If convenience, quality, authenticity and cost-effectiveness are your priorities, then Tasman Foods ticks all the boxes. Deal with a company that offers a diverse array of products as well as professional service.
---
Contact details for Tasman Foods
---