Interview - Mona Webb - Teascapes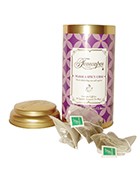 Tea as an experience is a big part of the Teascapes brand offering. With four exquisite Collections, there is something to suit every occasion including those upmarket High Tea events. We spoke with Founder & Owner, Mona Webb and discovered how her products are bringing tea into sharper focus in her clients' businesses.
FFW: What are the four different Collections offered by Teascapes?
TEASCAPES: Our teas are split into 4 Collections: 1. Traditional Teas – these are the everyday teas that people traditionally drink such as English Breakfast, Green Tea or even Chai. 2. Elixirs are magic potion-type tea blends we've developed that are a delicious concoction of herbs that are invigorating. 3. Herbal Teas that are caffeine free and are based on remedial recipes that make you feel better. 4. Tea Society – upmarket teas served at High Tea or society gatherings that bring people together uniquely complementing sweet treats and memorable occasions.
FFW: Do you use local ingredients or imported ones as well?
TEASCAPES: We try to source as many ingredients as possible from within Australia and the rest are imported from all over the world.
FFW: What would you say is Teascapes' positioning?
TEASCAPES: Teascapes has a unique offering in that we have premium loose leaf tea, high end pyramid tea bags and the classic everyday envelope tea bags. Therefore, we cater to a broad range of businesses. In terms of our retail packaging this appeals to the luxury gift giving market and also in many instances the female buyer. In a nutshell, we consider our products affordable but premium teas.
FFW: How do you come up with the individual blends? Do you have a tea specialist on board?
TEASCAPES: One of the exciting activities that we do is offer tea tastings at various shows and events in which we come into direct contact with hundreds of people. Many times, in speaking with potential and existing customers we understand and listen to what the 'marketplace' may be looking for in a tea blend or in its quality. Many of our blends were developed in a response to these findings. In addition, having been in the tea industry for over 15 years now, we are able to formulate distinctive blends in house. I personally have blended all our tea infusions and have selected premium grades of loose leaf tea from growers with my knowledge of Ayurvedic medicine (in general, an Indian form of Naturopathy) and Tea Blending Masterclasses.
FFW: How does the company maintain its quality standards?
TEASCAPES: We have established guidelines based on the Quality Control of tea and various ingredients purchased from suppliers. We have longstanding relationships with suppliers and tea growers that add to our competitive advantage in the marketplace. Many of our suppliers provide us with certifications each time we receive new batches of tea that comply with our standards of quality control. In addition, half of our teas are also certified organic.
FFW: What is the Teascapes story?
TEASCAPES: Teascapes is a family owned business instigated by Mona Webb. Whilst at uni studying engineering many moons ago, a group of us would skip some lectures to eat cake with lashings of cream at a local café called Teascapes, a place where one could escape with tea and cake! Fond memories and the name of this café always stayed with me. Over a decade ago when it closed down, I decided to register and trademark the name thinking one day I would bring it to life again, with no real plans of what I would do with it (a gut instinct at the time). This now has translated to Teascapes – a fancy new tea offering and fancy ways to drink tea. Our tea is not the everyday tea that people have at cafes or from mass markets but a matchless blend of over 20 varieties that takes them on their own journey in a single cup! Teascapes was established in 2016. Our inspiration is distinction from the normal brands out there that churn out the same grades and menus of tea. We believe we are market leaders and not followers.
FFW: Are all your teas available as loose leaf as well as pyramid tea bags?
TEASCAPES: Yes, we offer all our teas in loose leaf, over a dozen varieties in pyramid bags and again the same number in classic envelope tea bags.
FFW: Are any of your teas low in caffeine or caffeine-free?
TEASCAPES: All of our herbal teas are caffeine free, a few green tea blends are low caffeine, whereas the black teas naturally contain caffeine.
FFW: Do you think consumers choose their favourites teas based more on flavour or on the wellness benefits they're looking to attain?
TEASCAPES: A good question, in this day and age I would say the new millennials choose their teas more based on flavour whereas the traditional tea drinkers and more health conscious choose them on their wellbeing.
FFW: What kind of feedback have you had from consumers about your products?
TEASCAPES: We are honestly overwhelmed with the feedback we've received; people adore our packaging and concept that Teascapes bases their offerings on. It's given people a chance to offer teas that they generally wouldn't put on their menus. Most consumers who have tried our teas want them in bigger pack sizes! In addition, stocking Teascapes has given businesses an edge over their competitors or the café next door!
FFW: In what packaging formats is your tea available?
TEASCAPES: Teascapes Teas come in a variety of packages that are targeted to various consumers or buyers. We have gorgeous gold tin cylinders that come in a variety of colour and design codes corresponding to each Teascapes Collection – these are ideal for display or retail.
Bulk pack of loose leaf tea
Bulk pack of 250g Tea bags or pyramid bags
Self-serve tea chests for venues, hotels or functions
Sampler packs and coming soon, travel packs
FFW: What do you feel are the most compelling features of your brand?
TEASCAPES: The fact that we are an Australian, innovative company that has a quick turnaround in customer service attracts buyers. Our brand offers a fresh new edge in tea menus that is not currently prevalent in current mainstream brands, the fact that we can develop a custom blend for a buyer and they can always rely on a high-quality product that looks good, smells good and tastes good is monumental. Finally, the look and name of Teascapes is its most attractive feature.
FFW: How you help clients to promote your products in store?
TEASCAPES: All our clients are given thorough knowledge of the tea that they eventually offer. This is accompanied by serving suggestions on each tea blend, shelf talkers for displayed product and brochures. We also leave samples of teas in various packages. Finally, we also offer a sign that indicates that the client offers Teascapes as their main tea offering.
FFW: How would you suggest retailers promote Teascapes?
TEASCAPES: The best and main way to promote Teascapes is by displaying our gorgeous gold tins on their shelves or next to where a customer may purchase tea – i.e. counter top or a menu card on tables. The attraction to the Teascapes tins leads to order and curiosity for the brand. The display alone doubles up as a menu and if retailers agree, we would suggest free tea tastings and changing some teas seasonally.
FFW: Are there any other flavours or products in development at the moment?
TEASCAPES: We are always developing new flavours, however our newest offering will be travel tins for on the go of both loose leaf and teabags.
FFW: Do you provide tea in bulk quantities for foodservice businesses?
TEASCAPES: Definitely, we offer bulk loose leaf tea as well as teabags that come packaged in bulk bags.
FFW: What lies ahead for Teascapes?
TEASCAPES: Teascapes is introducing two new teas in our Tea Society range that will definitely appeal to high end hotels and restaurants that offer High Tea as an event option. It is exciting times with our brand mostly in product development. Also, we are developing another range of packaging to suit travellers so that they can take their favourite Teascapes tea on the go.
Teascapes also offers innovative teaware such as a Double Wall Glass Infuser bottle that makes hot or cold tea for people on the go. We also have cute tea infusers for loose leaf tea that we've seen somewhere in the world and brought it into our product mix enabling people to drink tea with a bit of pizzazz and have also designed a tea-stick infuser that is like a magic wand that measures and infuses tea for one!
If that all sounds entirely intriguing to you, now's the time to get on the phone and contact Teascapes about having some product delivered to your business. It could be the perfect time for you to make more of a feature of your tea menu.
---
Contact details for Teascapes Australia
---