Interview - Remi Tremsal - Caramelicious
Caramelicious - Gourmet Soft Caramel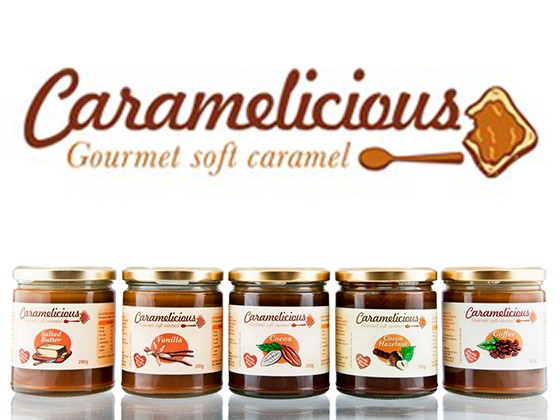 More Images
Caramel is one of those foods that bring a smile to anyone's face. And homemade, all natural French caramel takes happiness up another notch. We spoke with Remi Tremsal, Director and Co-Founder of Caramelicious about their incredible jars of golden goodness and found that over five generations of Remi's family have been using the same recipe. Why fix something's that not broken?!
FFW: Who is behind the Caramelicious brand and how did the company come to be?
CARAMELICIOUS: French Duo, husband and wife Remi and Breena run Caramelicious.
Back in 2011, Rémi, a jockey was sidelined by a back injury and during his convalescence started his Caramelicious business. We realised that salted caramel didn't exist in jars here in Australia. Remi's father was making it at a commercial level in France. Breena thought "it's really going crazy there why not here?" Caramelicious uses a 5-generations old family recipe.
Their passion translates into the amazing products they produce and sell today.
FFW: Are you surprised by how popular gourmet caramel is given that sugar is always so demonised lately?
CARAMELICIOUS: Caramel can be used as desserts as well in cooking; everything can be enjoyed in moderation. They are a luxury that can be enjoyed any time. Like any high quality product, quantity is not a necessity.
FFW: What are the quality virtues of Caramelicious?
CARAMELICIOUS: We use only the freshest and finest ingredients available to hand make our exotic and unique caramels. We use quality products such as Dutch cocoa powder, vanilla and roasted hazelnuts. Our products are all natural with no artificial flavours, no artificial colours and no preservatives and they are gluten free. The quality of our wonderful products is equally matched by the service we provide and our care to ensure Caramelicious is worthy of the fine feedback we receive.
FFW: Are your products really handmade?
CARAMELICIOUS: Caramelicious are slow simmered and homemade in small batches in copper bowls which make possible a gentle and regular cooking to create soft and buttery rich gourmet caramels. The production requires specific timing in order to ensure a perfect, smooth and easy paste to spread. Producing the caramels, filling and labelling the jars, all those process are done by hand.
FFW: Why is caramel such a difficult food to produce?
CARAMELICIOUS: It requires concentration, timing, weight and measurement of each ingredient accurately. The more you make caramel, the better you'll get at it. ....
FFW: Aside from spreading on pancakes, buns and waffles, what are some of the more unusual ways consumers are enjoying Caramelicious?
CARAMELICIOUS: Simply warm our Caramelicious and the spread turns into a sauce.
In a fondue pot, it can be made into a fondue for pieces of fruits or skewers of fruits.
It can be melted and used as a coulis on ice cream or as a topping in pastries.
When cooking add one spoonful of caramel to duck breast or roasted pork at the end of the cooking time, to chicken, game or on foie gras cooked in a frying pan.
Caramelicious can be used as coulis on goat cheese or foie gras au torchon.
FFW: What would you say is Caramelicious's personality and to whom does it seem to appeal most?
CARAMELICIOUS: Quality, craftsmanship, and responsibility are the watchwords of our small family-owned business. Caramelicious is a passion and a dream; it's about creating the things we love and sharing them with others. It's for gourmet customers who want unique and ethnic food, who are into culinary, artistic and cultural expression, adding a French touch to their dishes.
FFW: What kind of feedback have you had from consumers about your products?
CARAMELICIOUS: That they are in heaven, they are addicted to our caramels; that we sell "heaven in a jar". On a funny note some are wondering if we are evil or genius.
FFW: In what packaging sizes is Caramelicious available?
CARAMELICIOUS: 200g, 280g, 600g, 1 kg, 5 kg and the set of four flavours of 110g x 4.
FFW: What do you feel are the most compelling features of your brand?
CARAMELICIOUS: It's all homemade with love, and proudly produced in Australia, with a touch of French. (We only imported the maker, and the family recipe from France); a 5-generations recipe.
FFW: Are there food manufacturers using Caramelicious in their products?
CARAMELICIOUS: Crêperies, bakers, and ice cream makers.
FFW: Are chefs using Caramelicious to avoid having to create gourmet caramel in-house?
CARAMELICIOUS: Yes, with the ones we are working with, they do not have time and we are a lifesaver to them by producing those delicious high quality products.
FFW: How does Caramelicious help clients to promote your products in store?
CARAMELICIOUS: We provide a small pack of caramel for them to get their customers' taste in their stores. We do tasting in stores as much as we can and provide brochures with our suggestions on how to use them.
Additionally, we participate at food and wine festivals such as Good Food Wine Shows in Melbourne, Sydney and Perth. And we participate at the French Festival in Melbourne, Paris to Provence. We tell our customers at which stores they can buy our products; it's a good way to promote the stores who stock our products. We also list stores on our website so customers know where they can buy them.
FFW: How would you suggest retailers promote Caramelicious?
CARAMELICIOUS: Definitely use taste tests, talk about Caramelicious' values, that the products are homemade, French products and there is no need to import as it's proudly made in Australia.
FFW: Are there any other flavours or products in development at the moment?
CARAMELICIOUS: Yes we have a new flavour coming soon, which will be launched at the French Festival in November 2013.
FFW: Which is your favourite Caramelicious flavour and how do you enjoy it?
CARAMELICIOUS: Cocoa Hazelnut with ice cream. Superb!!
FFW: What lies ahead for Caramelicious?
CARAMELICIOUS: We are progressively expanding Caramelicious's brand, across and outside Australia. We are now looking at bigger distribution to Singapore, Dubai, Hong Kong and across Asia. We want to keep Caramelicious homemade and not produce it on a mass of production line.
FFW: Does the company operate with any sustainability protocols in mind?
CARAMELICIOUS: Caramelicious is set to be environmentally sustainable, with specially developed Green Star rating packaging, using only recyclable products and reusable containers. We make it our responsibility to make all our paper carry bags and wooden spoons biodegradable.
Our heart and soul is in every jar and we hope you enjoy eating it as much as we did making it.
We can guarantee that after just one taste of Caramelicious, you'll be enthralled! Start showing it off to your customers and you can bet they'll walk out with a jar or two. Add it to your desserts or other recipes and enjoy the feedback. Give Caramelicious a call today and order your first batch!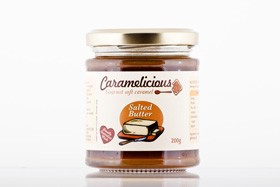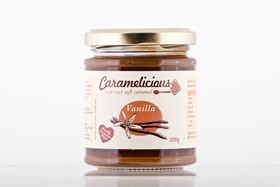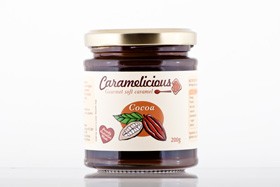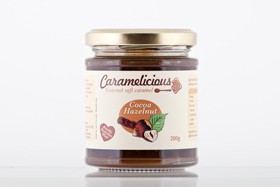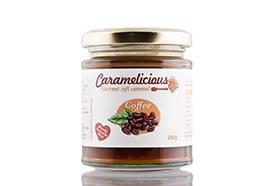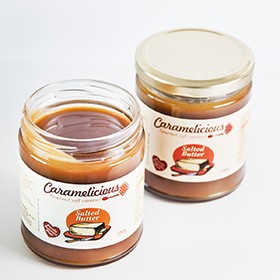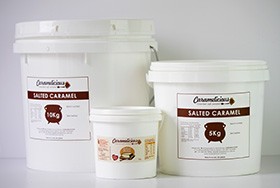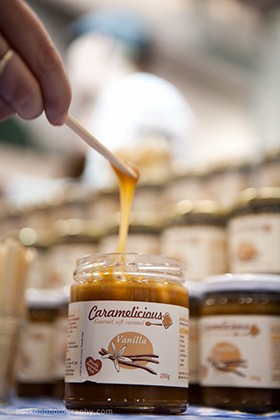 ---
Contact details for Caramelicious - Gourmet Soft Caramel
---