Interview - Valerie Carter - Spoonfed Foods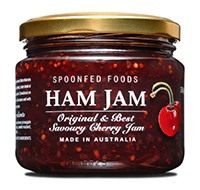 Creating a new food category can be a risky business but not so in the case of Spoonfed Foods' amazing gourmet savoury jams. As an alternative to chutneys and relishes, the jams hold their own in a crowded marketplace and provide fresh inspiration for professional and home cooks. We spoke with Valerie Charter – Director about the perceived need for a savoury jam and how well consumers have embraced them.
FFW: First of all, what is the difference between a savoury jam and a relish or a chutney?
SPOONFED FOODS: A Savoury Jam is a more appropriate description as our jams have a beautiful combination of sweet and savoury flavour. In addition, a savoury jam should have a beautiful colour and clarity in the ingredients, as the sugar captures the colour and flavour. For example in the Lamb Jam you can clearly see the pieces of apple and rosemary in the product. Chutneys and relishes use large quantities of vinegar as part of the preservation; making the products less sweet and brown in colour. Furthermore, we were pioneering a new food category, so we were looking for something with a modern twist. We felt that savoury jams were a better reflection of the gourmet nature of our products.
FFW: Do you feel it took a leap of faith to create and launch savoury jams into the marketplace?
SPOONFED FOODS: Like all new products we were very keen to see how consumers would react; however we knew the products were great and the names were catchy enough to stimulate interest.
FFW: And what has the response been?
SPOONFED FOODS: We had a fantastic response and this helped us in gaining interest from several distributors. It took a couple of years to get the distributors we are now using.
FFW: Do you use local produce in your jams?
SPOONFED FOODS: Absolutely…… the vast majority of our products are sourced from Australia. In the Hot jam, for example, the onions come from South Australia, the chilli from Queensland. In the Snag jam, the tomatoes are from Queensland. Our sugar is Australian, as is our pineapple juice. The cherries for the Ham Jam, however are not always available in Australia and sometimes we need to source from overseas.
FFW: Are any health considerations catered for in the products?
SPOONFED FOODS: All of our jams are 100% gluten free, we only use the best ingredients and there are no artificial flavours or colouring.
FFW: How should your savoury jams be used?
SPOONFED FOODS: The great thing about these jams is that they can be used in different ways.
The simplest way is as a condiment, so you just put the jar in the middle of the table and use as needed, that also gives you the option to try a few flavours together. For example with a barbecued meat, you could serve with the Hot jam, the Winemakers jam and the Garlic jam; it really depends on personal taste. The other option is to use our jams as an ingredient. People like to experiment and be creative with their food, and we have some great recipes on our website. One of my favourites is Crispy skin duck breast with Ham Jam cherry sauce. The Winemakers/Red Onion jam is delicious with cheeses like Camembert, cheddar and even haloumi. For something different, the Ham Jam is delicious with ice cream!
FFW: Do you find customers are curious about your savoury jams to the point where they need to be educated?
SPOONFED FOODS: As soon as people see the product, they are interested. The jar presents really well as does the product on the website. The names also spike good interest, even the label gets commented on! The jars look great, you can see the true product through the label, and all of our jams are different, the colour is different, for example the Pork jam is yellow, the Snag jam is a deep red. We believe we have an excellent product but there are a lot of products out there that are also excellent, so like any other food, you have to try them. In fact you could compare them to a wine, you open the lid and the scent comes out, next you look at the colour and finally you give it a taste!
FFW: What kind of feedback have you had from consumers about the savoury jams?
SPOONFED FOODS: We are amazed at the loyal following we have. It is fantastic when we meet people who know and love our products. When introduced we describe that we have a gourmet savoury jam business and people familiar will say is that like the "Lamb Jam" or "Hot Jam" and when we say "Yes that's us" they are extremely happy to meet us. Here are some examples:
"I love this product! Just tried the Lamb Jam, amazing. Have just ordered the full range and I expect to love them too. Great work, I'll be telling everybody to try these products."
"My husband and I have tried the Lamb jam, if the other jams are as good, what a treat awaits us."
"Oh my goodness do we LOVE your Hot Jam. Seriously, we cannot stop raving about it and we are eating it with everything!"
"So glad to see your excellent products are gluten free. Thank you."
"Thanks for making Snag Jam. I have only a little bit left and I'd also like to order it for gifts for friends who have fallen for Snag Jam after tasting it at my home."
FFW: Have you received any other feedback?
SPOONFED FOODS: We have had a number of articles in magazines and newspapers and increasingly online reference points.
FFW: Can the savoury jams be used as ingredients as well as to accompany dishes?
SPOONFED FOODS: The simplest way is as a condiment, so you just put the jar in the middle of the table and use as needed, that also gives you the option to try a few flavours together. For example with a barbecued meat, you could serve the Hot jam, the Winemakers jam and the Garlic jam, it really depends on personal taste. The other option is to use our jams as an ingredient. People like to experiment and be creative with their food. You can see some recipes on our website if you need some inspiration, for example with the Pork Jam: "Thai Style Pork meatballs", with the Ham Jam: "Crispy Skin Duck Breast", with the Lamb Jam: "Slow cooked lamb shoulder with Balsamic vinegar"…
FFW: Is there a stand-out favourite flavour amongst consumers?
SPOONFED FOODS: The Lamb jam is the original one and it seems to still be the favourite, but of course, different people like different flavours, so the Hot Jam is much appreciated, as well as the Snag. As we approach the Christmas season, the Ham Jam is a best seller and a must to complement any ham on the table.
FFW: How does Spoonfed Foods help clients to promote your products in store?
SPOONFED FOODS: We are really grateful to our retailers who continue to support us, and the new retailers who have taken the product on. We have developed a range of recipes to demonstrate the broad possibilities for the products as mentioned already. We have invested in a PR company to drive greater awareness of the products and the range; which has generated increased interest. Plus we are focused on the gourmet end of town with grocers, delis and local butchers, rather than the major supermarket chains. We also use social media to highlight our retailers and the store locator lets consumers find the products easily.
FFW: How would you suggest retailers promote Spoonfed Foods?
SPOONFED FOODS: There is no secret that food needs to be tried, it's all very good to look good on the shelf, but with a high end gourmet product like ours, you can't beat running some tastings.
We do suggest tasting to our retailers and we try to support as much as possible in doing so, some of our customers who run butcher shops cook sausages on the weekend and it is the best way to sample our jams then.
We recommend making a feature of the products where possible as they generate a lot of interest from consumers. We have seen butchers make a pyramid in their windows or on the counters.
FFW: Are there any other flavours in development at the moment?
SPOONFED FOODS: Yes, we are working on a few new products to complement the range. We can't say any more at this stage, but we're confident they will taste amazing!
FFW: If you could choose anyone in the world, who would be ideal to provide an endorsement for your savoury jams and why?
SPOONFED FOODS: Our mission for the business is to provide products that take a meal from great to amazing, to enable sharing wonderful times and long lasting memories with family and friends. We think Hugh Jackman would be a fantastic brand ambassador, we have met Hugh and Deborah-Lee before, and he is such a genuine and likeable guy, who is a nice mix of classy yet relaxed and fun to be around. Which is like our products!
To place your first order, contact Spoonfed Foods today!
---
Contact details for Spoonfed Foods Savoury Jams
---