Interview - Zez Ni - Posh Foods
Posh Foods
More Images
For more than thirty years, Posh Foods have been supplying delicious home style foods to cafes, delis and food halls. We spoke with Managing Director, Zez Ni about the company's history, its philosophy of 'food must look good as well as taste good' and what's coming up in new lines.
FFW: How did Posh Foods begin over thirty years ago?
POSH FOODS: In the early 80s Simon and June Budgen wanted to produce foods that are pleasing to the eye, appetising and preservative free… the sort of food that is available from delicatessens in France and Italy.
FFW: What do you think is the secret to the company's longevity?
POSH FOODS: We pride ourselves on quality ensuring that we use the finest ingredients and that everything is handmade.
FFW: What is the connection with living legend, home economist Margaret Fulton?
POSH FOODS: June Budgen (Founder) was a senior member of Margaret Fulton's team at Woman's Day. June had also worked closely with Maureen Simpson (cooking editor of Australian House & Garden).
FFW: What did the original range consist of; were there lots of iconic foods that we would call 'retro' today?
POSH FOODS: We originally made a range of pates which for the past 30 years continue to be in the signature display of delicatessens small and large including the iconic Market Street Food Hall of David Jones.
FFW: Does the range continue to evolve with current trends?
POSH FOODS: As delis evolve to deli-cafés, we have also evolved to an increasing demand of café foods including pastries, lasagnes and home style bakes.
FFW: What are the most compelling virtues of your products?
POSH FOODS: Quality is the key ingredient in our products using the original recopies created by June Budgen. We use only the finest and freshest of ingredients, preservative free and handmade just like homemade.
FFW: One of your mantras is that food must be visually appealing as well as taste good; can you elaborate on how important this is in businesses where the food is on display?
POSH FOODS: People will only try what they see and like. As every item in Posh Foods is handmade, we put the effort into making the food to look as good as it tastes.
FFW: What health/lifestyle considerations are accommodated in your range?
POSH FOODS: Our range caters for everybody; there are foods that are made from gluten free ingredients and numerous are vegetarian products.
FFW: How does POSH FOODS look after customers?
POSH FOODS: We believe that with quality product there should be quality of service to match. Our experienced team are always happy to visit the customer with samples and give some ideas with displays and product lines. We are a traditional business that's built on traditional values of one-to-one service. We also have a professional in-store demonstrator who can do in-store tastings over the weekend for pates.
FFW: What kinds of retailers are stocking your range and which products do they carry?
POSH FOODS: We have over 400 cafes carrying our café range including cafes in Queensland and Victoria. Other iconic names include David Jones, Harris Farms and Thomas Dux Grocers who carry an extensive range of our products including pates and pastries.
FFW: What are the biggest sellers in cold months and in hotter months?
POSH FOODS: In hotter months our pates fly off the displays of delicatessens and the cheese fridges of your local grocers. In colder months, it's our lasagnes in three flavours – Classic Beef, Pumpkin & Homemade Pesto and Chicken & Sundried Tomatoes. Also try our home made bakes such as the Yaya's Style Spanakopita.
FFW: What do caterers love about Posh Foods' range?
POSH FOODS: Quick and easy to serve, beautiful display and happy customers.
FFW: What are the advantages in purchasing ready foods from Posh Foods as opposed to preparing them in house?
POSH FOODS: To hire a chef making a few pastries a day can be extremely costly and becomes hard to manage when he/she goes on holiday. There are also costs associated with buying in various ingredients/equipment which can create wastage or be very costly. We make foods every day to order to ensure that our customers get the freshest readymade foods with consistency in taste and quality. Nothing is frozen.
FFW: How can your customers minimise wastage and get the best bang for buck from your products?
POSH FOODS: Making sure there is a good stock rotation system and be generous with your display. Too often café/deli owners display too little food or dried up food and customers will not buy something that does not look fresh. If you display lots, you will turn over stock much faster – people will know it's fresh. Also make sure you plan around public holidays to make sure you have stock to cover the period or no stock left before the closure. There are special 'sales' days in supermarkets – make sure you order up, because when shoppers are tired, they will stop by your café and eat.
FFW: What's new for Posh Foods; any new products coming through?
POSH FOODS:
Chorizo Sausage Rolls
Range of Savoury Muffins (Spinach & Feta, Zucchini & Bacon, Pumpkin & Feta in Sweet Chilli Sauce)
Bacon & Cheese Filo Pastry
Madeira Wild Game Pate (with Birkshire Pork)
Large Quiches (Spinach & Feta, Mushroom & Capsicum)
It's so heart-warming to see a brand that has already been around for thirty years continuing to innovate and delight. With Posh Foods' emphasis on freshness, quality and visual appeal – as well as the obvious … flavour – we know they'll be around for decades to come! Contact Posh Foods today to find out which products would be perfect for your particular business.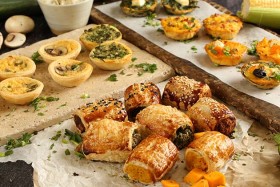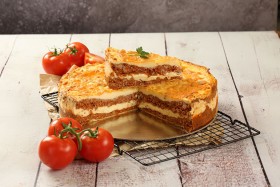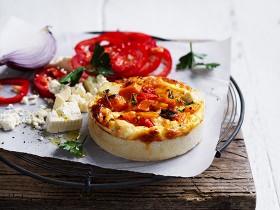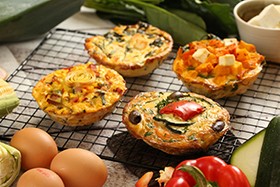 ---
Contact details for Posh Foods
---