Posh Foods
More Images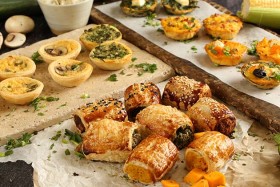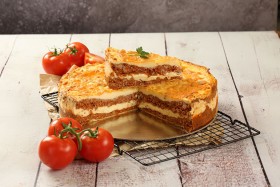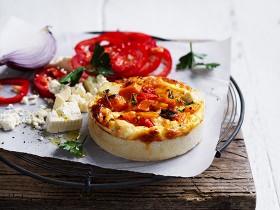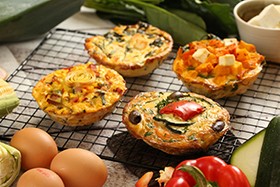 Posh Foods
Wholesale Savoury Foods Supplier
With an extensive range of savoury items, Posh Foods ensures your display cabinet has the right mix of scrumptious foods that will keep your customers coming back time after time. For fresh, preservative-free food, they are a reliable supplier for cafes and delis around the country.
Believing that food should be a treat for both the eyes and the tastebuds, much time and effort is spent on quality presentation and perfecting flavour combinations. From savoury pastries to quiches and bakes - you're absolutely spoilt for choice.
Filo Pastries
Always popular for their golden, crisp pastry and scrumptious fillings.
Chicken & Mushroom
Spinach & Feta
Cajun Chicken
Balsamic Pulled Pork
Premium Minced Beef
Gourmet Rolls
Crispy, golden and heavenly comfort food to get through a busy day's work or to enhance a social occasion.
Chorizo Sausage
Spinach & Feta
Pumpkin & Chilli Ricotta
Beef & Fennel
Posh Sausage (our take on a plain sausage roll)
Quiches
Posh Foods' 4" quiches are ideal for individual lunches or to be served on a catered buffet. With a delectable shortcrust pastry and quality fillings, they are just the right size for a quick meal. The large 8" family quiches makes the perfect healthy mid-week meal when served with a side of salad.
Quiche Lorraine (4" or 8")
Pumpkin, Feta and Capsicum (4")
Smoked Salmon (4")
Leek & Cheese (4")
Spinach & Ricotta (8")
Mixed Veggie (8")
Pies
Posh Foods is a savoury specialist and they have released a range of pies everyone's talking about!
Beef & Mushroom
Beef Bolognaise
Chicken & Leek
Chicken & Shiitake Mushroom
Chunky Beef
Premium Beef Mince
Thai Chicken Curry
Tradie (beef, bacon & cheese)
Frittatas
Light & flourless, fantastic for a light meal or snack. Serve with a salad, chips or on its own.
Mediterranean
Spinach & Feta
Pumpkin & Feta
Bacon, Corn & Leek
Lasagne
Layers of wonderful pasta and fillings that will make anyone's mouth water. Available in large size to cut into desired serving sizes.
Classic Beef Bolognaise
Pumpkin, Spinach, Pesto & Ricotta
Cajun Chicken, Rocket & Sun Dried Tomato
Bakes
Easy to heat, easy to serve, eagerly devoured.
Yaya-Style Spinach Pie
Zucchini Bacon Slice
Potato Bacon Bake
Burek
A dish originating from Eastern Europe/Western Asia with filo pastry carefully layered with fillings. In a convenient 8" size, serves 4.
Bacon & Cheese
Sausage Mince
Spinach & Feta
Tasty Feta
Empandas
A type of South American pastry, they're pockets full of flavour.
Chunky Beef with capsicum
Beef Mince with olives
Chicken with garlic
Ready Meals
All the family favourites in 330g size with microwave-safe and oven-safe recyclable packaging.
Classic Beef Bolognaise
Pumpkin, Spinach, Pesto & Ricotta
Cajun Chicken, Rocket & Sun Dried Tomato
Zucchini Bacon Bake
Catering
Posh Foods range of mini items are definite crowd-pleasers; full of flavour all in bite-size.
Filos - Chicken & Mushroom, Spinach & Feta
Rolls - Chorizo, Spinach & Feta, Pumpkin & Ricotta
Quiches - Loraine, Spinach, Salmon, Veggie, Chicken & Mushroom
Frittatas - Mediterranean, Pumpkin & Feta, Spinach & Feta, Bacon Corn & Leek
Fresh, Tasty, Handmade
Posh Foods is dedicated to providing their customers with the very best and thus uses the highest quality ingredients to make fresh food that isn't frozen before they reach you. Your customers will be able to taste the difference.
No matter the size or type of store, they can be counted on to brighten up your display with tempting savoury options. Delivering throughout Sydney and across Australia, Posh Foods is your reliable supplier of fresh, tasty and handmade food.
---
More information about Posh Foods
Posh Foods - 2020 Catalogue
Fresh, Tasty and Handmade. Appealing to the eyes and taste buds, everything is fresh and handmade. Posh Foods never freeze products before they reach you, and you can taste the difference. Click here
Posh Foods
A food cabinet brimming with enticing, fresh, attractive goodies can be a real money-spinner. At Posh Foods, the food has to not only taste exceptional but must also look incredible! After all, we eat with our eyes before we even smell or taste a food. Here, we tell you more about Posh Foods' range and give you a little more insight into the brand and the foods themselves. Click here
Interview - Zez Ni - Posh Foods
For more than thirty years, Posh Foods have been supplying delicious home style foods to cafes, delis and food halls. We spoke with Managing Director, Zez Ni about the company's history, its philosophy of 'food must look good as well as taste good' and what's coming up in new lines. Click here