Read About Christen's Gingerbread & Shortbread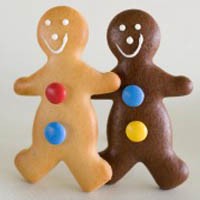 Christen's Gingerbread produce traditional plain and chocolate wholesale Gingerbread Men and Smiley Faces as well as traditional wholesale Shortbread. Read more about the company and their fine products.
Established over 25 years ago.
Traditional Swiss recipes have been handed down from generation to generation.
Only the finest quality ingredients including Australian wheat flour and pure Australian honey are used in production.
Company is 100% Australian owned and all products are made in Australia.
Shelf life 6 months.
All products are individually wrapped for freshness, hygiene and long storage.
All products are handmade and individually hand decorated.
Christen's wholesale Gingerbread is an 'Amber' product on the schools' food category.
Edible logo Gingerbread is available for corporate clients' marketing purposes.
Customised Gingerbread can be created for special occasions such as birthdays, anniversaries, baby showers and more.
DIY Aussie Beach Shack Kits make it easy and fun for consumers to create Gingerbread Houses at home.
Gingerbread is available for fundraising; simply purchase a minimum of 16 packs. Either sell the Gingerbread Men with an order form for every participant or give each participant/family an individual pack of 24 Gingerbread Men to sell to friends and family.
The gingerbread product range
Gingerbread Men – plain and chocolate flavoured.
Gingerbread Faces – plain and chocolate flavoured.
Undecorated Gingerbread Men – DIY decoration or enjoy unembellished.
Gingerbread 'Students' – zero effort required; 'Amber' tuckshop category; ideal for schools.
Christmas Tree Gingerbread – plain and chocolate flavoured.
Aussie Beach Shack Kits – DIY gingerbread houses with everything required including decorations.
Shortbread – Available in Traditional, Honey Macadamia and Chocolate Chip.
Retailers
Stock Christen's Gingerbread and Shortbread for your customers and tout the quality and Australian made virtues of these traditional products. Position for impulse purchases or alongside complementary products such as hot beverages, ice cream or milk.
Foodservice
Use Christen's Gingerbread and Shortbread in desserts, to accompany coffee, tea or hot chocolate or for children's party offerings.
Contact Christen's Gingerbread today to order your fresh, delicious wholesale Gingerbread and Shortbread.
---
Contact details for Christen's Gingerbread
---