Bellarine Brownie Company
More Images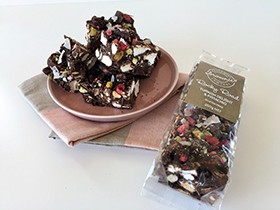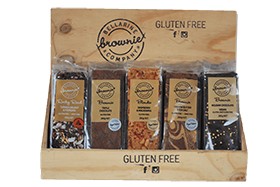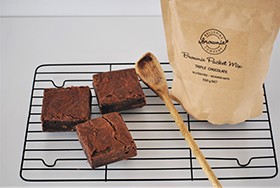 Bellarine Brownie Company
Irresistible Brownies, Blondies and Rocky Road ... All Gluten Free
Based on the Bellarine Peninsula in Victoria, Bellarine Brownie Company produces exquisite Brownies, Blondies and Rocky Road made from the finest ingredients. Free range eggs, Belgian couverture chocolate and organic vanilla bean are just some of the lovely things that go into the products.
Packaged in attractive wrapping with minimalist logo, every product is elegant and ready for gifting.
100% gluten free
Made with premium ingredients
Shelf life of 5 weeks
Freeze for up to 3 months
Brownies and Blondies
Triple Chocolate Brownie
A dense, deep chocolatey indulgence made with 56% dark Belgian couverture chocolate, organic vanilla bean and a hint of Himalayan pink salt. Fudgy and intense, it offers the most sublime combination of wicked flavour and decadent mouthfeel. Gluten free, no added nuts.
Cashew Butter & Sea Salt Brownie
Revel in the depths of dark chocolate intensity and experience the nutty, buttery infusion of handmade cashew butter. Flecks of sea salt add little pops of savoury to perfectly balance the sweetness. Gluten free and dairy free.
Raspberry & Macadamia Blondie
White Belgian chocolate and freeze-dried raspberries go into this gorgeous golden confection which is topped with mouth-watering macadamias. Superb with a cup of good quality tea any time of day. Gluten free.
Vegan Belgian Chocolate Brownie
A rich, fudgy delight made with 56% dark Belgian couverture chocolate, dairy free butter, linseeds and finished with a sprinkle of activated buckwheat. Gluten free, dairy free, egg free, no added nuts.
Triple Chocolate Brownie Packet Mix
Incredibly easy to prepare, yet still contains all the quality ingredients of our brownie bars. The smell of this mix will delight your senses, and the taste will keep you coming back for more. Gluten free, no added nuts.
Rocky Road
Turkish Delight & Pistachio Rocky Road
An utterly irresistible concoction of 56% dark Belgian chocolate, pillowy marshmallow, exotic Turkish delight, raw almonds, cranberries, pistachios, organic coconut and freeze-dried raspberries. Egg free, dairy free and gluten free.
Retailers
Stock Bellarine Brownie Company's divine products in your gluten free outlet, supermarket, convenience store, pharmacy, newsagent, health food store or confectionery store. Create gift displays, offer taste tests and position alongside other giftware, serving ware, tea, coffee and other companion products. Keep a selection at point of sale where they will be impossible to resist. Rustic timber point of sale boxes available upon request (as pictured). Available in two retail sizes.
Foodservice
Serve Bellarine Brownie Company's Brownies, Blondies and Rocky Road in your café, restaurant, hotel, AirBNB or tourism outlet. They can be used to create lavish desserts from a brownie stack decorated with fresh berries and chocolate drizzle to an ice cream extravaganza studded with chopped blondies. Ideal for caterers and corporate clients as well. Available in two retail sizes. Also available in a bulk catering sized slab (which can be pre-cut or left uncut) and is vacuum sealed to maintain freshness.
For more information or to place an order, contact Bellarine Brownie Company today.