Bite Size Coffee Treats
More Images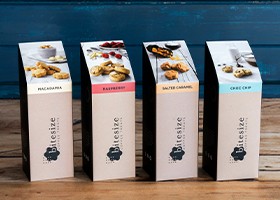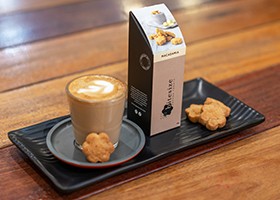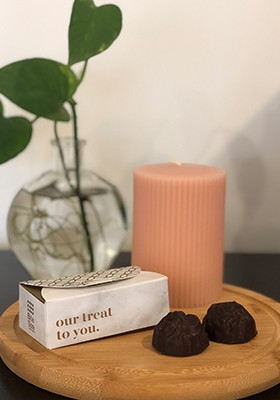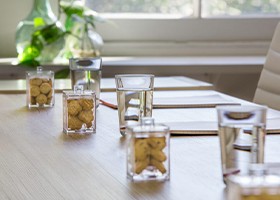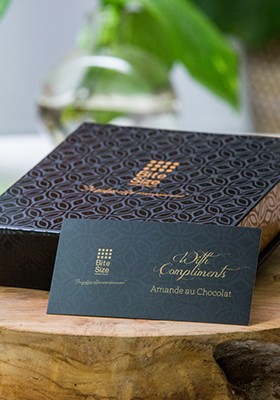 Bite Size Coffee Treats
Award-winning Gifts
Are you looking for premium gifts for clients and staff that are both elegant and affordable? Searching for spectacular taste and exquisite design? Needing an inclusion for your own hamper or gift basket? Look no further.
Bite Size are in the business of spreading joy with their beautiful bite-sized biscuits and have created a stunning gift range that will impress the most discerning client. Their ever-growing range of gorgeous gift ideas are filled with award-winning biscuits and handmade chocolates. With over 170 Royal Fine Food awards Bite Size pride themselves on quality, using the finest ingredients where 90% are sourced from AU/NZ. Free from added preservatives, artificial colours and flavours.
Bite Size offer branding opportunities so you can create personalised gifts that make your message travel further. Contact Bite Size today for pricing and samples.
Gourmet Bites - Retail Range
These NEW designer boxes are filled with four favourite flavours, individually wrapped to lock in the freshness. Shipped inside a display box for easy presentation on your counter or front desk, these treat boxes are a great impulse purchase. Not only are they perfect for a take home treat but also a stylish yet affordable gift idea.
Our Treat To You Boxes
Give the gift of gourmet food with award-winning bites guaranteed to spread joy and happiness. These charming gift boxes come with a personal 'Our Treat To You' message, available in two beautiful designs and your choice of award-winning biscuits or handmade chocolates. Ideal booking gifts, table favours and promotions.
Gift Jars
These adorable mini jars, filled with our award-winning biscuits are guaranteed to make an impact. The reusable jars are extremely popular as promo marketing giveaways. They stack together, allowing easy storage and fun presentation. Ideal gift favours at any event or promotion. Brand with your very own logo for a gift that keeps on giving.


Deluxe VIP Boxes
The Deluxe Gift Box, containing 9 divine roasted almond clusters smothered in dark chocolate, or 9 award-winning Honey & Walnut Bites, stands out as a premium gift option. Perfect for wholesale gifts or as an inclusion in bigger packages, these elegant new boxes have merged gourmet with stylish design.
Divine Gift Tin
This exclusive NEW Gift Tin is a beautiful keepsake containing 50 award-winning biscuits from our most popular flavours. The ultimate gift idea for cookie lovers everywhere. Complete with a stylish sleeve, with opportunities to brand with your logo or marketing message.
Gourmet Hampers
Bite Size deluxe hamper range is made up of the very best that Australian producers have to offer. Each hamper has been carefully crafted from award-winning and artisan products, guaranteeing a superior gift experience.
Special Occasions
Bite Size create Limited Edition seasonal products for Christmas, Lunar New Year, Anzac Day and Mother's Day. Customised and speciality products and packaging can be developed on request to suit your needs*.
*Minimum volumes apply.


Bite Size's range of branded gourmet gifts are a brilliant way to stay top of mind at catering events, trade shows, as table flavours, goodie hamper inclusions or for any special event.


Retailers, caterers and gift hamper companies
The team at Bite Size have truly made gift-giving effortless and memorable with their range of premium treats.
Bite Size Christmas 2019
The true art of gift giving is simply in the making of memories. Each Bite Size gift captures a reason to share and celebrate. Filled with hand selected treats from local award-winning producers we have the perfect Christmas gifts to suit any budget. View Christmas selection here.
To place your first order or to discuss your custom branding requirements, contact Bite Size Group today.