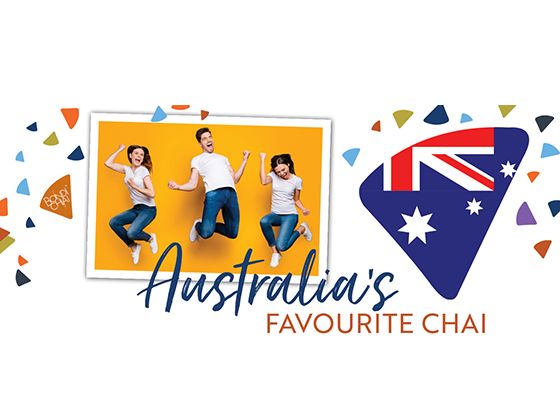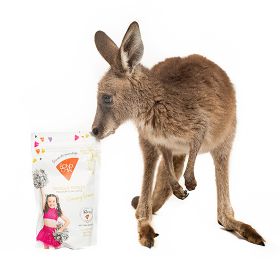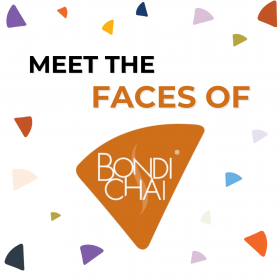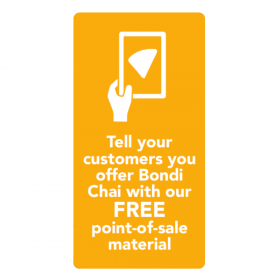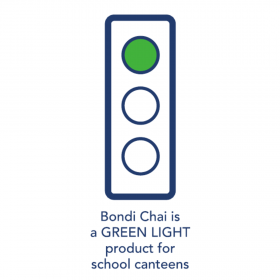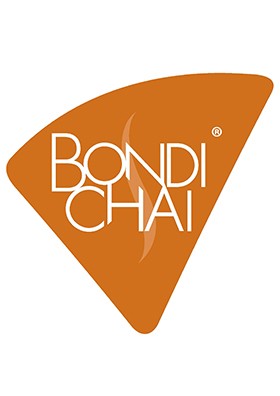 Bondi Chai
Bondi Chai
Australia's Gold Medal chai latte
Australia's most awarded chai latte is also one of Australia's most popular
Bondi Chai was recognised as an ABA100 Winner for Marketing Excellence in The Australian Business Awards 2023 for the Faces of Bondi Chai campaign, where the real heroes of Bondi Chai's success are celebrated: Bondi Chai fans everywhere!
The Australian Business Awards are an annual awards program that recognises organisations that demonstrate the core business values of innovation, technological achievement and employee engagement.
This award adds to Bondi Chai's impressive collection of national and international awards and is yet another reason to serve Australia's most awarded chai latte!
THE FACES OF BONDI CHAI
What do a café owner in Holland, an aspiring Olympic swimmer, a personal trainer, a young mum and a woman who regularly sleeps in a car park have in common?! Find out here…
CLUB CINNAMON FLAVOUR NOW AVAILABLE IN PODS!!
Every 2 seconds someone, somewhere in the world, orders a Bondi Chai Latte.
Are you offering one of Australia's most popular chai brands?
Chai lovers and non-coffee drinkers have made it very clear… they won't be treated like second class customers any longer! Chai drinkers everywhere are now very aware that chai latte can be very 'hit and miss'. Depending on the variety and recipe, the taste and mouthfeel can vary from unbelievable to downright undrinkable and chai drinkers are very leery about wasting money on chai they can't drink.
Almost two decades after pioneering chai latte in Australia, Bondi Chai has earned a trusted reputation for premium quality, great taste and excellent value for money. Created, blended and wholly-owned in Australia, Bondi Chai Latte is a premium-grade chai latte pre-mix made with black tea extract, spices, honey powder and skim milk powder. It ticks all the health cues increasingly sought by your customers, including: gluten free, low caffeine, low fat, no trans-fats, and no 'industrial nasties' like anti-caking agents, fillers or colours. The Ginger n Spice variety is also dairy-free and vegan-friendly. Bondi Chai is also the only product in the category endorsed by nutritionists for serving to school children of all ages.
Why chai latte?
Chai latte is now established as a fixture on the Australian café menu, offering non-coffee or 'caffeined-out' coffee customers a genuine alternative. Bondi Chai's strong following, wide appeal and gold-standard reputation makes it an excellent choice if you want to cut through all the hype and confusion. Serving Bondi Chai in the specially-designed, branded 'hug mug' makes for a premium presentation and highlights your good taste in offering Australia's most awarded chai latte.
A dry-powder pre-mix, Bondi Chai is easy to store, easy to make and delivers outstanding, consistent returns.Key features of the range include:
Quick and easy to serve, blended specifically to dissolve in hot milk (dairy and plant-based)
Great taste and silk-smooth creaminess that will instantly become a favourite with your customers
An exceptionally high-yield – gross yield of $450 per kg (@$4.50 per serve)
3 flavours – Vanilla Honey, Club Cinnamon and dairy-free/vegan friendly Ginger n Spice
100 serves in a 1kg pack
Also available in single-serve sachets and 200g retail packs
Club Cinnamon is also available in Nespresso-compatible pods made with a new, concentrated formula
Most awarded product in its category
Ticks all the boxes as a 'healthier' option
Three very special products
Bondi Chai is made with wholesome ingredients – no preservatives, no artificial sweeteners, no whiteners or anti-caking agents, no industrial trans-fatty acids, no colourings. It's also 98% fat-free, low in caffeine and certified gluten free. Bondi Chai is very versatile being equally at home as a hot drink or in a chilled fruit smoothie, frappe or over ice and is increasingly used as a flavouring in desserts and cakes. Gourmet food editors have deemed it "the holy grail of chai lattes" and your customers will agree.
Available in 3 varieties:
Vanilla Honey - A warm cup of comfort that we call 'entry-level' chai! Vanilla Honey dissolves quickly into milks of all kinds to create a silk-smooth, creamy drink with the sweetness and warmth of vanilla. Available in 1kg and 200g foil packs and in packs of 40 and 100 single-serve sachets.
Club Cinnamon - Cinnamon is known as the 'spice of life' and is one of the most in-demand spices around the globe. It just makes you feel good! Club Cinnamon carefully balances this powerful spice with a unique blend of 'comfort spices' to create a wonderful feel-good drink. Also available in 1kg, 200g and single-serve packs, and NEW Nespresso-compatible pods!
Ginger n Spice (dairy-free, vegan-friendly)
New to the Bondi Chai Latte family, Ginger n Spice is dairy-free, gluten-free and vegan-friendly. The spiciest blend of the range, it has a lovely, gingery kick that will warm you from the inside out and leave you with a smile. And just like Vanilla Honey and Club Cinnamon, it contains no industrial nasties. Made for dairy-free enthusiasts, it's also great with dairy milk if you prefer or a plant-based milk for the most wonderful vegan beverage you've had in a long, long time! Available in 500g foil packs (50 serves) and single-serve sachets.
Promote the product – with free Point Of Sale material
These days your chai latte customers want to know which brand/form of chai you serve – they've wasted too much money on 'bad chai' – and Bondi Chai makes it easy to let them know with a great range of FREE Point of Sale promotional material including hugely popular branded 'hug mugs', posters and eye-catching storage canisters. Ask about all the free POS material when you order.
Multiple award winner
Bondi Chai is the most awarded product in the category! After pioneering the chai latte category in Australia about two decades ago and earning numerous accolades since then, Bondi Chai is today sold in thousands of cafes around Australia and in many other countries, attracting universal praise like this…
"…we have a few people hooked on the chai cinnamon now. I can see why it's award winning. Really appreciate your assistance and this is definitely our preferred brand." - Cheers Kate, Bella Vista, NSW.
"I received my order… I just wanted to say how impressed I was with your chai. I'm not a particular chai fan but I loved it! I can see why you have received all those awards. Great product well done :)" - Sarah, Tooradin, Vic.
"I am continually being told by my customers they only want Bondi Chai, as it is the best." - Grant, Launceston.
"…I have just ordered the vanilla honey chai from you after purchasing your cinnamon chai with the Australia Day special. I love the fact that your product is low sugar yet tastes great. Thanks." - Anita, Wagga Wagga.
The Aussie company selling chai to the world (even India!)
A key part of Bondi Chai's branding was to build on and support Australia's global reputation for quality food. Bondi Chai has been exported to numerous countries – including India itself!
We can't imagine a more ringing endorsement for Bondi Chai than sales into India where 'chai masala' (the spiced milk tea on which every 'chai latte' recipe is based) has been the 'national drink' for centuries.

Bondi Chai has featured as the chai latte of choice for Barista Café, one of India's largest coffee chains, and sold in hotels such as the 7-star Oberoi Hotel in Delhi and the Taj Hotel in Mumbai.
Retailers
While Bondi Chai looks like a latte coffee and appeals to both tea and coffee drinkers, most chai latte drinkers will look for their favourite drink in your tea section. Tastings are always the most effective way to convince your customers – one small sip will do the trick – and Bondi Chai provides free product for tasting promotions.
Foodservice
Chai latte is now a well-established coffee/tea alternative and Bondi Chai's wide appeal and gold-standard reputation make it the obvious choice for your menu. Easy to make, with great margins and 'rusted on', raving fans, it's virtually guaranteed to boost your food and beverage sales – a Bondi Chai fan won't let their coffee/tea drinking friends go anywhere else. Served mainly as a hot drink, chai latte is now moving into the cold-drink and dessert flavouring arenas making Bondi Chai a versatile, all-year-round product.
Contact Bondi Chai today for your samples, more information or to place an order.
---
More information about Bondi Chai
Interview with Bondi Chai co-founders, Melissa Edyvean and Martin Buggy
"Life is too short for ordinary chai". Clearly, Bondi Chai delivers far more than flavour and sensory pleasure. High profit margin, Australian pride and ease of preparation are all significant reasons to start serving Bondi Chai to your customers, or stocking it in your retail store.
View Article
Bondi Chai - An industry leader (part 1)
Bondi Chai co-founder, Melissa Edyvean, explains on Foxtel's Industry Leaders program how she and her partner built a multi-million-dollar international business from their home office in beautiful Port Stephens, Australia.
---
Bondi Chai - An industry leader (part 2)
The second of a two part interview. Bondi Chai co-founder, Melissa Edyvean, explains on Foxtel's Industry Leaders program how she and her partner built a multi-million-dollar international business from their home office in beautiful Port Stephens, Australia.
---