Camel Milk NSW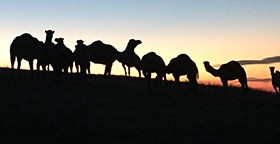 Camel Milk NSW
(formerly Muswellbrook Camel Milk)
Camel Milk NSW is a licensed dairy in the Hunter Valley that offers pasteurised camel milk. All the camels at the dairy were part of a herd that was saved from slaughter and will now have the wonderful opportunity to spend the rest of their lives in peace and tranquillity, safe from harm.
Animal welfare
The camels are milked once daily to ensure they have enough milk to provide for their offspring. The babies are not removed from their mothers.
Owner Michelle Phillips cares very passionately for the animals and has broken them in very gently using a trust-based training method. None of the camels have been whipped or tied or otherwise harmed.
Health benefits of Camel Milk
Camel milk is gaining a reputation as somewhat of a 'super food'. Medical research performed overseas has revealed that it boasts a range of medicinal properties. Sufferers of diabetes, autism, behavioural problems and food allergies are turning to camel milk to alleviate symptoms.
Used medicinally for centuries by nomadic people, its composition is the closest to human mother's milk and contains ten times more iron and three times more vitamin C than cows' milk. Camels possess unique, powerful immune-system components, which are contained in their milk. These are thought to help fight diseases such as Crohn's and Multiple Sclerosis.
Lower in fat than cows' milk, camel milk not only contains healthy vitamins and minerals, but additionally is a rich source of insulin. The milk reportedly has very high insulin content making it a potential treatment option for diabetics.
A study investigated the effects of camel milk on eight children with several food allergies. After consuming camel milk, reports indicated that all eight children had experienced significant improvement from their allergies, with no side effects. In fact, researchers stated that results were spectacular when compared with traditional treatments.
Ideal for health food stores, Middle Eastern ingredients grocers and specialist retailers. Tout the health benefits in store and introduce your customers to a lower fat milk with an artisanal, caring production method behind it.
Available in 300 ml and 1 litre plastic bottles, the camel milk can be bought in bulk and frozen until required. It is delivered fresh and offers approximately 3 weeks' fridge life.
Flavoured Camel Milk
New! Flavoured camel milk. Great for cafes! Available in 300 ml bottles.
Chocolate
Iced Coffee
Caramel
Strawberry
Vanilla
Unpasteurised Bath Milk
We also sell unpasteurised camel milk for bathing.
To discuss your requirements or to place your first order, contact Camel Milk NSW today.
---
More information about Camel Milk NSW
Gold and Silver for Muswellbrook Camel Milk at Royal Queensland Food & Wine Show
Camel milk may be a rare addition to dairy cases across Australia but it's set to become more widely embraced with the exciting gold and silver medal wins for Muswellbrook Camel Milk at the recent Royal Queensland Food & Wine Show. Held at the RNA Showgrounds in Brisbane, the 4-day event showcased more than 500 dairy products and non-bovine milks made an outstanding impression. Click here